Does My Australian Trade Mark Protect Me Overseas?

Updated on May 18, 2022
Reading time: 6 minutes
Developing a unique and distinctive trade mark can be challenging. As a business owner, you may spend time carefully differentiating your brand and offering from other Australian traders. You may also invest in promoting and advertising your business. If you have done so, you may reasonably have considered applying to register a trade mark in Australia. Registering your trade mark in Australia is a great first step, but you may require further protection, including overseas protections.
If your clients or customers are predominantly based overseas, or you are planning to offer your products or services to international consumers, domestic trade mark protection is likely not enough. Trade mark registration operates on a country-by-country basis. Therefore, having an Australian trade mark registration does not prevent international competitors from registering a similar or identical trade mark in other countries. This article will explain the benefits of overseas protections, and how you can register your trade mark internationally.
Do I Need a Trade Mark Overseas?
The best way to ensure your brand is protected overseas is to file for international registration of your trade mark. This is especially true if you:
sell products online in overseas countries;
offer software-based goods or services that can reach overseas clients, or which are offered for download on international app stores; or
intend to have global brand recognition.
Some countries, like China, operate on a "first-to-file" system, meaning that if you are the first to apply for your trade mark, you will have the exclusive right to distribute and sell your products under that brand. If you do not register your trade mark, you are vulnerable trade mark "squatters" filing first and obtaining these rights in China, regardless of whether you developed the brand first in Australia. Trade mark "squatters" are exploit this "first-to-file" system intending to sell the trade mark registration to you, or competitors in an attempt to reduce your profitability.
It might also be essential to obtain a trade mark overseas before you can start selling to that market. For example, you will need a valid trade mark number to sell your goods on US Amazon.
Different registration requirements apply in each country, meaning you need to register your trade mark in each country where you want protection. In many countries, it is an offence to use the Ⓡ symbol with your trade mark when selling your goods in that country unless it has been registered there, even if you have a registered trade mark anywhere else in the world. You should be careful when, for example, engaging an overseas manufacturer to ensure that your goods are not inadvertently labelled with the Ⓡ symbol if you are planning on distributing those goods to countries in which you do not have a registered trade mark.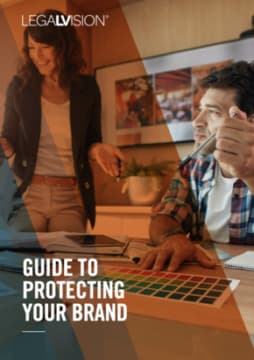 Guide to Protecting Your Brand
Your business' brand represents your values, identity and reputation. Learn how to create a successful brand and protect it.
Download Now
Steps You Can Take to Protect Your Trade Mark Overseas
1. Searching the Global Brand Database or Trade Mark Registers
As a first step, it is worth searching the global brand database or trade mark registers in any countries you may trade in.
If you are planning on selling your goods internationally, it is risky to build up your business on the assumption that you can trade mark once you start selling internationally. For example, if you build up a successful Australian business and find your trade mark already exists in the USA, it will become difficult to break into that market. Diligent searches will help you secure a unique name and increase the longevity of your business venture.
2. Consider Where You Want to Offer Your Goods and Services
Next, you should consider your short- and long-term business goals. These include where you may offer your services in connection with your trade mark in the next few years. For example, you may be about to engage with clients in the UK this year. In this case, it would be worthwhile to plan ahead. You could potentially think about whether you will expand to the EU or US markets in the near future.
In some cases, you will only require protection in one or two countries. It can be expedient to file national applications directly with these countries' trade mark offices. You do not need a pending application or registration in your 'base' country to file a direct application to any country of interest. For example, you may operate your business in Australia with a predominantly American client base. You can apply directly to the USA without first having to register your trade mark in Australia.
3. Applying for a Trade Mark Via the Madrid Protocol
If you wish to obtain coverage for your brand in multiple international countries you can apply through the Madrid Protocol. This is generally a more cost-effective and streamlined pathway than applying to each individual country. This is especially useful if your core offering is a mobile application or a Software as a Service (SaaS). These services may easily be accessed by users all around the world, so broad protection is beneficial. Not including each target country in your Madrid Protocol application may leave your trade mark vulnerable to imitation.
A key requirement to apply via the Madrid Protocol is a currently pending application or registration in your 'base' country. A Madrid Protocol application is 'based' on the application in your country of origin. That is, if your business is based in Australia, you must register your trade mark in Australia before applying overseas.
Key Takeaways
Your Australian trade mark protection does not extend overseas automatically. Be careful to ensure you are not exposing your trade mark overseas without enforcing effective protection mechanisms. These mechanisms will help you avoid competitors or trade mark "squatters" from hindering your international brand expansion. Depending upon your target markets, you have several protection options available. You can register your trade mark directly in one or two countries, or group together multiple and apply via the Madrid Protocol.
Our trade mark lawyers can assist you to determine which pathway is best in your situation and can prepare trade mark applications as part of our LegalVision membership. For a low monthly fee, you will have unlimited access to lawyers to answer your questions and draft and review your documents. Call us today on 1300 544 755 or visit our membership page.
Frequently Asked Questions
What steps can I take to protect my trade mark overseas? 
To protect your trade mark overseas, you should conduct diligent searches on the global brand database and specific country's trade mark registers. You should also clarify where you want to protect your trade mark, aligning this with your business goals. You then have the option to apply for international trade mark protection under the Madrid protocol. 
What is the Madrid Protocol? 
The Madrid Protocol is an international treaty that provides the basis for an international registration system for intellectual property. Therefore, if you are operating, or intend to operate, a business outside of Australia, you may engage with the Madrid Protocol to register your trade marks. This article will shed light on the process and steps for international trade mark applications through the Madrid Protocol system.
Was this article helpful?
Thanks!
We appreciate your feedback – your submission has been successfully received.
About LegalVision: LegalVision is a commercial law firm that provides businesses with affordable and ongoing legal assistance through our industry-first membership.
By becoming a member, you'll have an experienced legal team ready to answer your questions, draft and review your contracts, and resolve your disputes. All the legal assistance your business needs, for a low monthly fee.
Need Legal Help? Submit an Enquiry
If you would like to get in touch with our team and learn more about how our membership can help your business, fill out the form below.
Read other articles by Sophie
<!-/- Related Articles - Item -/->