Welcome to LegalVision, Australia's fastest growing legal services provider. LegalVision provides a high-quality, cost-effective solution for Australian businesses seeking legal assistance, advice or documentation.
We specialise in giving our clients top quality legal advice at an affordable, fixed-fee price. Our business lawyers primarily work online. This ensures we can provide legal assistance quickly (often within 48 hours), and at a price below that of a traditional bricks and mortar firm. We work on a fixed-fee basis – meaning you'll never again be surprised by your legal bill!
The LegalVision modus operandi is simple. We operate online, which means we can keep costs down, work quickly and maintain efficiencies. Once you've found us online and left us your details, we will contact you straight away to discuss your matter. We'll then provide you with a no surprises, fixed-fee quote. Once you've accepted your quote one of our high-quality lawyers will get to work immediately and deliver quality work in a quick time-frame.
The LegalVision team is made up of both experienced business lawyers and a dedicated back office team that manages marketing, sales, customer service and administration. We're an enthusiastic team with a diverse background that includes ex- corporate lawyers, ex-investment bankers and developers. Our lawyers have well-regarded legal and business experience and many have worked in top-tier corporate law firms.
We're committed to providing the highest quality of legal service quickly, efficiently and for a reasonable fixed-fee. We look forward to assisting you.
The LegalVision legal team are central to our story. Check them out here.
LegalVision is, however, more than just a legal practice. We're a tech start-up disrupting the legal industry. Check out our team here:
Lachlan McKnight – CEO
Lachlan previously worked as a corporate lawyer in London, Paris, Amsterdam and Hong Kong with Freshfields Bruckhaus Deringer and Norton Rose, two international law firms. Lachlan's now settled in Australia and thoroughly enjoys building a business which is transforming the way in which Australian businesses access legal services. Lachlan dreams about LegalVision.
Evan Tait-Styles – CTO
Before starting LegalVision, Evan launched a start-up web development company, Safari Yellow, and worked as a senior development engineer for Infinity Systems. Evan has built LegalVision's tech stack all the way from our user interface, to our back office CRM. Evan wears a hoodie, cause he's a coder.
Ursula Hogben – General Counsel and Practice Leader
Ursula previously worked as a corporate lawyer in Australia and Asia with Baker & McKenzie, an international law firm, and Bank of America Merrill Lynch, an international investment bank. Ursula is delighted to bring high-quality legal services to SMEs and entrepreneurs across Australia. Ursula writes and speaks on business law and is a passionate promoter of women in business.
Jacqueline Fearnley – Head of Client Care
Before joining LegalVision Jacqueline worked as a commercial litigation lawyer, so she has an in depth understanding of our customer's needs. If you call up LegalVision the chances are you'll be speaking to Jacqueline or her team, so be nice! Jacqueline drinks 4 litres of water each day!
Tom Kaldor – Head of Growth and Innovation
Tom joined LegalVision after spending a year as an Associate to a Judge of the High Court of Australia, the peak court in Australia's judicial hierarchy. Before that, Tom was a lawyer in the competition and consumer law group at Allens, one of Australia's top corporate law firms, and a researcher for the Equity Division of the Supreme Court of New South Wales. When not lawyering, Tom enjoys playing music and football.
Anthony Lieu – Head of Marketing
Anthony has a keen interest in business strategy, digital marketing and IT law. He has a strong background in understanding of how startups operate at all stages, and navigating the myriad of legal issues surrounding online businesses. In his spare time, Anthony enjoys scuba diving, cooking roasts and travelling the world with his snowboard – obviously not all at the same time.
Simon Baume – Head of Strategy
Simon is the Head of Strategy. He builds financial models to assist with everything from capital raising to sales campaigns to internal reporting. Simon joined LegalVision after working as a strategy consultant for three years, advising C-suite decision makers in the aviation, financial services and construction industries. Outside of Sydney, he has worked in Berlin, Belgrade and the UAE. Simon is currently struggling to balance his two great loves: physical fitness and unrestrained gluttony.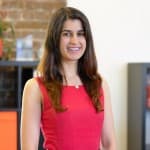 Claudette Yazbek – Communications Manager
Claudette is a Graduate Lawyer at LegalVision. Her work experience in fashion, hospitality, politics, media and law in Adelaide, Washington D.C. and Kuala Lumpur best positions her to understand the back of house problems which arise in these industries and the potential solutions. She is well versed in obscure nineties popular culture references, pseudo-intellectual conversations about coffee and Havana's best eateries.
Dilan Haradasa – Business Development Executive
Dilan developed a love for online business whilst studying eBusiness at university and was LegalVision's first employee! He's an account manager and the heart and soul of LegalVision. When not working Dilan enjoys lifting weights, reading and long walks on the beach. If Dilan ever bench presses 80 kilos Lachlan's promised to buy gym memberships for the entire team!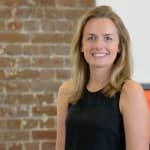 Madeleine Grey – People Operations Manager
Madeleine is the People Operations Manager at LegalVision. Prior to joining LegalVision, Madeleine worked as a management consultant with a keen interest in Human Resources. She has a Bachelor of Commerce (Human Resources & Industrial Relations) and Bachelor of Laws from the University of Sydney.
James Gonczi – Lawyer
James is a lawyer and a member of the Growth and Innovation team at LegalVision. Before starting at LegalVision James was a lawyer in Allens' intellectual property lawyer team, where he was involved in litigious matters in the Supreme Courts of NSW and Victoria and the Federal Court of Australia. James' love of sport borders on the obsessive – he has been known to watch darts when there was no other competitive sport on TV.
Adi Snir – Partnerships Strategist
Adi started working with LegalVision in 2014, following the completion of his International Studies and Law degree at the University of Technology, Sydney. With extensive experience across various sectors including sales and legal services, Adi applies these skills to his current role as Partnerships Strategist. His penchant for language and travel has carried him around the globe. Having lived abroad in both Israel and Mexico, Adi also speaks Spanish and Hebrew. Known around the office for his sassy sense of humour, Adi is a self-proclaimed Entertainer – taking theatre and acting classes in his spare time.
Thomas Richman – Lawyer
Tom was one of LegalVision's first interns and has returned as a member of the Growth and Innovation Team. Tom has a strong interest in business structuring, equity funding, and fintech. Tom is a proud Tasmanian who is having to adapt to life in a Sydney where his favourite beer isn't available. Tom graduated with a Bachelor of Business (Finance) and Bachelor of Laws with Honours in Law from the University of Tasmania
Dhanu Eliezer – Legal Project Manager
Dhanu joined the Client Care team for the perfect union of her legal knowledge and love for people. Having graduated from a double degree in Law and Media and Graduate Diploma in Legal Practice, Dhanu is done with study for a while. She is looking forward to catching up on TV shows, working her way through the lists of 100 Books to Read in a Lifetime, and writing the book about garlic she has promised her friends and family will be done by December 2016.
Sophie Glover – Legal Project Manager
Sophie works in LegalVision's Client Care team, dazzling clients on the phone. Sophie has experience in the tech startup sphere and loves helping innovative ideas evolve into fully fledged businesses. She has experience at the Public Interest and Advocacy Centre and in IP law. Sophie has a Bachelor of Medical Science, Juris Doctor and has just completed her Practical Legal Training, she has an interest in all things from Biotechnology to E-Commerce.
Sam Auty – Legal Project Manager
Sam is a Legal Project Manager at LegalVision. Sam's previous experience in the Not-for-Profit law team at Justice Connect and Springvale Monash Legal Service has made her passionate about increasing everyone's access to legal services. She enjoys working in the areas of not-for-profit law, franchising, and commercial leasing with a particular focus on assisting NFPs and SMEs. When not working at LegalVision, Sam is usually found training as an elite athlete as a member of the Australian Fencing Team. She graduated from Monash University with Bachelor of Laws (Honours) and Bachelor of Science (Psychology).
Sarah Hamilton – Legal Project Manager
Sarah is a Solicitor and Legal Project Manager at LegalVision. Before joining LegalVision Sarah worked as a Solicitor in the Corporate Commercial team at Salvos Legal on a wide variety of commercial matters as well as assisting with the Royal Commission into Institutional Responses to Child Sexual Abuse. She graduated from University of Sydney with a Juris Doctor and Macquarie University with a Bachelor of Media.
Jonathan Muncey – Legal Project Manager
Jonathan has a double degree in Arts and Law and a background in managing and resolving commercial disputes, particularly in the area of franchising. He is passionate about understanding clients' stories and helping to find the right legal solutions. He also enjoys the outdoors, distance running and talking politics & history.
Kirstie Le Lievre – Legal Project Manager
Kirstie is a Legal Project Manager at LegalVision. With a background in communications and project management in professional services and more recent experience at a defamation law firm, Kirstie enjoys working with clients to solve their legal problems and achieve their goals. Kirstie holds a Bachelor of Arts in Communication (Journalism) from the University of Technology, Sydney and a Juris Doctor from the University of New South Wales.
Chris Lichtenberg – Legal Project Manager
Chris is a Legal Project Manager at LegalVision. After graduating from a Bachelor of Laws/Bachelor of Arts (Italian) from the University of Wollongong, he worked as a graduate at Oracle. He has a particular interest in understanding the relationship between cloud computing services and how they relate to the law. In his spare time, Chris also volunteers with the Australian National Dance Association. Outside work, Chris enjoys making some kind of baked goods, or trying to practice elaborate dance routines.
Alexandra Shaw – Legal Project Manager
Alex is a Legal Project Manager at LegalVision. She graduated with Bachelor of Laws (Honours) and Bachelor of Arts majoring in Psychology. Alex's previous experience in private legal practice, specialising in IP and commercial law, and at KPMG, in their R&D tax team, has made her passionate about intellectual property law, startups and all things creative.
Alex Jones – Marketing Coordinator
Alex is a Law Student in her Penultimate year. She a proud member of the LegalVision marketing team (the A-Team) and spends her days writing legal content. Outside of LegalVision she tutors English and History to high school students, and plays and teaches cello. Her passions include sleeping, eating and travelling the world to sleep and eat.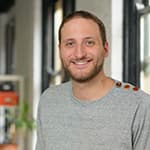 Victor de Bouille – Developer
Victor started developing software when he was 13. Since this time, Victor has still been developing, while travelling across the world. He has also founded a few startups of his own while in France.
Victor is now a developer at LegalVision, where he works hard to build great solutions and get rid of his outrageous French accent.
Ken Zhou – Developer & IT Support
Ken joined the LegalVision team with 3 years experience as a developer. In addition to development, Ken provides valuable IT support to the LegalVision team. He completed a Master of IT – Software Engineering from The University of Sydney in 2011. During his studies he worked in small businesses as well as large organisations.
Stephanie Higham – Operations Manager
Stephanie deals​ with the operations side of LegalVision. F​rom HR and Finance to organising all our parties! Graduating in Business Management from the University of Leeds, Steph is from the UK and has been living and travelling Australia for the past few years. When she's not in the office, she very much enjoys living by the beach – where the weather is much nicer than rainy Manchester!
Rosemary Dewberry – Administration
Rosemary deals with administration at LegalVision ensuring all invoices and payments are processed alongside the day to day smooth running of the office. Graduating in Sociology from the University of Durham, Rosie is from England and has been living in Sydney for a year now. Out of the office she enjoys surfing and making the most of the Australian sunshine.
Stephen Yoon – Digital Marketing Strategist
Stephen is a digital marketing strategist at LegalVision. He graduated from the University of New South Wales with a Bachelor of Laws and a Bachelor of Commerce. Stephen has a keen passion for startups, and as a founder of an online business himself, understands the array of issues they face.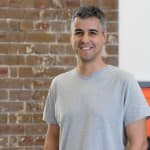 Rafael Pedrosa – Software Developer
Rafael is a software developer at LegalVision. Rafael graduated as a Bachelor in Computer Sciences in 2005 and has over 10 years of experience developing enterprise software applications for businesses in different domains. His work was primarily focused on web solutions having experience developing systems from end to end. While his strongest development language is Java, he'll now delve into the fun world of writing PHP code. Rafael favourite sports are cycling and squash, but now with 2 young kids there's no free time left for any of that.
Oscar Cao – Developer
Oscar is a developer at LegalVision. He has been hacking computers since he was 10 years old, overclocking every PC he's owned to-date. If he isn't hacking away in front of a computer, he could be found strolling the local streets documenting the local scene.
Jonathan Ling – Strategy and Growth Analyst
Jonathan is a data analyst at LegalVision. He completed degrees in mathematics and physics and is one of the few on the team that plays with numbers instead of words. Jonathan has a strong interest in strategy and effective decision making through the use of maths. While not writing about Parkinson's law or pondering on the laws that govern the universe, Jonathan enjoys travelling, playing music and being amazed at the beauty of the night sky.
Lauren McKee – Paralegal
Lauren is a Paralegal at LegalVision. You will find her working at the reception of LegalVision with a big smile. She is currently studying a Bachelor of Law and Bachelor of Arts (Chinese Studies) and enjoys helping out the lawyers at LegalVision.
Pearl – Happiness Officer
We at LegalVision know that happy lawyers make good lawyers! To help spread that happiness we have Pearl, officially the cutest member of our team (sorry Lachlan). In her time at LegalVision, Pearl has demonstrated an excellent ability to make people smile, has shown her determination and commitment to all things cuteness, and has rocked a hoodie on a number of occasions like only a start-up employee can. Drop into our office and you might be lucky enough to be asked for a belly rub.
Hazel – Assistant Happiness Officer
What's better than an office puppy? Two office puppies! Hazel, our assistant happiness officer, has joined the LegalVision team in 2016 and has officially mastered both important skills of looking ridiculously cute around the office and convincing staff to give up some of their lunch. With the exception of our CEO (sorry Lachlan), Hazel is a fluffy bundle of loveliness who shows affection to everyone she meets. And she looks amazing in a tu-tu.