Can an Employee Resign Without Notice?
Updated on May 12, 2022
Reading time: 6 minutes
Having an employee resign on the spot or simply stop turning up for work is highly inconvenient for any employer and can potentially be detrimental to your business. Notice periods aim to avoid this issue, as they allow time for a proper handover process and ensure any property or confidential information is returned to the business. This article explains whether an employee can resign without giving their employer notice and associated requirements. It explores what notice periods are, how much notice your employees must give before resigning and how much notice you should provide when terminating employment. 
What is a Notice Period?
A notice period is a length of time that an employer or employee must give before the end of an employment period. You can find details of your notice period in the following documents:
How Much Notice Must an Employer Give?
The National Employment Standards (NES), which provide for minimum workplace entitlements, set out the minimum notice period you must provide your employees when terminating their employment. The table below outlines the relevant notice periods:
| | |
| --- | --- |
| Employee's period of continuous service | Notice |
| Less than one year | One week |
| More than one year but less than three years | Two weeks |
| More than three years but less than five years | Three weeks |
| More than five years | Four weeks |

Further, where an employee is over forty-five years old and has served at least two years with you, the minimum notice period increases by one week. 
How Much Notice Should an Employee Give?
Under the Fair Work Act, there is no obligation for employees to provide any notice when they choose to end their employment. In other words, they can simply resign without notice. This can be incredibly frustrating to you and your business. To avoid this issue, you might include a minimum notice period in other documents, such as an employment contract, Modern Award, or Enterprise Agreement. 
For example, most Modern Awards typically require that the employee provide the same notice as employers under the NES. An exception is that they do not need to provide the additional notice based on age.
Can I Refuse to Pay the Notice Period?
You must pay an employee throughout their notice period or alternatively, pay in lieu of notice. Some Modern Awards provide that you can withhold payment of wages for the notice period where notice is not correctly given. However, this is not the case for all employees or Modern Awards. Therefore, it is important to seek legal advice before withholding payment of notice periods or other entitlements.
Is Notice Always Necessary?
In some circumstances, you do not have to provide notice when terminating a worker's employment. In particular, casual employees are not entitled to notice of employment termination. Also, you do not have to provide notice where an employee has committed serious misconduct, regardless of whether they are a casual employee or a fixed term employee. Examples of serious misconduct include your employee:
committing fraud;

stealing at work; or 

showing up to work intoxicated. 
It is important to remain cautious about terminating employment on the grounds of misconduct. If you do so incorrectly, you risk having the employee bring an unfair dismissal claim against you.
Notably, notice might not be necessary before resigning in certain circumstances. For example, an award or agreement-free employee does not need to provide notice before resigning. However, they should be sure to check their employment contract. If their employment contract provides for a notice period, they are contractually obliged to serve it out. Where an employment contract does not provide a notice period or the employee does not have a notice period, notice does not need to be given. To avoid any inconvenience, it is crucial that you provide notice periods for your employees in all employment contracts.
What is Gardening Leave?
Gardening leave is an alternative to having an employee work during their notice period or paying out the notice period and having them leave straight away. Gardening leave provides you the option to continue employing your worker during the notice period without requiring them to attend work or complete their normal duties.
However, during this time, the employee cannot work for another business and remains bound by their obligations. Often, executive and senior employees have longer gardening periods than regular employees.
What if My Employee Resigns and Never Comes Back?
Upon resigning, even if an employee never returns to work, they have to receive their final pay and accrued entitlements. It is best to finalise this in the following standard pay cycle. You may choose to send the employee a letter confirming acceptance of their resignation and final payment due to them. If an employee refuses to return to work, it may be challenging to have them sign an exit deed or another similar document.
In such circumstances, you should remind the employee of their post-employment obligations. Further, ask them to return any property and confidential or sensitive information they may have in their possession.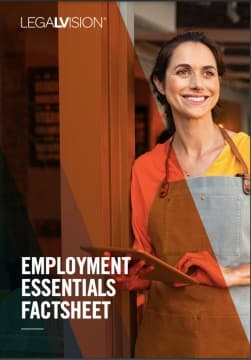 Employment Essentials Factsheet
As an employer, understand your essential employment obligations with this free LegalVision factsheet.
Download Now
Key Takeaways
As an employer, it can be frustrating for an employee to resign without notice. To help avoid these situations, it is important to understand how much notice your employees must give upon resigning and how much notice you should provide when terminating their employment. Notably, you should review:
the NES and their minimum notice periods;

the

Fair Work Act

; and

employment contracts, modern awards and enterprise agreements.
If you need assistance understanding your rights and obligations as an employer, our experienced employment lawyers can assist as part of our LegalVision membership. For a low monthly fee, you will have unlimited access to lawyers to answer your questions and draft and review your documents. Call us today on 1300 544 755 or visit our membership page.
Frequently Asked Questions
What is a notice period?
A notice period is a length of time that an employer or employee must give before the end of an employment period. The applicable notice period for an employee may be set out in several documents, such as an employment agreement, Modern Award or Enterprise Agreement. 
Can an employee resign without notice?
Under the Fair Work Act, employees have no obligation to provide notice when they choose to end their employment. However, other documents may set a minimum notice period, such as the employment contract, Modern Award, or Enterprise Agreement.
Was this article helpful?
Thanks!
We appreciate your feedback – your submission has been successfully received.
About LegalVision: LegalVision is a commercial law firm that provides businesses with affordable and ongoing legal assistance through our industry-first membership.
By becoming a member, you'll have an experienced legal team ready to answer your questions, draft and review your contracts, and resolve your disputes. All the legal assistance your business needs, for a low monthly fee.
Need Legal Help? Submit an Enquiry
If you would like to get in touch with our team and learn more about how our membership can help your business, fill out the form below.
Read other articles by Emily
<!-/- Related Articles - Item -/->