When Can I Suspend an Employee?
Updated on May 12, 2022
Reading time: 5 minutes
As an employer, you will likely encounter a situation where you may need to consider suspending an employee. For instance, your employee may be difficult to manage, or you may suspect they are engaging in serious misconduct. In either case, you may not want them on your business premises while you investigate the matter. This article will explain when you can suspend an employee and the process you must follow.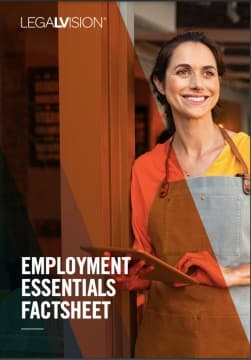 Employment Essentials Factsheet
As an employer, understand your essential employment obligations with this free LegalVision factsheet.
Download Now
Suspension vs Termination
Before suspending your employee, you must understand the difference between suspension and termination. Generally, you can only legally suspend an employee if the right exists in the employment agreement, the relevant award or enterprise agreement. If you suspend an employee, they will need to leave the workplace for a temporary period. Moreover, they cannot complete their work-related duties during this time. Despite the suspension period, their employment contract will still be in force.
In contrast, if you terminate an employee, their employment contract will end completely. As an employer, you are likely to have additional legal requirements to fulfil when you terminate employment. These requirements may include the need to:
give notice per the minimum notice period in the employment contract, award or enterprise agreement;
issue your employee their final pay entitlements; and
dismiss them lawfully and fairly.
Serious Misconduct
If someone makes allegations of serious misconduct against an employee, you can suspend them instead if you do not have enough proof to terminate them. Ultimately, the suspension period allows you to conduct a formal workplace investigation without the employee's interference.
If you suspend an employee, you should do so in accordance with the proper procedures for taking such action. You might find the procedures for suspension in your workplace policy.
On the other hand, if you have proof of an employee's gross misconduct in the workplace, you may want to terminate them immediately. Gross misconduct might include:
theft;
fraud;
seriously breaching occupational health and safety procedures;
seriously breaching internal policies; and
intimidating or threatening other staff.
However, before terminating an employee, you must ensure that you have legal grounds to do so. If you do not, you may face an unfair dismissal claim from the Fair Work Commission.
Suspension With or Without Pay?
If you suspend an employee, you generally need to pay them during the period of suspension. While there are some situations where you can suspend an employee without pay, this is not usually the case.
Suspending an employee without pay when they should be receiving payment can have serious consequences. If you suspend them without pay, you risk having to repay the employee's wages and additional compensation for breaching their contract or modern award. Therefore, if you are going to suspend your employee for a short period, it may be safer to place them on paid leave.
How Can I Suspend an Employee?
If you need to suspend an employee, you must first check their:
employment contract;
workplace policies;
modern award; or
By looking over these documents, you will better be able to understand:
whether you can suspend your employee;
whether you need to pay them during the suspension period;
how to properly notify your employee of their suspension; and
the relevant internal documentation you must keep as evidence of their suspension.
By following this information and documenting every step of the suspension process, you will ensure that you satisfy the legal requirements of the suspension process.
What Should You Do During the Suspension?
If you suspend an employee, you need to ensure that you follow the correct legal process while investigating the claims of their misconduct. Follow the investigation procedures within your internal policies and document each step.
It may be advantageous to hire an external investigator if the allegation:
is serious;
concerns a senior employee; or
concerns situations unfamiliar to your HR department.
An external investigator will reduce bias (or the appearance of bias) and make sure that they follow a legally correct procedure. 
Once you conclude the investigation, the investigation report will determine whether you must take further disciplinary action against the employee facing suspension. The report should also include recommendations to prevent the same misconduct from arising.
Key Takeaways
Where an allegation of serious misconduct has arisen against an employee, you may wish to remove that employee from the workplace while you investigate the claims. If you want to suspend an employee, you should clarify:
whether you have the right to suspend an employee per your employment agreement, relevant award or enterprise agreement;
the procedures you should undertake to suspend your employee; and
You will likely need to pay an employee during their period of suspension.
While you suspend your employee, you should conduct a thorough investigation into the matter.
If you need help suspending an employee to investigate serious misconduct, our experienced employment lawyers can assist as part of our LegalVision membership. For a low monthly fee, you will have unlimited access to lawyers to answer your questions and draft and review your documents. Call us today on 1300 544 755 or visit our membership page.
Frequently Asked Questions
What is final pay? 
Final pay is the payment you must give an employee upon their termination, resignation or redundancy. Final pay includes any outstanding wages for the hours your employee worked, accumulated leave and, if applicable, a redundancy payment.
What is unfair dismissal?
Unfair dismissal is when you fire an employee in a harsh, unjust or unreasonable manner. If the employee you dismiss meets specific eligibility criteria, they may be able to lodge an unfair dismissal claim with the Fair Work Commission.
Was this article helpful?
Thanks!
We appreciate your feedback – your submission has been successfully received.
About LegalVision: LegalVision is a commercial law firm that provides businesses with affordable and ongoing legal assistance through our industry-first membership.
By becoming a member, you'll have an experienced legal team ready to answer your questions, draft and review your contracts, and resolve your disputes. All the legal assistance your business needs, for a low monthly fee.
Need Legal Help? Submit an Enquiry
If you would like to get in touch with our team and learn more about how our membership can help your business, fill out the form below.
Read other articles by Blythe
<!-/- Related Articles - Item -/->