Table of Contents
If you are an employer, you may be considering including a post-employment restraint of trade clause within your employment agreements. The restraints you may be looking to place on an employee can vary according to each situation. However, as a general rule, restraint of trade clauses seek to prevent an employee from:
working for a competitor for some time after they leave the business; or

poaching or soliciting clients, staff and customers from their former employer.
This article will explore some of the core principles of restraint of trade clauses.
What is a Restraint of Trade?
A restraint of trade clause within an employment agreement applies throughout the entirety of employment. Additionally, it continues to apply when an employee leaves the business. To protect the legitimate interests of your business, you can only enforce a restraint clause to the extent that is ''reasonably necessary''. However, whether a provision is considered ''reasonably necessary'' will depend on its wording and the facts of a particular situation.
The two main types of restraint clauses are:
non-competition: this clause prevents a former worker from engaging in activities in competition with their former employer; and

non-solicitation: this clause prevents workers from actively soliciting clients or employees of their former employer.
What is Reasonable Between the Parties?
You may only enforce a restraint of trade clause if it is reasonable given the circumstances. What is reasonable depends on whether:
the clause protects a legitimate business interest; and

if its scope is reasonably necessary to protect that legitimate interest.
A legitimate business interest might include:
a commercial interest, such as confidential information that would cause damage to your business if leaked; or

the goodwill of your business, such as the relationships between your business and its customers and partners.
If the court finds that the restraint goes beyond providing your business with adequate protection, the court will not enforce the clause. However, if the clause reasonably gives your business adequate protection, the court will consider whether the restraint is harmful to the public interest. Therefore, as an employer, it is essential to establish what is reasonable before enforcing a restraint of trade on an employee.
Continue reading this article below the form
Need legal advice?
Call 1300 544 755 for urgent assistance.
Otherwise, complete this form and we will contact you within one business day.
What Will a Court Consider?
When determining whether a restraint is reasonable, the court will consider your circumstances and the following factors.
Factor

Details

Negotiation process

The negotiation process can provide a good indication of each party's intentions. In particular, comments that you and your employee make when negotiating the restraint clause are important.

Parties' bargaining position

If there is an imbalance in power between you and your employee when agreeing to the restraint, this may be reflected in the agreement. In addition, whether your employee obtained independent legal advice can also indicate their relative bargaining power during the negotiation.

Nature of your business and the characteristics of the employee

For example, if your employee is in close contact with your customers, it is more likely that the restraint is reasonable.

Remuneration and Compensation

Since the restraint can limit your outgoing employee's earning capacity, the courts might also consider whether you compensated your employee for the restraint.

Duration of the restraint

The longer the period of restraint, the less likely the restraint will be considered reasonable.

Geographical restraint area

If the restraint covers a large geographical area, the court is unlikely to deem it reasonable. Therefore, employers often incorporate a cascading clause in their agreement to avoid duration and geographical issues. A cascading clause provides alternate periods and geographical areas that allow the court to ''read down'' the clause until they consider it reasonable.

For example, the geographical area may start as Australia, then New South Wales, then a particular town in New South Wales.
Drafting a Restraint of Trade Clause
When drafting restraint of trade clauses into your contract, it is vital to consider the above factors. Otherwise, if your employee takes you to court, you risk a court finding the restraint unreasonable and, therefore, unenforceable.
For example, in the case of Just Group Ltd v Peck [2016], the employer wanted to enforce a restraint clause to prevent the company's Chief Financial Officer from working with their competitor.
The court decided that the restraints were not reasonable because the:
restraint attempted to prevent the employee from working at other businesses that were not in competition with Just Group Ltd; and

duration period was too long as the clause applied to Australia and New Zealand for two years after the termination of her employment.
Key Takeaways
An employer can only enforce a restraint of trade clause if it is reasonably necessary to protect their legitimate business interests. However, whether a clause is considered reasonably necessary will depend on the facts of each particular case.
If you think of including a restraint of trade clause in your employment agreement, our experienced employment lawyers can assist as part of our LegalVision membership. For a low monthly fee, you will have unlimited access to lawyers to answer your questions and draft and review your documents. Call us today on 1300 544 755 or visit our membership page.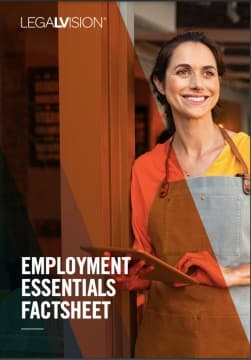 Employment Essentials Factsheet
As an employer, understand your essential employment obligations with this free LegalVision factsheet.
Download Now
Frequently Asked Questions
What is a cascading clause?
Lawyers will often draft restraint of trade clauses as a series of ''cascading'' or ''ladder'' clauses that successively reduce periods and geographic areas. Essentially, cascading or ladder clauses are independent and comprise separate paragraphs in a clause that you may dismiss if they are unreasonable, leaving the remaining alternatives to be enforceable. Effectively, the ''cascading'' nature of the clause permits the court to pick a restraint period it considers to be reasonable and strike out the remaining clauses.
How long does a restraint of trade last?
The period of restraint will widely vary between different employment agreements. However, it is important to note that the longer the restraint period, the more likely a court will deem it unreasonable.
Was this article helpful?
Thanks!
We appreciate your feedback – your submission has been successfully received.