I'm an Employer. Which of My Employees Are Entitled to Paid Sick Leave?

Updated on May 18, 2022
Reading time: 4 minutes
With the COVID-19 pandemic, many employers are taking preventive measures to avoid coming to work when sick. However, as an employer, this raises questions about handling paid sick leave. This article will unpack which employees are not entitled to paid sick leave and how much sick leave those entitled are allowed. 
What is Paid Sick Leave?
Personal/carer's leave refers to both sick and carer's leave. Some employees can take personal/carer's leave in the following circumstances:
where an employee is unfit to work because of personal illness or injury; or

an employee is required to provide care or support to a member of their immediate family or household due to personal illness, injury or an unexpected emergency.
Reasons for sick leave can include a(n):
contagious illness, such as the flu;

injury or illness that impacts your productivity;

mental health day;

sickness which is disruptive, like sneezing, coughing;

hospitalisation; or

diagnosed medical condition.
Which Employees Are Entitled to Paid Sick Leave?
Permanent employees can take personal/carer's leave. According to National Employment Standards, casual employees are not entitled to personal/carer's leave.
Due to the nature of casual employment, your casual workers are not required to provide ongoing commitment to their job. Notably, they can resign without notice. Likewise, you give eligible workers casual loading, which is a higher pay rate to offset the lack of paid leave. 
You must pay your casual employees 25% on top of their hourly rate. 
How Much Paid Sick Leave Do Permanent Employees Get?
Permanent employees get 10 days of paid personal/carer's leave per year. Consequently, you must still pay your employees their base rate of pay when they take leave. The Fair Work Act defines the base rate of pay as the typical rate you pay your employees for their ordinary hours of work. 
An employee's entitlement to personal/carer's leave accrues progressively throughout the year according to the number of ordinary hours they work. Likewise, it is cumulative from year to year. 
If your employee exhausts their sick leave balance, they may request to use any accrued but unused annual leave. Alternatively, they may simply take unpaid personal leave with the support of a medical certificate. 
What Happens if My Employee Needs Long Periods of Sick Leave?
Under the Fair Work Act, employers cannot dismiss an employee taking a temporary absence from work due to a personal illness or injury. An absence is no longer temporary where:
the employee's absence exceeds three months of unpaid absence; or 

the total unpaid absence of the employee within a twelve-month period exceeds three months.
However, terminating an employee who has been absent from work due to a prolonged illness or injury is not a simple matter. Importantly, you should always seek legal advice first, as many protections exist for employees.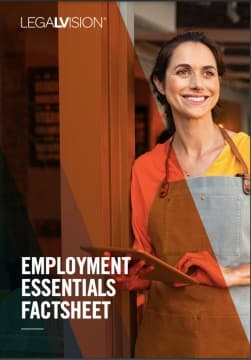 Employment Essentials Factsheet
As an employer, understand your essential employment obligations with this free LegalVision factsheet.
Download Now
Key Takeaways
All employees should be able to take time off work when sick. However, only part-time and full-time employees can take paid sick leave. Full-time employees get ten days of paid leave, and part-time employees get sick leave pro-rata to their ordinary hours. Paid sick leave also accrues over the period that your employee works. 
If you are unsure of your requirements as an employer, our experienced employment lawyers can assist as part of our LegalVision membership. For a low monthly fee, you will have unlimited access to lawyers to answer your questions and draft and review your documents. Call us today on 1300 544 755 or visit our membership page.
Frequently Asked Questions
Which employees are entitled to paid sick leave?
Only part-time and full-time employees can take this type of paid leave. 
What happens when an employee's paid sick leave runs out?
Sick leave accrues over the years. Thus, unused sick leave in previous years carries over to the next. Employees could use other leave entitlements when paid sick leave runs out. Alternatively, your employees can take unpaid sick leave.
Was this article helpful?
Thanks!
We appreciate your feedback – your submission has been successfully received.
About LegalVision: LegalVision is a commercial law firm that provides businesses with affordable and ongoing legal assistance through our industry-first membership.
By becoming a member, you'll have an experienced legal team ready to answer your questions, draft and review your contracts, and resolve your disputes. All the legal assistance your business needs, for a low monthly fee.
Need Legal Help? Submit an Enquiry
If you would like to get in touch with our team and learn more about how our membership can help your business, fill out the form below.
Read other articles by Prashana
<!-/- Related Articles - Item -/->