I Have Demoted an Employee. Is This Legal?
Updated on May 11, 2022
Reading time: 6 minutes
As an employer, there may be times when you consider demoting an employee. For example, suppose you have engage an employee to work in a permanent role but later decide they may better suit a different role. In this case, you might plan to demote them. However, you might be wondering, is this legal? The answer to that question is that it might be. This article will take you through the things you must consider when demoting an employee, including how to avoid an unfair dismissal claim.
Where to Look
First, you will need to look at the documents that govern your employees, such as their:
employment contract; and

any Modern Award or Enterprise Agreement that covers their occupation or workplace. 
An employment contract sets out the terms and conditions of the relationship between an employer and an employee.
The Fair Work Act contains certain conditions for all employment contracts within Australia. The National Employment Standards (NES) outline the minimum standards that all employers must adhere to in any employee relation. These standards include provisions relating to: 
parental leave; 

requests for flexible working arrangements; and 

redundancy pay.
Modern awards cover some employment relationships and apply to certain occupations. For instance, consider the Banking, Finance and Insurance Award or Aircraft Cabin Crew Award. These awards outline minimum wages and conditions for workers in various industries.
On the other hand, an enterprise agreement concerns the minimum conditions made in one particular business or group of businesses.
Employment contracts and any award or Enterprise Agreement that applies to your employee may have provisions that detail your ability to demote an employee.
Demotion or Termination?
A demotion occurs when you offer an employee, and they accept, a new contract of employment with considerable changes to key aspects of their role. These changes might include a decrease in remuneration or a decrease in benefits.
You may decide to consider a demotion as a result of taking disciplinary action against your employee. Alternatively, you may consider a demotion for reasons unrelated to your employee's performance, including the financial circumstances of your business. 
Generally, a demotion occurs by ending an employee's existing employment contract and offering a new one. It is important to note that if you are ending an employment contract, it might mean that you are dismissing an employee rather than demoting them. However, for the purposes of unfair dismissal laws, you are not dismissing an employee if they freely accept a demotion to a position with lower pay.
Under the Fair Work Act, a demotion will only amount to dismissal if it significantly reduces the employee's remuneration or duties. Furthermore, the person demoted must remain employed with the employer to amount to dismissal. However, the Act itself does specify the definition of the term 'significant'. As such, the interpretation of the word will be taken into consideration alongside the circumstances of each particular case.
Generally, an employee is legally entitled to reject a demotion and may put their concerns to you in writing. However, there may be instances when an employee willingly accepts their demotion. For instance, if the demotion is an alternative to redundancy. Each case will rely on the facts that apply to the individual given their particular circumstance. 
Demotion and Unfair Dismissal
If your employee does not consent to a demotion and you instead decide to terminate their employment, your employee may be eligible to apply to the Fair Work Commission. However, they must apply within 21 days of their termination to be applicable for unfair dismissal.
To be eligible to apply, your employee must:
have completed a minimum of 6 months at your business (or 12 months if you work in a small business); and

either:

be covered by a Modern Award;

be covered by an enterprise agreement; or

earn less than the "high-income threshold" (currently $158,500).
If your employee successfully claims unfair dismissal, you may be required to reinstate them to a position similar to their original role. This claim may also include an order for the back payment of wages they lost during this time.  
Alternatively, where reinstatement is not practical, you may need to pay your employee compensation, including a maximum of 6 months worth of wages.
Demotions and Redundancy 
In certain instances where you may demote an employee due to a company restructure, the employee may receive redundancy payments for the termination of the employment contract. 
The Fair Work Act and any relevant awards set out an employee's entitlements to redundancy pay. You can calculate this payment by considering how long the employee has worked for your business. Certain types of businesses, such as those that employ less than 15 people, will not have to pay their employee's redundancy pay.
However, when demoting an employee, you must consider their redundancy entitlements carefully.
Key Takeaways
Ultimately, whether a demotion is considered an unfair dismissal is complex and largely depends on the circumstances. For instance, where an employee willingly accepts a demotion, it is likely legal. When determining your right to demote an employee, you should refer to the applicable:
employment agreement;

modern award; or

enterprise agreement. 
Our experienced employment lawyers can assist as part of our LegalVision membership if you need assistance understanding your right to demote your employees. For a low monthly fee, you will have unlimited access to lawyers to answer your questions and draft and review your documents. Call us today on 1300 544 755 or visit our membership page.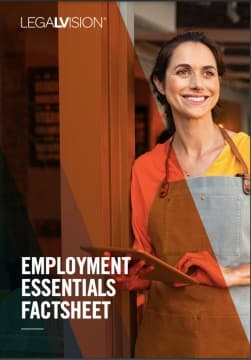 Employment Essentials Factsheet
As an employer, understand your essential employment obligations with this free LegalVision factsheet.
Download Now
Frequently Asked Questions
Can I legally demote an employee?
Ultimately, whether a demotion is considered an unfair dismissal is a complex question, and it largely depends on the circumstances. Where an employee has willingly accepted a demotion, it is likely to be legal. 
What is the difference between demotion and termination?
Termination involves the cancellation of an employment contract. On the other hand, a demotion involves the termination of an employee's current employment contract, followed by an offer for a reduced role or remuneration. The nature of a demotion involves the process of termination. Therefore, it is likely to be considered a dismissal of an employee.
Was this article helpful?
Thanks!
We appreciate your feedback – your submission has been successfully received.
About LegalVision: LegalVision is a commercial law firm that provides businesses with affordable and ongoing legal assistance through our industry-first membership.
By becoming a member, you'll have an experienced legal team ready to answer your questions, draft and review your contracts, and resolve your disputes. All the legal assistance your business needs, for a low monthly fee.
Need Legal Help? Submit an Enquiry
If you would like to get in touch with our team and learn more about how our membership can help your business, fill out the form below.
Read other articles by Emily
<!-/- Related Articles - Item -/->