Workplace Allegations: Legal Rights of Employees and Employers
By Bianca Reynolds
Practice Leader
Updated on October 7, 2021
Reading time: 5 minutes
Allegations of misconduct in the workplace can have a serious impact on both employees and employers. As an employer, it can be hard to identify the most appropriate course of action. In some situations, you may wish to terminate employment immediately. However, this might not always be suitable or lawful. This article will explain which rights employees and employers have concerning workplace allegations.
Types of Allegations
Allegations can arise in any number of circumstances.
For example:
colleagues of an employee may inform you of specific conduct they have witnessed;

a manager may speak with human resources about an employee's behaviour; or

the employee may raise issues directly with their own manager.
However an allegation arises, the type of allegation can affect your rights and obligations as an employer.
Serious misconduct is a term used to describe serious offences. For example, these offences include:
theft;

violence;

sexual assault;

fraud; and

causing serious risk to the health and safety of others during the course of employment.
You have different rights in respect of serious misconduct than other types of employee behaviour.
What Rights Do You Have as an Employer?
Summary dismissal allows an employer to terminate an employee on the spot if they have engaged in serious misconduct. This is a very serious undertaking, as you can face a claim of unfair dismissal if the conduct does not amount to serious misconduct. You should make sure not to rely on allegations that other employees or customers make if you did not witness the misconduct yourself. In this situation, you must undertake a formal workplace investigation before you can terminate the employee's employment legally.
You should speak separately with the:
individual making the allegation; and

employee who is alleged to have committed the misconduct.
Providing an opportunity for both parties to explain the situation will help you to make an informed decision about whether or not to terminate the relevant employee's employment. You should keep a detailed record of any meetings you hold with the employee and the individual alleging the misconduct.
If it is unclear from this discussion whether or not the employee's conduct equates to serious misconduct, you should consider whether:
it was an isolated incident;

the employee was able to provide a reasonable explanation for their conduct; and

the employee has previously received any training or workplace policies in respect of their conduct.
If the employee has not received a warning about their conduct previously, and the conduct does not amount to serious misconduct, you should provide the employee with a clear warning stating that any future incidents will result in dismissal. Details of this warning should be provided in a formal letter to the employee. If the employee's conduct continues and you decide to terminate their employment, ensuring that a clear investigative process occurred and the employee received clear warnings will help to protect you in the event of an unfair dismissal claim.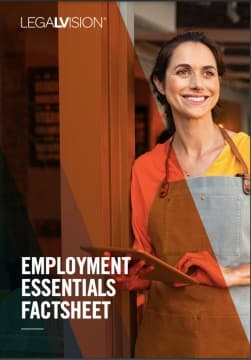 Employment Essentials Factsheet
As an employer, understand your essential employment obligations with this free LegalVision factsheet.
Download Now
Rights of the Employee
As an employer, you cannot legally fire an employee in Australia where allegations of bullying, harassment or misconduct have been raised without first undertaking a formal investigation of those complaints. Firing an employee without substantial evidence that the accusations are true could result in the employee filing an unfair dismissal claim. Another reason to do a thorough workplace investigation is to ensure that the claims are true. There are often cases where an employee falsely accuses a colleague of unfair treatment and this later comes to light during formal investigations or in court.
For example, in a recent case, a female employee alleged that two senior officers of the Commonwealth Bank had sexually harassed her during her employment at the bank. During the proceedings, however, the court found that many of her allegations of sexual harassment were unsubstantiated or simply untrue. Ultimately, the court ordered her to pay over $5 million in legal costs.
In another case, an employee of the Department of Sustainability, Environment, Water Population and Communities alleged that his manager had engaged in bullying and threatening behaviour. These allegations came about after the employee's performance review, during which his employer told him that he 'needed development.' After investigating the allegations, the Department found that this employee, along with other colleagues, had made these accusations to try and get the manager fired. The employer subsequently terminated the employee.
These cases show the importance of having an investigative process in place that:
respects the rights of the employee; and

gets to the bottom of the claims early.
Key Takeaways
When workplace allegations arise, you should ensure that you have thorough investigative processes in place to handle any claims of misconduct or harassment. This will prevent any issues that may arise from failing to:
take appropriate action; or

use effective resources to get to the truth of the matter.
If you are unsure of the appropriate steps to take to protect your business when workplace allegations arise, contact LegalVision's employment lawyers on 1300 544 755 or fill out the form on this page.
Frequently Asked Questions
What is an example of serious misconduct?
Allegations of behaviours such as theft, violence, sexual assault, fraud and any conduct that risks the health and safety of others is considered serious misconduct.
What rights do you have as an employer?
You have the right to summarily dismiss your employee for an allegation of serious workplace misconduct, however you must make sure you investigate the situation properly beforehand so you can avoid an unfair dismissal claim.
Was this article helpful?
Thanks!
We appreciate your feedback – your submission has been successfully received.
About LegalVision: LegalVision is a commercial law firm that provides businesses with affordable and ongoing legal assistance through our industry-first membership.
By becoming a member, you'll have an experienced legal team ready to answer your questions, draft and review your contracts, and resolve your disputes. All the legal assistance your business needs, for a low monthly fee.
Need Legal Help? Submit an Enquiry
If you would like to get in touch with our team and learn more about how our membership can help your business, fill out the form below.
Read other articles by Bianca
<!-/- Related Articles - Item -/->