What is the Fair Work Ombudsman in Australia?

Updated on June 27, 2022
Reading time: 5 minutes
As an employer, you likely have heard of or had some dealings with the Office of the Fair Work Ombudsman. For example, you may have visited the Fair Work Ombudsman website, read about them in recent news, or even had a disgruntled employee threaten to 'go to Fair Work' over workplace issues. You must understand the critical role of the Fair Work Ombudsman in promoting and monitoring compliance with workplace laws in Australia. This article will outline:
the function of the Fair Work Ombudsman;
the processes and enforcement options available to the Fair Work Ombudsman; and
helpful tips on minimising the risk of non-compliance by your business or by you in your personal capacity.
Structure and Role of the Fair Work Ombudsman
The Fair Work Ombudsman (the Ombudsman) is one of the five bodies making up the Fair Work system in Australia. Fair Work Practices aims to promote harmonious, productive, cooperative and compliant workplace relations in Australia. Therefore, the Ombudsman investigates and acts on breaches of the Fair Work Act, modern awards and registered agreements.
As an independent government agency, the Ombudsman is highly accessible and transparent in its reporting on findings of workplace breaches or misconduct. For this reason, you must understand the Ombudsman's primary functions. Therefore, ensure you are meeting your employer obligations and your employees' workplace rights under Australian employment law.
The Fair Work Act sets certain functions for the Ombudsman, including:
the promotion and monitoring of workplace laws and instruments;
the provision of education and advice to employees, employers and organisations;
the inquiry into and investigation of breaches of the Fair Work Act; and
enforcement action, including, but not limited to, applications to the Fair Work Commission or a court.
Compliance and Enforcement by the Fair Work Ombudsman
The Ombudsman has broad powers concerning investigating and enforcing compliance with Australian workplace laws. For example, if your employee raises concerns about being underpaid at work. Subsequently, you should attempt to address the concerns internally and seek some advice from a lawyer before doing so.
If you cannot resolve workplace matters internally, the Ombudsman may intervene on your employee's behalf to protect their workplace rights. In a small number of serious cases, the Ombudsman may conduct a formal investigation. Consequently, a Fair Work Inspector examines evidence of the alleged breach, including employee records. Furthermore, an inspector may visit your workplace to conduct interviews or access documents relevant to the investigation
Notably, Fair Work Investigators can conduct ad hoc workplace compliance checks under their 'compliance powers' contained within the Fair Work Act.
Suppose, a Fair Work Investigator finds that your business has been non-compliant. Then, the Ombudsman may take enforcement actions, depending on the circumstances and severity of the contraventions. Enforcement action may include:
issuing a compliance notice requiring you to take a specific action;
requesting a written undertaking from you, setting out your commitment to remedying the current breach and preventing further non-compliance;
issuing an infringement notice (i.e. a fine); or
making an application to the Fair Work Commission or commencing litigation in a court.
Therefore, enforcement action can result in serious financial penalties and reputational damage to your business. If you are facing enforcement action from the Ombudsman, you should seek advice from an employment lawyer.
Minimising the Risk of Non-Compliance
There are several steps you can take as an employer to reduce unnecessary intervention by the Ombudsman, including:
undertaking regular internal checks or audits of your payroll;
staying up-to-date with changes in the law, minimum pay rates and any relevant modern awards or enterprise agreements;
implementing systems for tracking employee entitlements;
complying with any notices or directives given to you by a Fair Work Inspector or the Ombudsman; and
seeking advice from an employment lawyer.
As an employer, the Ombudsman provides employment information and guidance on your obligations and your employees' workplace rights. This information can be helpful in providing advice on the payment of wages, granting of leave and rest entitlements and general best practices.
In addition, the Ombudsman compiles and regularly updates many freely accessible templates, fact sheets and best practice guides that are freely accessible. Utilising these resources and seeking tailored advice from an employment lawyer will ensure that you remain up-to-date and compliant with relevant workplace legislation and best practice.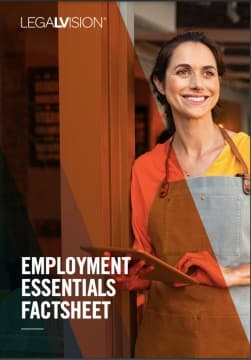 Employment Essentials Factsheet
As an employer, understand your essential employment obligations with this free LegalVision factsheet.
Download Now
Key Takeaways
The Fair Work Ombudsman plays an important role in protecting employees and promoting positive workplace relations in Australia. Therefore, you must understand the Ombudsman's role in enforcing the Fair Work Act and other industrial instruments and comply with any or all directives regarding compliance.
If you need assistance understanding your obligations as an employer, or you are facing enforcement action by the Ombudsman, our experienced employment lawyers can assist as part of our LegalVision membership. For a low monthly fee, you will have unlimited access to lawyers to answer your questions and draft and review your documents. Call us today on 1300 544 755 or visit our membership page.
Frequently Asked Questions
How is the Fair Work Commission different from the Fair Work Ombudsman?
Unlike the Ombudsman, which enforces compliance with workplace laws and provides education to employers and workers, the Fair Work Commission is the independent national workplace relations tribunal. The Commission can hear applications and determine claims relating to employees' rights. 
What is a Fair Work Inspector?
Fair Work Inspectors are government officials appointed under the Fair Work Act to investigate, monitor and enforce compliance with Australian workplace law. 
Was this article helpful?
Thanks!
We appreciate your feedback – your submission has been successfully received.
About LegalVision: LegalVision is a commercial law firm that provides businesses with affordable and ongoing legal assistance through our industry-first membership.
By becoming a member, you'll have an experienced legal team ready to answer your questions, draft and review your contracts, and resolve your disputes. All the legal assistance your business needs, for a low monthly fee.
Need Legal Help? Submit an Enquiry
If you would like to get in touch with our team and learn more about how our membership can help your business, fill out the form below.
Read other articles by Emma
<!-/- Related Articles - Item -/->