What is an Employment Separation Certificate and Why Do I Need One?
Updated on October 7, 2021
Reading time: 3 minutes
If your employer is terminating you, you will probably want to pursue unemployment benefits as soon as possible. However, you will likely need to submit an employment separation certificate first. This article will explain what an employment separation certificate is and will outline how to get one of these certificates after your employer has terminated you from your employment.
What is a Separation Certificate?
Firstly, an employment separation certificate is a document that provides basic details about terminated employees' employment. This is a Commonwealth Government form that your employer has to fill out.
The document will set out:
your period of employment;
your reason for separating from the company;
details about your average gross weekly wage; and
information about your final gross payment.
Your employer should issue a certificate if you are seeking temporary payments from Centrelink after your termination. Therefore, you can qualify for the benefits if you do not have a replacement job currently lined up.
This will allow the Australian government to accurately assess your claim for income support payments. In other words, it will help the government to pay you the right amount in benefits.
Importantly, your employer must complete the certificate within 14 days of receiving the request so that you can receive your benefits on time.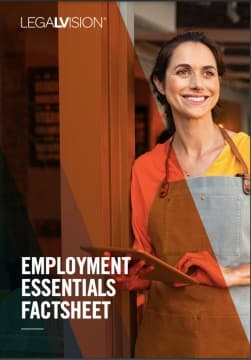 Employment Essentials Factsheet
As an employer, understand your essential employment obligations with this free LegalVision factsheet.
Download Now
Does an Employer Have to Provide a Separation Certificate?
Employers must provide a separation certificate if they have terminated you from the business. Unfortunately, if your former company refuses to provide you with a certificate, Centrelink may reject your benefit claim. Likewise, if the employer did not complete the certificate correctly, you may not receive your benefits.
In this situation, you should point your former employer to the Human Services Department's service for employers. This service is available through the National Business Gateway and can assist your former employer to properly complete the form or obtain a new form, if necessary.
It is also a good idea to consult an employment lawyer for help if you have employment law questions. For example, you can ask a lawyer if you think you have a claim for unfair dismissal or unlawful termination. This can help you avoid unnecessary problems.
What if I Cannot Get a Separation Certificate?
You should request a separation certificate from your employer if you wish to claim social security benefits. Thus, your employer has 14 days to give it to you or fax it to Centrelink. However, if you cannot obtain a separation certificate from your employer within the 14 days, contact Centrelink.
Key Takeaways
In conclusion, Employment Separation Certificates are needed by Centrelink to enable a person to claim income support payments. If a former employee requests a certificate, the employer must provide it. If you have any questions about employment separation certificates, contact LegalVision's employment lawyers on 1300 544 755 or fill out the form on this page.
Frequently Asked Questions
What is an employment separation certificate?
An employment separation certificate is a document that provides basic details about the employment of an employee that has been terminated. It will have information about your period of employment, the reason you separated from the company, your average weekly wage and your final payment.
Are employers required to provide an employment separation certificate?
Employers are required to provide you with an employment separation certificate within 14 days of termination. This will help you to access government support payments from Centrelink.
Australia's Global Talent Visa: How to Attract Top Talent
Thursday 7 October | 11:00 - 11:45am
Online
Understand how to navigate Australia's complex migration system to attract top overseas talent with our free webinar.
Register Now
5 Essential Contracts for your Online Business
Thursday 14 October | 11:00 - 11:45am
Online
Learn which key contracts will best protect your online business with our free webinar.
Register Now
Key Considerations When Buying a Business
Thursday 11 November | 11:00 - 11:45am
Online
Learn which questions to ask when buying a business to avoid legal and operational pitfalls, so you can hit the ground running. Join our free webinar.
Register Now
Was this article helpful?
Thanks!
We appreciate your feedback – your submission has been successfully received.
About LegalVision: LegalVision is a tech-driven, full-service commercial law firm that uses technology to deliver a faster, better quality and more cost-effective client experience.
The majority of our clients are LVConnect members. By becoming a member, you can stay ahead of legal issues while staying on top of costs. From just $119 per week, get all your contracts sorted, trade marks registered and questions answered by experienced business lawyers.
Need Legal Help? Get a Free Fixed-Fee Quote
If you would like to receive a free fixed-fee quote or get in touch with our team, fill out the form below.