How to Calculate Redundancy Pay in Australia
Updated on December 14, 2021
Reading time: 8 minutes
If your business is suffering financially or no longer requires the services of a particular role or team, you might consider dismissing these employees by making them redundant. In this circumstance, you must calculate the redundancy pay that each person is entitled to. Notably, the total amount you need to pay could be a high cost to your business. You could also become vulnerable to legal claims if you incorrectly calculate a worker's payment. This article explains:
what redundancy is;

how to calculate redundancy pay; and

the circumstances where employees are not entitled to a redundancy payment.
1. What Is a Redundancy?
Making an employee's role redundant means you no longer require it. This is in contrast to termination due to the employee's poor performance or another fault. Redundancy happens because of factors out of your employee's control. This could include:
declining economic conditions leading to poor business performance;

new technologies or processes replacing the employee; and

changing initiatives and functions of your business.
For example, if your business transitions from selling goods in a physical shop to an online store, you no longer require in-store salespeople. Here, you can make this position redundant.
You need to provide your employee with at least the minimum notice period of termination. As your employee's role is no longer required, it is common to pay them in lieu of their notice period.
Genuine Redundancy
A redundancy will be genuine if:
you no longer require an employee's role to be performed by anyone due to your business' operational requirements;

you have complied with the consultation obligations in any modern award or enterprise agreement that covers your employee (if any); and

you have considered redeploying the employees within your business or other related entities.
For example, if you are closing your Sydney CBD store but your shop in Bondi will continue to operate, you could offer redeployment to CBD's employees to continue working in Bondi (if there are roles available at Bondi).
Defending Fair Work Claims
You will be in a good position to defend an unfair dismissal claim, or a general protections claim if you have satisfied the conditions of genuine redundancy.
An unfair dismissal claim can arise if you:
do not have a good reason to terminate the employee; and

have not treated them fairly in the process of dismissal.
Alternatively, an employee might make a general protections claim if you take adverse action against them because they exercised a workplace right, such as making a complaint at work.
You should keep a written record of the steps you take to make an employee redundant, considering the factors outlined above. This proof will help protect you if an employee takes legal action.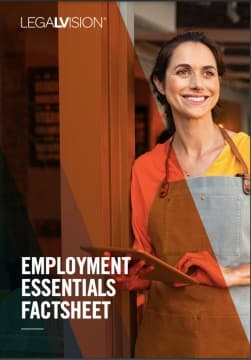 Employment Essentials Factsheet
As an employer, understand your essential employment obligations with this free LegalVision factsheet.
Download Now
2. How to Calculate Redundancy Pay Entitlements
Under the National Employment Standards, employees (other than casual employees) with more than one year of continuous service are entitled to redundancy pay. Their payment will depend on the length of their continuous service and their base rate of pay. A modern award, enterprise agreement, employment contract or workplace policy may entitle the employee to a higher redundancy pay than the National Employment Standards.
The formula for calculating your employee's redundancy payment is Base Rate of Pay x Redundancy Pay Period = Redundancy Pay.
The base rate of pay is the rate payable to your employee for their ordinary hours of work but does not include:
incentive-based payments and bonuses;

loadings;

monetary allowances; or

overtime or penalty rates.
Importantly, continuous service is the period during which you employ the worker, excluding any period of:
unauthorised absence;

unpaid leave; or

unpaid authorised absence.
| | |
| --- | --- |
| Period of Continuous Service | Redundancy Pay Period |
| At least one year but less than two years | Four weeks |
| At least two years but less than three years | Six weeks |
| At least three years but less than four years | Seven weeks |
| At least four years but less than five years | Eight weeks |
| At least five years but less than six years | 10 weeks |
| At least six years but less than seven years | 11 weeks |
| At least seven years but less than eight years | 13 weeks |
| At least eight years but less than nine years | 14 weeks |
| At least nine years but less than ten years | 16 weeks |
| At least ten years | 12 weeks – note that the redundancy pay period declines to 12 weeks after ten years of service because these employees are also entitled to long service leave entitlements. |
Employment Type
The following employees are not entitled to redundancy pay:
casual employees;

an employee employed for a specified period, a specified task, or for the duration of a specified season; and

an employee whose employment you terminate due to serious misconduct.
Redeployment
If the employee accepts an offer to redeploy to another role in the business or its related entities, then your employee:
will not be terminated; and

is not entitled to redundancy pay.
For example, you could offer a warehouse foreman at one of your closing distribution centres a position at another warehouse that your business operates.
Business Transfer
Your business may no longer require the performance of a job because you are selling the business and transferring it to a new owner. In these circumstances, you and the buyer must come to an arrangement relating to the employees.
If the new buyer does not want to hire one of your existing employees, you may have to cover their redundancy pay entitlement.
For example, you might sell your car wash business to a buyer who wishes to replace your hand-wash services with a machine. Your existing employees will become redundant because of the sale, and you will be responsible for paying their entitlements.
In contrast, your employees will not be entitled to a redundancy payment if the:
buyer wishes to continue engaging them; and

terms of the new employment are mostly the same.
This is the case even if the employees refuse to accept the new role. However, if the buyer's new terms of employment are not substantially the same as what you offered, you may be required to pay the employees' redundancy pay entitlement.
For example, you may sell a fashion retail shop to a buyer who plans to engage a salesperson on substantially the same terms you offered. This could include similar pay, commission schemes, in-store discounts and seniority of position. In this situation, the employee has no entitlement to redundancy pay. This does not apply in circumstances where a shareholder sells their ownership stake to a buyer, as the employing entity remains the same company.
Small Business Employer
If you operate a small business, you are exempt from paying redundancy entitlements. A small business has fewer than 15 employees at the time of the redundancy. This means the total number of employees includes those you are making redundant.
For example, if you have 30 employees but make 20 redundant, you are not classified as a small business even though you only have 10 employees left. This does not include genuine casual employees.
Inability to Pay
If you are unable to pay the redundancy pay entitlement because of your business' poor financial performance, you can make an application to the Fair Work Commission to reduce the amount of redundancy pay you owe. The Fair Work Commission may determine whether to reduce the amount, including up to 100% of the entitlement.
Key Takeaways
If you choose to make employees redundant, it is key to consider the amount of redundancy pay that you owe to avoid an employee claim and so you can anticipate the cost to your business.
Once you determine the redundancy to be genuine, you should review each of the redundant employee's continuous service against the table of entitlements. You should also review any applicable exceptions which could release or reduce the redundancy entitlement payable.
If you need help with conducting a redundancy, our experienced employment lawyers can assist as part of our LegalVision membership. For a low monthly fee, you will have unlimited access to lawyers to answer your questions and draft and review your documents. Call us today on 1300 544 755 or visit our membership page.
Frequently Asked Questions
When should your employee get redundancy pay?
In situations where your employee is entitled to receive severance pay (or a redundancy entitlement), you should generally pay them when they finish work or on the next regular payday. This will depend on your pay cycle.
How much tax does an employee pay on redundancy?
The tax your employee pays on redundancy depends on several factors. Their redundancy pay, which must be considered a genuine redundancy payment according to the Australian Tax Office, is tax-free up to a limit based on how many years' service they have served with you. This limit is a dollar amount plus an amount for each additional year of completed service in their period of employment.
Was this article helpful?
Thanks!
We appreciate your feedback – your submission has been successfully received.
About LegalVision: LegalVision is a commercial law firm that provides businesses with affordable and ongoing legal assistance through our industry-first membership.
By becoming a member, you'll have an experienced legal team ready to answer your questions, draft and review your contracts, and resolve your disputes. All the legal assistance your business needs, for a low monthly fee.
Need Legal Help? Submit an Enquiry
If you would like to get in touch with our team and learn more about how our membership can help your business, fill out the form below.
Read other articles by Dickson
<!-/- Related Articles - Item -/->