Legal Considerations for Engaging Contractors
Updated on April 20, 2022
Reading time: 5 minutes
As an employer, it is essential that you accurately determine if your workers are independent contractors or employees. The two differ greatly in terms of worker responsibilities and entitlements, which can impact our obligations accordingly. This article will take you through the key differences between employees and contractors and the legal considerations for engaging contractors to help you understand your obligations as an employer.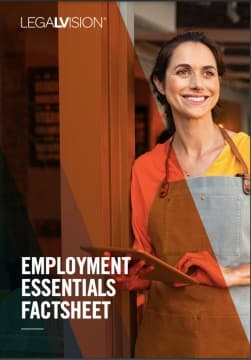 Employment Essentials Factsheet
As an employer, understand your essential employment obligations with this free LegalVision factsheet.
Download Now
Employee vs Contractor
Someone who enters into a contract of service with an employer is considered an employee. In contrast, a person who enters into a contract for services is considered an independent contractor.
Essentially, an independent contractor runs their own business. Some key features of an independent contractor are that they:
are usually engaged for a specific project or task;
have a high level of control and independence regarding their work;
decide what hours of work are necessary to complete the specific task;
pay their own Income Tax and Goods and Services Tax (GST) to the Australian Taxation Office (ATO);
submit an invoice for work completed;
do not receive paid leave entitlements; and 
operate under an Australian Business Number (ABN).
On the other hand, employees are paid regularly (for example, on a weekly, fortnightly or monthly basis), and their employer will deduct income tax.
When determining if your workers are employees or contractors, the contractor's agreement will not be the only determining factor. Therefore, you should consider the totality of the relationship and balance various factors against each other to determine whether a worker is an independent contractor or an employee.
Sham Contracting
A sham contracting arrangement occurs when an employer attempts to disguise an employment relationship as an independent contractor arrangement. The most common reason for doing this is to avoid paying employee entitlements.
Under the sham contracting provisions of the Fair Work Act 2009 (FW Act), an employer cannot:
misrepresent an employment relationship or a proposed employment arrangement as an independent contracting arrangement;
dismiss or threaten to dismiss an employee to engage them as an independent contractor; or
make a knowingly false statement to persuade or influence an employee to become an independent contractor.
The FW Act provides serious penalties for contraventions of these provisions. You may face a maximum penalty of $66,600 per breach. Therefore, it is crucial that you engage with contractors honestly and in good faith.
Why Hire Contractors?
There are several reasons why you might choose to hire independent contractors rather than employees. For example, if your business is experiencing a busy period, you can temporarily engage contractors to help on specific projects. Alternatively, you can reduce the support you need during slower months, so you only outsource for what you need.
1. Contractual Rights and Obligations
The Independent Contractors Act 2006 (ICA) and the FW Act protect independent contractors by providing for their minimum rights and entitlements.
At a minimum, independent contractors are entitled to:
fair contract terms;
equal bargaining power; and
payment in line with market rates.
In addition, if you enter into an independent contracting agreement, you and your contractor must take care not to influence one another through fraudulent means. Where minimum entitlements are not met, or, if you breach these provisions, you risk facing severe penalties from the Fair Work Ombudsman. 
2. Payments
Independent contractors will usually negotiate their payment as part of their contract for services. This contract might either state that they are to receive payment regularly or at the end of the contract (usually upon completion of a project).
Independent contractors will submit an invoice to you when they require payment. If you do not pay their invoice, they can take legal action for their unpaid invoices.
Moreover, you should note that independent contractors are responsible for paying their own income tax and GST to the ATO, so you will not need to worry about the tax of independent contractors.
3. Superannuation
In addition to paying their income tax and GST, independent contractors may also be responsible for making their own superannuation contributions. However, there are some exceptions to this, which you need to consider when engaging an independent contractor.
For example, you may owe contractors superannuation payments if you pay them 'wholly or principally' for their labour. This occurs when:
you provide payment for your contractor's personal labour and skills;
your contractor performs their work personally;
you make payments for each hour of work, rather than to complete a specific project.
The ATO has a useful contractor decision tool if you need assistance determining if you need to pay your contractors super contributions.
Key Takeaways
With a stark difference between the two, you must determine if your workers are contractors or employees as an employer. Some key legal considerations when employing contractors include:
contractual rights and obligations;
payment terms; and
superannuation payments.
If you need assistance determining if your workers are employees or contractors, our experienced employment lawyers can assist as part of our LegalVision membership. For a low monthly fee, you will have unlimited access to lawyers to answer your questions and draft and review your documents. Call us today on 1300 544 755 or visit our membership page.
Frequently Asked Questions
What is an independent contractor?
Essentially, an independent contractor runs their own business while providing services to yours. Some key features of an independent contractor are that they determine their own scope of employment and can refuse and accept work as they wish, are paid on a performance basis, and have a separate Australian Business Number (ABN). Independent contractors do not receive leave entitlements and are not typically entitled to superannuation payments. 
What are the legal considerations of hiring an independent contractor? 
When employing contractors, key legal considerations include their minimum contractual rights and obligations, payment terms, and entitlement to superannuation payments. It is also important that you do not disguise an employment agreement as a contractual arrangement, as this is an offence and will result in harsh penalties.
Day in Court: What Happens When Your Business Goes to Court
Thursday 2 June | 11:00 - 11:45am
Online
If your business is going to court, then you need to understand the process. Our free webinar will explain.
Register Now
How to Manage a Construction Dispute
Thursday 9 June | 11:00 - 11:45am
Online
Protect your construction firm from disputes. To understand how, join our free webinar.
Register Now
Startup Financing: Venture Debt 101
Thursday 23 June | 11:00 - 11:45am
Online
Learn how venture debt can help take your startup to the next level. Register for our free webinar today.
Register Now
Was this article helpful?
Thanks!
We appreciate your feedback – your submission has been successfully received.
About LegalVision: LegalVision is a commercial law firm that provides businesses with affordable and ongoing legal assistance through our industry-first membership.
By becoming a member, you'll have an experienced legal team ready to answer your questions, draft and review your contracts, and resolve your disputes. All the legal assistance your business needs, for a low monthly fee.
Need Legal Help? Submit an Enquiry
If you would like to get in touch with our team and learn more about how our membership can help your business, fill out the form below.
Read other articles by Emily
<!-/- Related Articles - Item -/->