Am I Allowed to Conduct Surveillance on My Employees?
Updated on February 21, 2022
Reading time: 6 minutes
As an employer, you may only consider conducting surveillance on employees following allegations of misconduct. In such circumstances, you may seek to conduct an investigation compliant with relevant laws which you can rely on for disciplinary action. However, it is essential to consider such questions before undergoing an investigation. This article explains: 
what surveillance is;

why it is important;

what the law says; and 

some practical steps to take.
What is Workplace Surveillance?
Workplace surveillance involves employers conducting surveillance on their employees regardless of whether you originally intended to monitor employees. For example, you may use surveillance technologies in a shop for customers' security to conduct surveillance on employees. Hence, this amounts to workplace surveillance.
You can conduct surveillance in different ways, which may vary depending on the nature of the work. It could include:
reviewing and accessing employees' email accounts or emails;

reviewing and accessing employees' files or accessing their work computer;

audio recording all inbound and outbound calls made and received by employees for training and quality purposes;

recording internet usage by employees (including sites and pages visited, files downloaded, video and audio files accessed and data input);

using CCTV cameras; and

using GPS tracking.
Why Are Rules Relating to Workplace Surveillance Relevant?
Understanding your rights and obligations relating to workplace surveillance is relevant in circumstances where you take disciplinary action, including employee termination. Indeed, your response to your employee's misconduct must be reasonable. The table below outlines some relevant precaution measures you may take in different circumstances.
| | |
| --- | --- |
| Incident | Relevant Surveillance Precaution |
| Employee accused of sexual harassment over Slack | Employer to access the alleged harassing employee's Slack messages |
| Employee accused of expensing travel that is not for work | Employer to review their GPS tracking |
| Employee is accused of stealing office supplies | Employer to review CCTV camera surveillance footage of the office |
Further, complying with workplace surveillance becomes especially important when dealing with unfair dismissal claims. This is something to keep in mind, particularly if those claims escalate to formal court proceedings. 
Workplace Surveillance Under the Law
In particular, state or territory laws govern workplace surveillance. So, it is essential to check the relevant law depending on where your workplace is based.
New South Wales and the Australian Capital Territory
The Workplace Surveillance Act 2005 (NSW) and the Workplace Privacy Act 2011 (ACT) covers workplace surveillance in NSW and the ACT. Both laws have similar general requirements:
you should put employees on notice before commencing surveillance. The notice is 14 days unless the employee agrees to a different notice period (as per the employment agreement);

the notice must include:

the kind of surveillance you will use (camera, computer or tracking);

how you will use the surveillance;

when the surveillance starts;

whether the surveillance will be continuous or intermittent;

whether the surveillance will be for a specified limited period or ongoing; and

Under ACT legislation, the purpose for which the employer may use and disclose surveillance records of the surveillance;

you must have a policy relating to workplace surveillance, and you must carry out surveillance per this policy;

for camera surveillance

, cameras must be visible, and there must be signs notifying people they are under camera surveillance; and

for tracking, there must be a notice or visible warning that puts the employee on notice that they are under tracking surveillance.
Victoria, Western Australia, South Australia and the Northern Territory
There is no specific workplace surveillance legislation in Victoria, WA or the NT. Instead, there is general legislation relating to surveillance. Broadly, these states and territories do not permit optical or listening devices unless it is consented to or unless another exemption applies. For example, it is reasonably necessary to protect any person's lawful interests, and the occupier of the premises agrees to the installation.
Additionally, the Victorian legislation specifically prohibits employers from installing optical or listening devices in:
toilets; 

change rooms; or 

similar. 
It further requires consent to install and use tracking devices. On that basis, you may wish to seek employees' consent in their employment agreements.
Queensland and Tasmania
Further, there is no specific surveillance legislation other than general legislation. For example, in Queensland, a person who records a person where a reasonable adult would expect privacy is guilty of an offence under criminal law. However, guilt is dependent on the circumstances.
What Practical Steps Can You Take?
In most states and territories, you should consider seeking employees consent if you intend to:
undertake camera surveillance; and

track or install and use listening or optical surveillance devices. 
For example, consider incorporating their consent in their employment agreement or seek their agreement over email.
If your employees are in New South Wales or the Australian Capital Territory, you should ensure you comply with your notification requirements. You can do this through your employment agreements or in a policy. 
Likewise, if you intend to conduct surveillance on new employees from their commencement date, consider seeking their agreement in the employment agreement to waive their 14 day notice period. In addition, it is a good idea to have a workplace surveillance policy. However, the legislation does not specify what the policy must include unless you intend to meet your notification requirements in the policy. 
For tracking and camera surveillance, you should ensure employees are on notice with signage and ensure the cameras are obvious (for camera surveillance).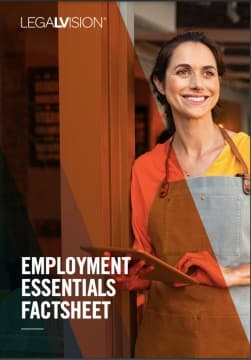 Employment Essentials Factsheet
As an employer, understand your essential employment obligations with this free LegalVision factsheet.
Download Now
Key Takeaways
Understanding your obligations under workplace surveillance laws can be a strenuous exercise. This is especially so since the laws are different in each state or territory. However, it is crucial to understand them, given they may impact your liability in an unfair dismissal claim or other proceedings. On that basis, it is essential to consider whether your employment agreement includes terms seeking consent to undertake the surveillance and complying with relevant notification requirements. 
If you require assistance reviewing your employment agreement regarding surveillance legislation, our experienced employment lawyers can assist as part of our LegalVision membership. For a low monthly fee, you will have unlimited access to lawyers to answer your questions and draft and review your documents. Call us today on 1300 544 755 or visit our membership page.
Frequently Asked Questions
What is workplace surveillance?
It refers to surveillance conducted by employers on their employees.
Should you seek consent to undertake surveillance?
Yes, you should consider seeking employees' consent in most states and territories. Indeed, in some states, consent is a legal requirement if you intend to undertake surveillance, track staff, or install and use listening or optical devices.
Do I need to seek consent in the employment agreement?
It is important to consider whether your employment agreement includes terms seeking consent to undertake the surveillance and complying with the notification requirements if the employee is in NSW or ACT.
Was this article helpful?
Thanks!
We appreciate your feedback – your submission has been successfully received.
About LegalVision: LegalVision is a commercial law firm that provides businesses with affordable and ongoing legal assistance through our industry-first membership.
By becoming a member, you'll have an experienced legal team ready to answer your questions, draft and review your contracts, and resolve your disputes. All the legal assistance your business needs, for a low monthly fee.
Need Legal Help? Submit an Enquiry
If you would like to get in touch with our team and learn more about how our membership can help your business, fill out the form below.
Read other articles by Prashana
<!-/- Related Articles - Item -/->