Can I Terminate an Employee for Swearing?

Updated on April 14, 2022
Reading time: 7 minutes
Swearing has become relatively normalised in the workplace within many industries. As an employer, you may wonder whether an employee swearing is enough to terminate their employment. The answer depends on various factors such as:
the context in which the behaviour takes place;
what was said; and
the tone and manner in which it was said.
If the behaviour amounts to 'serious misconduct,' you may be able to discipline or terminate the employee. This article explores:
when swearing might amount to serious misconduct; 
what the relevant factors to consider might be; and
when you may be able to terminate the employee.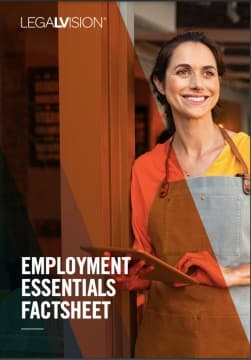 Employment Essentials Factsheet
As an employer, understand your essential employment obligations with this free LegalVision factsheet.
Download Now
What is Serious Misconduct?
Serious misconduct is behaviour that causes a severe risk to your business, to the point that it threatens or conflicts with their continued role in your business. It is also conduct that causes a serious and immediate risk to:
the health or safety of a person; or
the reputation, viability or profitability of your business.
Some examples of serious misconduct include:
engaging in theft, fraud, assault or sexual harassment at work;
being intoxicated at work; and
refusing to carry out lawful and reasonable instructions that are within an employee's contract.
If an employee's swearing amounts to serious misconduct, you can terminate their employment for this reason.
What Does the Law Say About Serious Misconduct?
The Fair Work Commission dealt with a recent case where an employer had terminated their employee's employment after using offensive language in a phone conversation with their employer. The Commission found that the employer had unfairly dismissed their employee because the swearing did not amount to serious misconduct. This was because:
no other employees heard the telephone conversation;
the employee only made the comments in a single outburst of anger; and swearing was common in their workplace.
The circumstances of the case were critical. The outcome may have been very different if, for example, the employee had sworn in front of a customer. However, this case highlights factors that a court will consider when deciding whether swearing equates to serious misconduct.
Ultimately, the threshold for serious misconduct is very high. However, your employee's swearing may be deliberate and ongoing, despite repeatedly providing warnings or actively seeking to reduce the behaviour. In this case, you may be able to terminate their employment for serious misconduct. Before you do so, it would be wise to seek legal advice to avoid a claim for unfair dismissal.
What is Unfair Dismissal?
Unfair dismissal is where you terminate employment in a harsh, unjust or unreasonable manner. If you terminate an employee for swearing that does not amount to serious misconduct, you and your business can face serious consequences.
The Fair Work Commission will consider a range of factors when determining if the dismissal was fair, including:
your workplace environment i.e. whether your business operates on a highly stressful worksite or in a client-facing environment;
your workplace culture, which includes your company policies, your business leadership and how swearing has been addressed in the past;
whether your employee's swearing was targeted at someone as part of a verbal attack; and
the circumstances in which the swearing took place i.e. in private on a phone call or in front of customers.
Recently, a business dismissed an employee because of remarks they made to colleagues based on their sex, religion, culture, or heritage. Despite the remarks being ''highly offensive and inappropriate,' the Courts decided this was an unfair dismissal. Notably, the employer or business never provided a formal warning to the employee. Likewise, no consistent investigation of similar behaviour in the workplace had occurred. Therefore, the court ordered the employer to give the employee back his job and pay reduced backpay due to his misconduct.
When Will Swearing Constitute Serious Misconduct?
If your employee swears in the workplace, you may wish to take action. Whether that means a warning or more serious disciplinary action will depend on the circumstances. Below, we outline the key factors to consider when deciding how to proceed. 
Is the Behaviour a Once Off?
Consider whether the employee has sworn before. Suppose it is the first time the employee has sworn in front of you. If this incident does not involve other unacceptable behaviour, such as aggression towards you or other employees, it is unlikely to amount to serious misconduct. If you terminate an employee for swearing, you may face an unfair dismissal charge if the behaviour was a once-off.
Did You Give the Employee an Opportunity to Explain Their Behaviour?
If you decide to take disciplinary action, you will need to show that you have treated your employee fairly. In addition, you should allow your employee to explain their behaviour and assure you that it is unlikely to happen again.
Have You Provided Your Employees With Training?
If there are widespread unacceptable behaviours in your workplace, you should address them with your employees via policies and training. If training days are not practical for your business, a brief discussion may be enough to remind employees of their obligations. Ensure that you require employees who attend a meeting or training session to sign an attendance sheet proving their participation.
Likewise, consider your workplace's culture: is swearing typically acceptable? Make sure to be consistent in how you treat employees who swear. To better foster a workplace environment that is respectful and professional, you might consider incorporating workplace policies and codes that include a no swearing policy. To avoid an unfair dismissal claim, these codes should indicate:
situations where swearing is unacceptable; and
consequent enforcement measures.
Key Takeaways
If your employee swears in the workplace, you can only terminate their employment without notice if the incident amounts to serious misconduct. Serious misconduct is when an employee engages in deliberate behaviour that causes a serious and immediate risk to the health or safety of a person, or the reputation or profitability of your business. If you are considering your options after a swearing incident, you should take into account:
what was said;
how it was said;
who heard it; and
any other circumstances that mean you have to take action.
The action you take could range from informal warnings to formal disciplinary proceedings. If you are unsure of how to manage a swearing employee in your workplace, our experienced employment lawyers can assist as part of our LegalVision membership. For a low monthly fee, you will have unlimited access to lawyers to answer your questions and draft and review your documents. Call us today on 1300 544 755 or visit our membership page.
Frequently Asked Questions
Can you terminate an employee for swearing?
Consider the context of the swearing. Termination based on behaviour needs to be because the employee displayed serious misconduct. Swearing does not expressly fit the Fair Work Regulations for serious misconduct, potentially leading to an unfair dismissal application. However, if the swearing is connected with threats of assault or abuse towards other employees, this behaviour could be appropriate for dismissal. Importantly, there is an emphasis on other alternatives.
What are the alternative actions that an employer can take when an employee swears?
Some alternative actions include giving the employee a formal warning or providing/mandating training regarding the behaviour. As an employer, you should actively seek to reduce behaviour that can damage the reputation of your business or make other staff feel uncomfortable or unsafe.
Was this article helpful?
Thanks!
We appreciate your feedback – your submission has been successfully received.
About LegalVision: LegalVision is a commercial law firm that provides businesses with affordable and ongoing legal assistance through our industry-first membership.
By becoming a member, you'll have an experienced legal team ready to answer your questions, draft and review your contracts, and resolve your disputes. All the legal assistance your business needs, for a low monthly fee.
Need Legal Help? Submit an Enquiry
If you would like to get in touch with our team and learn more about how our membership can help your business, fill out the form below.
Read other articles by Prashana
<!-/- Related Articles - Item -/->