What Can I Do if a Former Employee Threatens to Ruin My Business?

Updated on October 19, 2021
Reading time: 6 minutes
Your relationship with a former employee can often deteriorate after an employee's employment, especially if the termination was on bad terms or if they were not a stellar employee. As an employer, you may receive threats from previous employees regarding your business. In reality, there is not much you can do to an ex-employee if they make a mere threat to your business. However, if they act on their threats, you may have options available to you. This article will explore the common threats made by former employees and what you can do if those threats become a reality.
Threats to Ruin Your Business Reputation
An ex-employee may make threats to you that they will make damaging statements about your business. For example, they may threaten to post a negative review about your business. This can cause you to be on bad terms with your customers and lower employee morale. If the employee actually goes through and makes those statements to the public, you may be able to claim injurious falsehood.
Injurious falsehood is a claim that is sometimes mentioned alongside defamation. However, the claim is very different and harder to prove. Injurious falsehood claims relate to statements that cause damage to the reputation or commercial interests of a company.
There are four key elements that you will have to prove. These are that:
there is a

false statement

about your business or the goods/services you provide;

the statement was

published to a third person;

there is an

element of malice

by the person publishing the statement ('malice' in this context means an intention to inflict damage on your business); and

there has been

actual damage

to your business as a direct result of the statement.
For example: If a former employee threatens to bad-mouth your business to current and existing clients of your business, you will need to prove:
the 'bad-mouthing' was done using false statements;

they made the statements to the current or existing partners;

they intend to inflict damage on your business; and

your business suffered an actual loss as a result. For example, this can be proven if your partners cancel their relationship with your business due to the statements.
Note: There are certain defences that a former employee may be able to rely on if you are considering making a claim against them for injurious falsehood.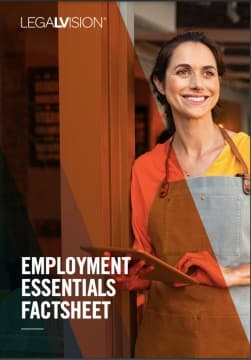 Employment Essentials Factsheet
As an employer, understand your essential employment obligations with this free LegalVision factsheet.
Download Now
Threats to Disclose or Misuse Confidential Information
An former employee may have had employee access to confidential information such as templates, client information, or source code. The age of cloud storage and online communication has made it easier than ever for employees to take company information. If you notice that your information has become compromised, you can take the following steps to protect your information from a disgruntled employee.
Check the Employment Agreement in Relation to Confidentiality
Most standard form employment agreements should contain a clause about the use of confidential information during and after employment. It is a good idea to include:
what the business classifies as 'confidential information';

what type of information the employee will interact with during the course of their employment;

and

the process and obligations for the return or destruction of confidential information for an ex-employee

.
You should also check the employment agreement for clauses related to intellectual property. An employee must be aware of whether particular works they create in the course of their employment remain the employer's property.
If the employment agreement does not contain such a clause, there may still be some overriding or implied duties owed by the employee. However, it is simpler to have a term in the contract to refer to.
Consider Enforcement Options
Your first steps should include some kind of letter to the former employee that states their ongoing obligations about using confidential information, either as explicitly described in the employment agreement or as implied. The letter should request either a return or destruction of the confidential information and a request for the employee to cease using the confidential information.
Suppose the employee persists and you can predict or are currently experiencing serious harm to your business. In that case, you might consider seeking a court order to compel the employee to stop using your information.
Threats to Poach Clients or Start a Competing Business
Often employees who have been dismissed may make threats to poach clients or start a competing business. If you notice any of this behaviour occurs, you may be able to enforce a restraint of trade clause in the employment agreement.
A typical restraint of trade clause aims to prevent employees from:
working for competitors or becoming a competitor; and

soliciting any of your business' clients, suppliers, employees or contractors, or interfering with any of those relationships.
Enforcement measures for a restraint of trade clause are similar to enforcing confidentiality clauses as mentioned above. You should generally start with a letter that outlines the employee's obligations and asks them to cease their actions. If the letter is unsuccessful, you might be able to pursue a claim against them in court.
Enforcing a restraint of trade clause is not as simple as it might seem, as you will have to prove that the restraint is reasonable to protect your business interests. Courts will not help if they think the restraint goes beyond providing adequate protection to your business. It is a good idea to ensure you have a valid claim.
Key Takeaways
As with any potential dispute with an employee, it is important to have a well-drafted employment contract that will clearly outline both you and the employee's obligations after they stop working for you. If you have any questions regarding pursuing action against a former employee, get in touch with one of LegalVision's dispute resolution lawyers on 1300 544 755 or fill out the form on this page.
Frequently Asked Questions
What enforcement actions can I take against a former employee who has breached their employment agreement?
Generally, you should try sending a letter that outlines their obligations and requests them to cease their actions that are breaching the agreement. If the letter is not successful, you may be able to go to court and seek an injunctive order. This stops the employee from carrying out further actions.
What is injurious falsehood?
Injurious falsehood is a claim you can make against a former employee where their statement about your business causes actual damage to your reputation or commercial success.
Was this article helpful?
Thanks!
We appreciate your feedback – your submission has been successfully received.
About LegalVision: LegalVision is a commercial law firm that provides businesses with affordable and ongoing legal assistance through our industry-first membership.
By becoming a member, you'll have an experienced legal team ready to answer your questions, draft and review your contracts, and resolve your disputes. All the legal assistance your business needs, for a low monthly fee.
Need Legal Help? Submit an Enquiry
If you would like to get in touch with our team and learn more about how our membership can help your business, fill out the form below.
Read other articles by Christopher
<!-/- Related Articles - Item -/->