How to Identify, Prevent and Manage Fatigue In the Workplace
Updated on December 14, 2021
Reading time: 6 minutes
Fatigue is a state of exhaustion that can reduce an employee's ability to perform work safely and effectively. It is a health and safety risk, since the employee experiences reduced alertness or physical incapability. Consequently, it can cause errors in judgment and an increase in near misses or injuries, exposing your business to liability for damages or associated debts.
In this article, we outline how you, as an employer, can identify, prevent and manage fatigue in the workplace and mitigate risk.
How Can an Employer Identify Fatigue?
Fatigue is more than feeling drowsy or overworked. Below are some signs or symptoms to look for in your employees:
excessive yawning or falling asleep;

memory problems;

inability to concentrate;

impaired decision making; or

changes in behaviour, such as lateness or absenteeism from work.
How Can an Employer Prevent Fatigue?
You can prevent fatigue by recognising the factors contributing to and increasing fatigue risk. For example, these may include:
work schedules such as early starts or late finishes, limited breaks between shifts or overtime, all of which limit the time an employee can physically and mentally recover from work;

job demands such as concentrating for extended periods, repetitious work or continued physical effort;

sleep conditions such as length, quality and time since sleeping;

environmental conditions such as exposure to heat, cold or noisy workplaces; or

non-work related factors such as lifestyle, family responsibilities or extended commuting time.
Once you have identified such factors, you should monitor them in the workplace. For example, you can actively monitor these factors within their workplace through:
consulting with your employees and managers about the impact of their workload and schedules on them;

examining work practices, such as the control your employees have over their hours and rest breaks;

examining work records (such as rosters) to determine how many hours your employees are working and whether this is reasonable or excessive;

reviewing incident data and considering the common factors in incidents – such as time of day or employee; and

reviewing human resource data such as absenteeism, staff turnover or worker's compensation claims.
How Can an Employer Manage Fatigue?
The best way to manage fatigue in the workplace is to eliminate the factors we have listed above. However, what this involves will depend on the industry, structure of the organisation and employees carrying out the work.
If elimination is impossible, an employer can manage fatigue by incorporating control measures. For example, this may include:
scheduling work hours to allow employees the opportunity to sleep and rest;

introducing rotating job positions to limit periods that employees are mentally or physically fatigued;

allocating consecutive days off or keeping consecutive night and

overtime shifts

to a minimum;

avoiding working during periods of extreme temperature; and

consulting with employees about how to manage fatigue when they are not at work.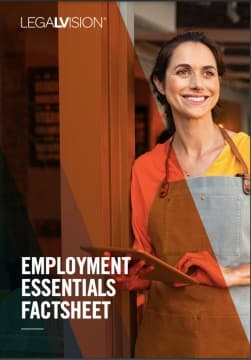 Employment Essentials Factsheet
As an employer, understand your essential employment obligations with this free LegalVision factsheet.
Download Now
Fair Work Requirements
The Fair Work Commission has set some requirements regarding employee work hours and how you can roster employees and employees' breaks.
Under the Fair Work Act, full-time employees are to work 38 hours per week, plus reasonable additional hours. However, certain circumstances will determine whether additional hours are reasonable for you. These include:
whether there is any risk to employee health and safety;

if the employer gives any notice to work additional hours;

the usual patterns of work in the industry;

if the employee gave any notice to refuse their intention to work these hours; and

others listed on the

Fair Work website.
Therefore, if your employee is working longer than 38 hours, it is essential to consider whether that is reasonable considering their fatigue.
One way to counteract working additional hours is through rostered days off. These can be paid or unpaid. If an employee has worked extra hours that added up over a set period, you will typically pay them. You should promote a work culture that encourages days off and taking leave, as this is imperative to managing fatigue.
Rest and Meal Breaks
Rest and meal breaks are also important and are set out in awards, enterprise agreements or other registered agreements for paid or unpaid rest breaks. For example, those covered by the Cleaning Services Award are entitled to the following breaks.  
Cleaning Services Award
Shiftworker Breaks
Non-Shiftworker Breaks

Works for less than 4 hours

0 rest breaks

0 meal breaks

Works for less than 4.5 hours

2 rest breaks

0 meal breaks

Works over 4 hours

1 rest break for full-time shift workers

1 meal break

Works over 4.5 hours

2 rest breaks

1 meal break
A rest break under this Award is a ten minute paid break, which counts as time worked. A meal break is a 30-60 minute unpaid break that does count as time worked except for shift workers.
Each Award has its own allowances for breaks, so your employees must be using these breaks.
Workplace Fatigue Policy
You may also want to consider drafting a Workplace Fatigue Policy to communicate how you will prevent and manage fatigue in the workplace. This could include information about:
hours of work, such as

maximum shift length

and average weekly hours;

control measures for specific tasks, jobs and operations;

self-assessment checklists;

procedures for reporting potential hazards and risks; and

procedures for managing fatigued workers such as temporary task re-allocation if the employee is too fatigued to work.
This Policy would usually form part of an Employee Policies Handbook, which sets out all of the policies of your company and your expectations and values. This will usually include a policy on:
leave entitlements;

dress codes;

internet, email and social media use;

bullying, discrimination and harassment;

workplace surveillance;

complaints handling; and

disciplinary action.
Key Takeaways
If your employees are fatigued, it is a health and safety risk as they will experience reduced alertness or even physical incapability. To prevent near misses or injuries, it is important that you identify, prevent, and manage fatigue in the workplace.
If you need help managing workplace fatigue, our experienced employment lawyers can assist as part of our LegalVision membership. For a low monthly fee, you will have unlimited access to lawyers to answer your questions and draft and review your documents. Call us today on 1300 544 755 or visit our membership page.
Frequently Asked Questions
What is workplace fatigue?
Workplace fatigue is a state of exhaustion that can reduce an employee's ability to perform work safely and effectively. It is a health and safety risk since the employee experiences reduced alertness or physical incapability. It is characterised by excessive yawning or falling asleep at work, memory problems, an inability to concentrate, and changes in behaviour, such as absenteeism.
How can employers manage workplace fatigue?
Employers should work with managers and employees to ensure they are getting adequate rest and breaks between shifts. For example, an employer should ensure there are opportunities to sleep and rest, and rotate job positions that are physically or mentally fatiguing.

Was this article helpful?
Thanks!
We appreciate your feedback – your submission has been successfully received.
About LegalVision: LegalVision is a commercial law firm that provides businesses with affordable and ongoing legal assistance through our industry-first membership.
By becoming a member, you'll have an experienced legal team ready to answer your questions, draft and review your contracts, and resolve your disputes. All the legal assistance your business needs, for a low monthly fee.
Need Legal Help? Submit an Enquiry
If you would like to get in touch with our team and learn more about how our membership can help your business, fill out the form below.
Read other articles by Prashana
<!-/- Related Articles - Item -/->