Table of Contents
A labour agreement is a formal arrangement negotiated between Australian employers and the Australian Government. They allow the employer to sponsor overseas workers for a skilled visa. This then allows the overseas worker to work in Australia for a specific period of time in an approved occupation. If you are an Australian business owner and are struggling to fill roles within your business via the local labour market, you may be interested in sponsoring workers from overseas. This article will discuss how you can apply to be a sponsor for overseas workers.
Minimum Requirements
You can request a labour agreement where:
you can demonstrate that there is a genuine labour market need for an overseas skilled worker to fill a position in Australia;

there is no standard visa pathway available; and

the proposed labour agreement is consistent with Australia's national interest.
A labour agreement arrangement assists employers in addressing immediate skills needs. However, you, as an employer, must have plans in place to ensure that skills are transferred from overseas workers to Australian workers to reduce your future reliance on overseas workers.
Types of Labour Agreements
There are five categories of labour agreements.
Company-Specific Labour Agreements
These are developed directly between you and the Department of Home Affairs, who will consider the terms and conditions of the agreement on a case-by-case basis. Therefore, the Department will consider this type of agreement only where a:
genuine skill or labour shortage exists, for an occupation which is not already provided for in an industry agreement; and

designated area migration agreement or project agreement is not already in place.
In addition, if you are seeking a company-specific labour agreement, you must:
be an Australian registered business with good standing, and be able to demonstrate that the business is financially viable and able to support the proposed number of overseas workers requested under the labour agreement;

be seeking to fill skilled occupations that are not eligible occupations under the Temporary Skills Shortage program;

demonstrate that you will be able to meet the salary and employment condition requirements as outlined on the Department's website;

be able to demonstrate that you have made recent, genuine efforts to recruit, employ or engage Australian workers before seeking to fill the position through the labour agreement program;

be able to demonstrate that your business does not have an over-reliance on overseas workers. Overseas workers should not exceed a third of your total workforce while your agreement is in place;

be able to demonstrate that the workers you are sponsoring have at least two years of work experience in the relevant skilled occupation, meet the requirements for the occupation and meet any industry registration or licensing requirement; and

demonstrate that you have consulted with relevant industry stakeholders before submitting your request. Relevant stakeholders include the industry body which best represents your interests, the union relevant to the occupation requests, and any other agency or community group that the proposed labour agreement may impact.
Industry Labour Agreements
Template labour agreement arrangements are in place for a limited number of industries. These industries include:
dairy;

fishing;

meat;

on-hire;

pork;

restaurant (fine dining); and

minister of religion.
These arrangements provide fixed terms and conditions agreed to in consultation with key industry stakeholders. The conditions are specific to each industry sector.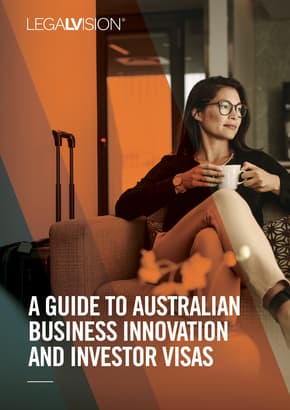 LegalVision Guide to Australian Business Visas
This guide sets out the key business innovation and investor visas available to individuals and businesses looking to start or manage a business or make a significant financial investment in Australia.
The publication also includes a list of frequently asked questions about business migration pathways in Australia.
Download Now
Designated Area Migration Agreements
These are overarching agreements covering a designated regional area within Australia. Designed Area Migration Agreements help support economic performance in regional areas of Australia, and employers in these areas experiencing skills and labour shortages may seek to sponsor skilled and semi-skilled overseas workers.
For example, a request for a Designated Area Migration Agreement must include a:
letter of endorsement from the relevant state or territory government;

Designated Area Representative endorsed by the state or territory government who can manage the request to establish an agreement;

business case if seeking additional concessions to the minimum requirements; and

explanation of how the Representative proposes to support employers and facilitate the integration of overseas workers in their local communities.
Project Agreements
Project companies with projects endorsed by the Department of Foreign Affairs and Trade under the China-Australia Investment Facilitation Arrangement can request a project agreement. Such an agreement may also be considered for a large-scale activity where multiple sub-contractors need labour.
Global Talent Employer Sponsored Labour Agreement
The Global Talent Employer Sponsored (GTES) Program is a permanent visa designed to attract highly skilled and talented people from across the world who do not meet the traditional requirements for other employer-sponsored programs. However, there are a number of criteria to be eligible for this program, which you can read about here in more depth.
Continue reading this article below the form
Need legal advice?
Call 1300 544 755 for urgent assistance.
Otherwise, complete this form and we will contact you within one business day.
Requesting a Labour Agreement
If you meet the minimum requirements to sponsor an overseas worker via a labour agreement, you must lodge an online labour agreement request form in ImmiAccount. The Department will then aim to assess your labour agreement request within three to six months. If the Department approves your labour agreement request, you must sign and return it for execution within four weeks. The agreement will then remain in effect for up to five years.
Labour Agreement Sponsors
The labour agreement will outline the number of employees you can nominate for an employer nominated visa. If you wish to vary the terms of your labour agreement, you must request the variation in writing and must support your request with evidence as to why you require additional overseas workers.
Key Takeaways
Labour agreements are arrangements between Australian employers and the Australian government. They allow employers to fill gaps in the local labour market with overseas workers. However, labour agreements are only for specific circumstances where existing visa pathways are not suitable to fill a role. Therefore, as an employer, it is important that you negotiate terms that are suitable to meet your needs. Additionally, you must understand your obligations as a sponsor. A failure to comply with your obligations may result in the termination of your labour agreement and subsequently the ability to sponsor employees. LegalVision's expert immigration lawyers can assist with applying for and negotiating the terms of your labour agreement. Contact them on 1300 544 755 or complete the form on this page.
Frequently Asked Questions
What is a labour agreement?
A labour agreement is an agreement between the Australian government and employers to sponsor overseas workers. For example, if there is a skills shortage in Australia or your local labour market, a labour agreement may be available.
None of the labour agreement pathways apply to my business. Can I still use a labour agreement?
You may still be able to use a labour agreement to sponsor foreign workers. However, the Department of Home Affairs will consider this on a case-by-case basis. In addition, your business must fulfil strict criteria.
Was this article helpful?
Thanks!
We appreciate your feedback – your submission has been successfully received.