Less Common Objections to a Trade Mark Application

Updated on April 8, 2022
Reading time: 5 minutes
An objection to a trade mark application occurs when a trade mark examiner considers the trade mark to not meet the legislative requirements for registration. In this article, we explored the most common objections to trade mark applications. Occasionally, applications may face objections for less common reasons. Sometimes, you can easily remedy these objections, while other times, you may need to include certain endorsements on your application to meet registration requirements. Do not be disparaged if you have received a refusal on one of these bases. This article will help you understand why you may have received a refusal.
Prohibited or Prescribed Signs
There are six kinds of prohibited signs, words or symbols. If your trade mark contains, consists of, or closely resembles one of these signs, it may be rejected.
Trade marks using a representation of the Arms or emblem of an Australian city or town, or of a public institution or authority.

The words: "To counterfeit this is a forgery", or words to the same effect.

Trade marks using a representation of the Arms, flag or seal of the Commonwealth or of a State or Territory.

Trade marks containing words such as:

"Patent";

"Protected International Trade Mark";

"Registered";

"Copyright";or

words or symbols having the same effect (including the symbols "© " and "®")

Signs prescribed by the World Intellectual Property Organisation (WIPO), including:

Flags and coats of arms of Member States/countries;

Emblems and badges of intergovernmental organisations;

Badges of warranty and control, including hallmarks.

Specifically prescribed signs under Schedule 2 of the Trade Marks Regulations 1995 (Cth), including:

"Austrade"

"C.E.S."

"Olympic Champion"

"Repatriation"

"Returned Airman"

"Returned Sailor"

"Returned Soldier"
IP Australia may refuse an application if it includes one of these prescribed signs, as it may:
mislead consumers into attributing a false association or sponsorship between your trade mark and your goods or services; or

deceive them into believing your goods are patented or subject to copyright protection.
A trade mark application may also be rejected if it consists of, or contains, the same sign prohibited under section 18 of the Trade Marks Act. No signs are currently prohibited under section 18, but any future applications may be vulnerable once any regulations are made. It will be necessary to show you were using your trade mark "in good faith" immediately before the regulations come into effect if your trade mark includes one of the prohibited signs.
Signs That Cannot Be Represented Graphically
Trade mark applications must include accurate representations of your trade mark and how you will use it in practice. However, what if your trade mark is not a traditional graphic representation? For example, scents, sounds, colours, movements or gestures may all be capable of trade mark registration but perhaps may not be commonly described in written format.
You may receive an objection from IP Australia if your trade mark application does not include a clear and concise description of your sign. It must clearly demonstrate each feature of the trade mark so IP Australia can properly examine it. For a sound trade mark, for example, you may need to supply musical notation of the sound. Depending on your type of trade mark, this is usually reflected on the trade marks register as:
An endorsement on your application containing this clear description; and

A pictorial representation of the trade mark.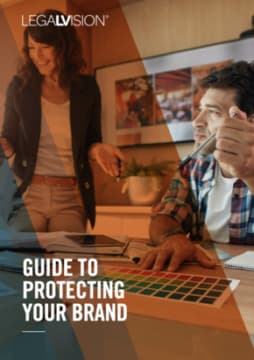 Guide to Protecting Your Brand
Your business' brand represents your values, identity and reputation. Learn how to create a successful brand and protect it.
Download Now
Deceptive or Confusing Trade Marks
IP Australia must reject your application if your trade mark is likely to deceive or cause confusion when used concerning your goods or services. Suppose your trade mark leads consumers to believe it has a specific characteristic or feature that it does not. In that case, your application may meet an objection on this basis.
This may be especially prevalent where you have applied in respect of (1) wine products or (2) plants. Specific legislation applies in these scenarios. In summary:
The

Wine Australia Act 2013

(Cth) prohibits certain geographic terms and expressions that falsely indicate the origin or quality of your goods, such as:

Australian Geographical Indications;

European Geographical Indications; and

Quality Wine Terms.

The

Plant Breeders' Rights Act 1994

(Cth) protects the names of plant varieties and their synonyms. If you file an application in class 31 regarding plants or plant material, IP Australia will consider whether your trade mark contains one of these protected terms.
Key Takeaways
Receiving an initial objection to a trade mark application is very common. There are many reasons why an examiner may take issue with your application, and it is easy to overlook some of the less common objections. A trade marks lawyer can help you work through some of these common pitfalls. We recommend that you obtain the help of a trade marks lawyer to help you file your application in the first place so that you minimise the chances of receiving an objection.
If you have further questions, our experienced trade mark lawyers can assist with trade mark applications as part of our LegalVision membership. For a low monthly fee, you will have unlimited access to lawyers to answer your questions and draft and review your documents. Call us today on 1300 544 755 or visit our membership page.
Frequently Asked Questions
I applied for my trade mark with the ® symbol. Why did I receive an objection?
The use of the ® symbol is prohibited if your trade mark is not yet legitimately registered. Your application will need to progress through the examination process before you can use this symbol.
I want to apply to trade mark a gesture/movement. How do I represent this in my application?
You will usually need to make sure you represent this gesture or movement concisely and accurately in an endorsement on your application and include a pictorial representation. 
Was this article helpful?
Thanks!
We appreciate your feedback – your submission has been successfully received.
About LegalVision: LegalVision is a commercial law firm that provides businesses with affordable and ongoing legal assistance through our industry-first membership.
By becoming a member, you'll have an experienced legal team ready to answer your questions, draft and review your contracts, and resolve your disputes. All the legal assistance your business needs, for a low monthly fee.
Need Legal Help? Submit an Enquiry
If you would like to get in touch with our team and learn more about how our membership can help your business, fill out the form below.
Read other articles by Sophie
<!-/- Related Articles - Item -/->