Is It Legal to Pay Employees in Cash in Hand?

Updated on December 3, 2021
Reading time: 5 minutes
Many businesses choose to pay their employees' wages as cash in hand rather than via bank transfer to their nominated bank account. While most assume that this arrangement is illegal, this is not always the case. The employer's responsibility is to meet their employer obligations, even when they pay their employees through cash in hand. This article will explain what obligations you have as an employer and how to ensure you are legally paying employees cash in hand.
When Paying Cash in Hand is Illegal
Paying cash in hand can seem problematic because it is associated with poor business practices or tax evasion. However, choosing to pay wages through cash in hand is common among small businesses, including in the hospitality and cleaning sectors.
Nevertheless, in some circumstances, it is illegal. For example, it is illegal when businesses pay cash in hand to avoid paying their employees entitlements, such as:
superannuation;

public holidays; and

weekend penalty rates.
Some employers pay cash in hand to avoid reporting their tax obligations or paying superannuation. Employees who earn more than $450 per month before tax are entitled to receive superannuation payments if they are 18 years of age or over. If the employee is under 18 years old but works more than 30 hours a week, they must also receive super payments. From 1 July 2022, Parliament is expected to expand the coverage of the superannuation guarantee to include all employees regardless of how much they earn each month. As of 1 July 2021, you must pay 10% of the value of the ordinary time earnings into the superannuation fund. However, the superannuation guarantee rate will progressively increase by 0.5% until it reaches 12% by July 2025.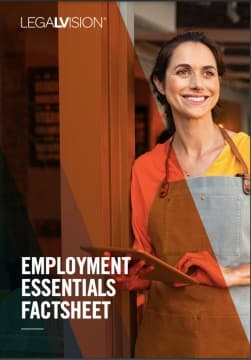 Employment Essentials Factsheet
As an employer, understand your essential employment obligations with this free LegalVision factsheet.
Download Now
Employer Obligations
When you pay cash in hand, just like when you pay into a bank account, you must provide your employee with a payslip within one day of paying them. The payslip must set out:
the amount of pay (both gross and net, or before and after tax);

superannuation contributions;

the pay period; and

the date the employee received the payment.
The Fair Work Act sets out other relevant entitlements (including penalties, bonuses or leadings) or deductions that apply. You should also include these in the payslip. You must also include your business name and ABN with the employee's name.
At the end of the year, employees must receive a payment summary that includes information about:
their total income earned;

the total amount of tax withheld; and

superannuation contributions.
Payslip Checklist for Employers
To summarise, the payslip should include:
the employee's name;

your business' name;

the amount of pay before and after tax;

the date of payment;

superannuation contributions;

the pay period;

if the employee works on an hourly rate, the payslip should reflect the number of hours worked at that rate;

any bonuses;

any loadings or penalty rates

and the number of hours worked at those rates; and

all deductions such as tax or superannuation.
Other Considerations
For your employee, receiving a cash in hand payment may be convenient. However, as an employer, you must ensure you pay your employee according to the correct award rate relevant to your industry or under your contract. You should also confirm that you are paying superannuation contributions.
A severe risk that employees may face is that if they become injured at work, there may be implications concerning workers compensation insurance because they may be considered 'off-the-books'.
The pay an employee should be receiving should:
reflect industry standards;

include penalty rates and superannuation; and

include annual leave and sick entitlements if they are a part-time or full-time employee.
Key Takeaways
As an employer, you need to ensure you are complying with employment law obligations. Indeed, make sure you give your employees a payslip including all the relevant details (listed above) and that you are always following industry standards and providing your employee with employment entitlements.
If you need help with employment contracts, our experienced employment lawyers can assist as part of our LegalVision membership. For a low monthly fee, you will have unlimited access to lawyers to answer your questions and draft and review your documents. Call us today on 1300 544 755 or visit our membership page.
Frequently Asked Questions
Is it illegal to pay your employees cash in hand?
No, it is not illegal to make cash payments to your employees. However, there is a bad name associated with paying your employees cash in hand as many people do so to avoid paying their employees entitlements and evade tax obligations.
What do I have to do as an employer to ensure that I am complying with all my employment law obligations?
You must provide your employee with a payslip within one day of paying them, as well as a payment summary at the end of the year. You have to include all necessary information such as their total income, any tax withheld, superannuation contributions, bonuses and any other entitlements.
Was this article helpful?
Thanks!
We appreciate your feedback – your submission has been successfully received.
About LegalVision: LegalVision is a commercial law firm that provides businesses with affordable and ongoing legal assistance through our industry-first membership.
By becoming a member, you'll have an experienced legal team ready to answer your questions, draft and review your contracts, and resolve your disputes. All the legal assistance your business needs, for a low monthly fee.
Need Legal Help? Submit an Enquiry
If you would like to get in touch with our team and learn more about how our membership can help your business, fill out the form below.
Read other articles by Prashana
<!-/- Related Articles - Item -/->