I Am an Employer. How Should I Approach Employee Theft in the Workplace?

Updated on December 14, 2021
Reading time: 5 minutes
Unfortunately, employee theft is an issue that many business owners face. Workplace theft may range from an employee taking home office supplies to stealing millions of dollars. The internal theft you are dealing with may fall somewhere between these two extreme examples. Regardless, you will still need to manage the problem. This article sets out some strategies to manage minor employee theft and more severe employee theft. 
How Do I Find Out if an Employee Is Stealing? 
If you suspect an employee has been stealing from you, but you cannot prove it, you should investigate before accusing them of anything. For example, you could:
interview witnesses (for example, other employees); 

search for evidence of the theft; and

review CCTV/surveillance footage.
Small business owners can struggle with internal investigations without the resources a large company may have access to, but it is still vital to keep your investigations as confidential as possible. In addition, it is important that other employees do not find out about the allegations before you can prove them. Ultimately, a false allegation of theft against one of your employees could cause serious problems in your workforce. 
If you rely on surveillance footage, you will also need to make sure that you have complied with workplace surveillance laws. Those laws may require you to have a valid surveillance policy in place. 
If you believe your employee has been engaging in significant theft, like cash theft, you should contact the police. The police can investigate the issue as they would any other allegation of theft. If you cannot find evidence of the theft, ensure that you interview the employee properly and ask for an explanation for the alleged theft before taking further action. 
How Do I Manage Minor Employee Theft? 
If an employee is involved in a minor internal theft, such as taking company property like office stationery for personal use, you may not be in a position to terminate their employment immediately. In this case, if termination is too harsh a response, you could issue the dishonest employee with a verbal or written warning. However, If the theft continues, any subsequent termination may be fair. 
How Do I Manage More Serious Employee Theft?
The National Employment Standards allow you to terminate an employee without notice if they have committed serious misconduct. 
The question for you to determine as the employer is whether the theft is serious enough to constitute serious misconduct. To determine this, you should consider:
whether the conduct occurred inside or outside of the workplace;

the value of the stolen property;

the seniority of the employee; and

how the theft has affected the business.
If you can prove your allegations of serious internal theft, you may be able to terminate the employee for serious misconduct. In that situation, you do not owe the employee notice. However, as an employer, you must still pay out any annual leave accrued.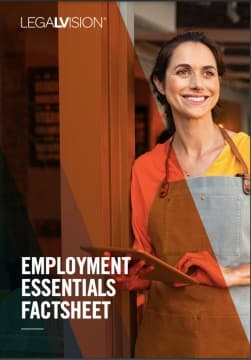 Employment Essentials Factsheet
As an employer, understand your essential employment obligations with this free LegalVision factsheet.
Download Now
What Can You Do to Prevent Theft?
Realistically, you cannot prevent all potential theft. However, there are measures you can put in place to attempt to curtail this. For example, you may: 
introduce measures into your

employment agreement

that outline specific enforceable actions for a number of workplace issues, which may include clauses to dismiss the employee automatically;

foster a workplace culture that enforces no tolerance for theft and encourages honesty through employee behaviour; and

implement training and education within the workplace that highlights the no-tolerance stance and outlines the consequences of theft. 
Key Takeaways 
As an employer, you should not tolerate employee theft in your workplace. However, your internal response to any theft you discover will depend on the seriousness of the offence. For minor theft, you should investigate your suspicions and consider whether the conduct is serious enough for termination. If you discover more significant theft, you may have grounds to terminate the employment, including summarily. You should always consult the employment agreement and speak with an employment lawyer before taking serious action.
If you need help with managing employee theft, our experienced employment lawyers can assist as part of our LegalVision membership. For a low monthly fee, you will have unlimited access to lawyers to answer your questions and draft and review your documents. Call us today on 1300 544 755 or visit our membership page.
Frequently Asked Questions
Can I figure out who stole from my business?
Investigating and collecting evidence is crucial. This may be a new practice for a small business owner. Ensure that you gather what other employees have seen, check surveillance footage and look at transaction records. You must keep investigations confidential to avoid issues relating to false allegations and mistrust throughout the office. Police investigations are also an option, but ensure there is evidence first. 
Can I terminate an employee for stealing?
Stealing is considered serious misconduct and is grounds for dismissal without notice. However, it is essential to consider how serious the theft was. For example, stealing stationery or a product that was going to be thrown out is petty theft. Stealing cash or other goods is serious. Therefore, a verbal or written warning might be more appropriate for the former.
Was this article helpful?
Thanks!
We appreciate your feedback – your submission has been successfully received.
About LegalVision: LegalVision is a commercial law firm that provides businesses with affordable and ongoing legal assistance through our industry-first membership.
By becoming a member, you'll have an experienced legal team ready to answer your questions, draft and review your contracts, and resolve your disputes. All the legal assistance your business needs, for a low monthly fee.
Need Legal Help? Submit an Enquiry
If you would like to get in touch with our team and learn more about how our membership can help your business, fill out the form below.
Read other articles by Prashana
<!-/- Related Articles - Item -/->