Can I Change an Employment Contract Without Telling My Employees?

Updated on May 11, 2022
Reading time: 3 minutes
Contracts can be overwhelming. You may need to amend your employees' employment contracts for a variety of reasons, including:
restructures;
specific business circumstances; and
if the Fair Work Commission (FWC) changes certain rules.
It is good to know whether you need to discuss this with your employees or not. Ultimately, changes to the terms and conditions of employment agreements can dramatically affect your employee's working conditions, even if the changes comply with Australian law.
The Basic Rule
The basic rule is that you cannot change your employment contract without first asking employees or providing them with adequate notice ahead of the proposed change. This is especially true if you want to change fundamental terms in your contract.
What Are Fundamental Terms?
Fundamental changes include your employees' wages, work hours, and employment type. These changes are fundamental because you essentially create a new contract of employment with your employees by altering these terms in your agreement.
What About Non-fundamental Terms?
Non-fundamental terms in an employment agreement include provisions relating to performance assessment methods and ongoing training requirements.
Usually, these non-fundamental terms are incorporated into the company policy. For example, an employment agreement will refer to the company policy and stipulate that a condition of employment complies with the company policy at all times. This means that if a non-fundamental term changes within the company policy, employees will be required to be aware of this change and comply with it.
You should remember that just because a non-fundamental change has occurred does not mean the change is unimportant.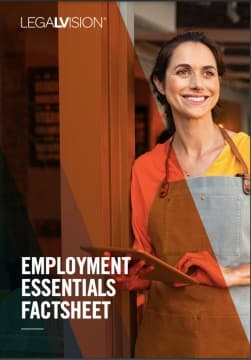 Employment Essentials Factsheet
As an employer, understand your essential employment obligations with this free LegalVision factsheet.
Download Now
How to Approach Employees When Changing Their Contract
There are three general steps when informing an employee of a change in their employment contract's terms. You should:
Have a meeting or send them an email explaining all the changes. When you do this:
your employee must understand their obligations and what has changed in their contract; and 
you must explain your reasoning behind why it has changed and the impacts it will have on your employees.
Take time to understand their concerns. You should:

consider whether you can help them with their concerns or work around these; and
record everything that occurs either in email correspondence or verbal discussions.

Ensure that all employees are signing off on these changes.

This is necessary to prove that you have gotten their consent to change their contract.
Key Takeaways
As an employer, you cannot change an employment contract without your employees' knowledge and consent. Your employees must sign off on these changes. 
If you need help changing your employment contract or understanding your legal requirements when changing the contract, our experienced employment lawyers can assist as part of our LegalVision membership. For a low monthly fee, you will have unlimited access to lawyers to answer your questions and draft and review your documents. Call us today on 1300 544 755 or visit our membership page.
Frequently Asked Questions
Can I change an employment contract without telling employees?
Employees must be aware of and consent to any changes to their employment contract. 
How can I prove that an employee has understood these changes?
It is important to spend time ensuring your employee understands their new obligations. But, most importantly, make sure your employees sign the contract to formalise their consent.
Was this article helpful?
Thanks!
We appreciate your feedback – your submission has been successfully received.
About LegalVision: LegalVision is a commercial law firm that provides businesses with affordable and ongoing legal assistance through our industry-first membership.
By becoming a member, you'll have an experienced legal team ready to answer your questions, draft and review your contracts, and resolve your disputes. All the legal assistance your business needs, for a low monthly fee.
Need Legal Help? Submit an Enquiry
If you would like to get in touch with our team and learn more about how our membership can help your business, fill out the form below.
Read other articles by Lachlan
<!-/- Related Articles - Item -/->