Table of Contents
As an employer, you may not always need to employ staff on an ongoing, permanent basis. It may be more appropriate for you to engage them as a part-time or casual employee. These different categories of employment grant certain entitlements to your employees and consequent obligations to you. So, it is essential to understand these differences. Failing to comply with these obligations can put you at risk of receiving hefty penalties from bodies such as the Fair Work Ombudsman (FWO). As such, it is important to understand the different ways you can engage employees. This article will run through the differences between each type of employment arrangement, identifying your obligations as an employer and your employees' rights under full-time, part-time, or casual employment.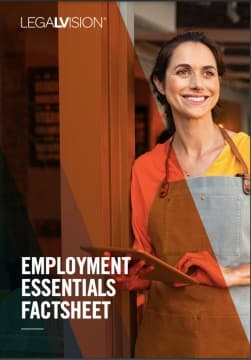 Employment Essentials Factsheet
As an employer, understand your essential employment obligations with this free LegalVision factsheet.
Download Now
Casual Employment
Casual employees hold no firm commitment in advance for work. This means that work is not guaranteed, and as an employer, you have the ability to assign work as needed. Accordingly, casual employees generally work irregular hours and can choose to accept or refuse these hours.
The termination of a casual employee can occur without notice. This applies both if a casual employee terminates their employment, or if you do as their employer. However, this is not the case if your employee's contract specifically requires a greater notice period.
Casual Employment Entitlements
Casual employees are not entitled to many entitlements available to full-time employees, such as paid leave or paid days off on public holidays. Instead, they typically receive a 25% casual loading on top of the base hourly rate of pay. For example, casual employees receive:
higher hourly pay rates than full-time and part-time employees;
two days unpaid carer's leave and two days unpaid compassionate leave per occasion; and
five days of unpaid family and domestic violence leave over a 12 month period.
Regular and Systematic Casual Employees
Suppose one of your casual employees has worked for you for a long period of time and has a reasonable expectation of continuing employment. In that case, they may be considered 'regular and systematic' casual employees. A casual employee may be considered regular and systematic if they:
work full-time hours over a long period of time;
have a clear pattern or roster for the days or hours they work; or
you regularly offer them work, and that work is accepted enough that the employment relationship itself is regular and systematic.
If a casual employee works on a regular and systematic basis for a prolonged period of time, they may be able to claim that they are, in fact, permanent employees. Therefore, you will need to provide them with the minimum entitlements contained in the National Employment Standards (NES), including:
personal leave; and
annual leave.
Such claims could potentially be very costly, as they result in underpayments and may result in penalties for breaching the NES.
Casual Conversion
Under the Fair Work Act, you must offer your casual workers the option to convert to a full-time or permanent part-time role. This is relevant where your casual employee has:
been employed in your business for at least 12 months; and
worked a regular pattern of hours on an ongoing basis for at least the lastsix months of that period, which they could continue without significant adjustment as a full-time or part-time employee.
You should note, however, that an employer's obligation to offer casual conversion does not apply to small business employers. That is, if your business employs 15 or fewer staff, you do not have to offer your casual staff the option to convert to a full-time or part-time role.
Part-Time Employment
Part-time employees work on average less than 38 hours per week. They usually work regular hours each week, which they generally agree to under their award. If this is the case, you and your employee must agree to any variations to these hours in writing.
You can engage part-time employees on a:
permanent;
fixed-term; or
maximum term basis.
Additionally, the termination of part-time employment requires a notice period, making the process more complex than terminating casual employment. The duration of the notice period depends on how long the part-time employee has been working for you. It may also depend on any applicable notice period provided for in their contract of employment, whichever is greater.
Part-Time Employment Entitlements
Part-time employees share the same entitlements to paid leave as full-time employees, but on a pro-rata basis. A pro-rata basis means that leave entitlements are based on how many hours the employee works weekly.
These entitlements include:
paid leave, such as annual leave and personal/carer's leave;
notice of termination; and
long-service leave.
When dismissing part-time employees due to their role becoming redundant, you may owe them redundancy pay.
Continue reading this article below the form
Need legal advice?
Call 1300 544 755 for urgent assistance.
Otherwise, complete this form and we will contact you within one business day.
Full-Time Employment
Full-time employees generally work a maximum of 38 hours per week, plus reasonable additional hours. You can employ them on a:
permanent;
fixed-term; or
maximum term basis.
Like part-time employment, the termination of full-time employment requires a notice period.
Before you provide notice of termination to your employee, you should also consult the relevant award, registered agreement, or employment agreement. This is because these documents might provide extra notice than what the NES prescribes. The NES outlines 11 minimum requirements for all employees covered under the national workplace relations system.
Full-Time Employee Entitlements
Full-time employees are entitled to:
four weeks of annual leave for each year of service;
ten days of personal/ carers leave for each year of service; and
long service leave.
Full-time employees may also be entitled to redundancy pay if they are dismissed due to their role becoming redundant.
Key Takeaways
Misunderstanding your obligations to your employees can put you at risk of receiving hefty penalties from bodies such as the FWO. It can also result in general employee dissatisfaction, which may affect:
overall staff morale;
performance; and
turnover rates.
As such, it is extremely important to understand what categories of employment are suitable for your business, and also what employment categories your current employees fall under. If you have further questions about the differences between categories of employment, our experienced employment lawyers can assist as part of our LegalVision membership. For a low monthly fee, you will have unlimited access to lawyers to answer your questions and draft and review your documents. Call us today on 1300 544 755 or visit our membership page.
Frequently Asked Questions
What are the National Employment Standards (NES)?
The NES set out 11 minimum requirements for all employees covered by the national workplace relations system. Whilst modern awards, registered agreements and employment contracts can build upon the NES entitlements by providing additional entitlements, they cannot diminish them.
Are all casual employees covered by the NES?
Casual employees are only covered by some benefits under the NES. This includes the offer for casual conversion, as well as some unpaid leave entitlements, including: carer's leave;
compassionate leave; and family and domestic violence leave.
Was this article helpful?
Thanks!
We appreciate your feedback – your submission has been successfully received.