Can I Terminate an Employee Based on a Criminal Conviction?
Updated on November 8, 2021
Reading time: 5 minutes
As an employer, you want confidence that your team members are respectable, hardworking individuals who can benefit your business. If you have recently found out that an employee has a criminal conviction, you may be wondering if this is grounds to terminate the employee's employment. Unfortunately, the answer is not always clear cut. Whether you will be able to terminate the employment will depend on several factors, including:
the nature of the crime;

whether your employee was convicted; and

whether the criminal offence is relevant to your workplace or industry.
Importantly, if your employee committed the offence outside of the workplace, you must proceed carefully. As with any termination, you must also follow the correct and lawful procedure. This article sets out when a criminal conviction may lead to termination and the steps you should take.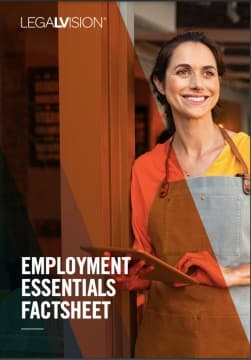 Employment Essentials Factsheet
As an employer, understand your essential employment obligations with this free LegalVision factsheet.
Download Now
Taking Action Against an Employee
Before taking action based on a criminal conviction, you should consider the circumstances of the offence, such as:
the nature of the offence (i.e. whether it was dangerous or could affect your employee's day-to-day duties);

your employee's position in the business; and

any potential impact on the business (i.e. whether the offence could damage your business' reputation or risk the safety of other employees).
There are circumstances where it is valid for you to terminate an employee's employment for 'out of hours' conduct. However, but this is limited to specific circumstances, including conduct that:
objectively causes serious damage to the employer/employee relationship;

damages the employer's interests or reputation; or

is inconsistent with the employee's duties, e.g. a police officer engaging in criminal conduct.
Therefore, there must be a connection between a criminal conviction and employment.
Termination and Procedural Fairness
If you intend to terminate your employee's employment, you should follow the correct process. It is best practice to ensure you allow your employee an opportunity to respond to matters or evidence that validates their termination.
Importantly, a criminal conviction does not automatically give you the right to terminate an employee's employment. You need to consider a range of factors before terminating your employee for their behaviour outside work hours.
In one case, a butcher's assistant was charged with accessory to murder. The employer dismissed the apprentice immediately. Despite the serious nature of the conviction, the Fair Work Commission decided that the dismissal was unfair. This was because the employer had dismissed the employee without any investigation. As a result, the employee was awarded six weeks' wages as compensation.
Criminal Background Check
You are permitted to carry out a criminal background check as part of the recruitment process if a criminal background is relevant to the job.
For example, a criminal background would be relevant if your employees:
work with children or the elderly;

manage accounts; or

drive a vehicle.
However, you generally cannot use a conviction as a reason not to hire somebody if the conviction is not relevant to the duties they would perform as your employee. Likewise, you should have a proper process in place to conduct background checks. Employees do not need to voluntarily disclose their criminal record unless legislation or licensing rules require.
Therefore, make sure you notify applicants that this is a mandatory step in the recruitment process.
Discrimination
If your employee's conviction has nothing to do with their job, you should be careful to avoid discrimination. Discriminating against an employer is prohibited under some State and Territory laws. If you discriminate against an employee based on previous convictions, you may be in breach of discrimination laws.
Key Takeaways
An employee's criminal conviction does not give you an automatic right to terminate their employment. You will need to consider factors such as
the nature of the conviction; and

the employee's role in your business.
Likewise, you need to follow the correct lawful procedure in terminating employees to ensure the dismissal is not unfair. If you have any questions about terminating an employee's employment due to a criminal conviction, contact LegalVision's employment lawyers on 1300 544 755 or fill out the form on this page.
Frequently Asked Questions
Can I fire an employee for having a criminal conviction?
You cannot fire an employee purely based on their conviction. However, you might find that the conviction will impact their employment. For example, this conviction may damage your business' reputation to be incompatible with the employee's duties. In that case, you may have a reason to terminate. However, the dismissal can be unfair depending on the procedure you follow. For example, employees must be able to respond to allegations, or their conviction is irrelevant to their employment. 
Can I do a criminal background check on employees?
Yes, you can, especially if it is relevant to the job. However, you need to inform the employee that this is part of the recruitment process. 

Was this article helpful?
Thanks!
We appreciate your feedback – your submission has been successfully received.
About LegalVision: LegalVision is a commercial law firm that provides businesses with affordable and ongoing legal assistance through our industry-first membership.
By becoming a member, you'll have an experienced legal team ready to answer your questions, draft and review your contracts, and resolve your disputes. All the legal assistance your business needs, for a low monthly fee.
Need Legal Help? Submit an Enquiry
If you would like to get in touch with our team and learn more about how our membership can help your business, fill out the form below.
Read other articles by Prashana
<!-/- Related Articles - Item -/->