Where Can I Go for Information on Intellectual Property?

Updated on March 7, 2022
Reading time: 4 minutes
If you run your own business, it is valuable to understand your intellectual property (IP) and your rights. It is important to note that IP can often be one of the most valuable assets your business will own. Knowing more about IP rights will help you distinguish between what aspects of your IP you can register and what rights you acquire automatically. Additionally, investors will want to see that you have taken appropriate measures to protect your IP, and you will need the knowledge to do this. Crucially, you should also be aware of how to enforce your rights if other traders infringe upon your IP. This article sets out some key resources you can use to seek further information on your IP rights.
IP Australia
For information on different forms of IP protection in Australia, IP Australia is Australia's IP government authority. If you are looking to register your intellectual property, IP Australia will assess and examine your application. The different types of IP that IP Australia examines and registers include:
patents;

trade marks;

designs; and

plant breeder's rights.
IP Australia also runs a specific online service designed to make IP registration easier and more efficient for IP owners. These services are available across all four categories of IP rights. Users can log in to perform transactions and access IP Australia's services, which include applying, registering, renewing, and paying for IP rights.
Additionally, IP Australia's home page provides convenient links to the databases of registered IP. You can enter these links and perform searches to check whether somebody else has already registered your trade mark or design. These types of searches are essential if you are just starting a business and want to ensure you are:
not infringing upon anyone else's IP; and

creating a distinct and memorable brand.
Australian Copyright Council
The Australian Copyright Council offers detailed guides on copyright, when it applies and what rights copyright provides. If you have created unique artistic content in material form, such as a song, book or film, you acquire automatic copyright protection in your artistic work. You do not have to register copyright in Australia to enforce this right.
The Australian Copyright Council is a not for profit organisation and offers free legal resources, training and advice on their website for Australian content creators.
.au Domain Administration
If you would like to register a domain name, auDA will give you a list of accredited registrars to register a new domain name. They also handle complaints when there are disputes over domain names. To ensure your domain name is available, you should choose your business name after performing several searches, such as:
Australian Business Name availability;

trade mark availability; and

domain name availability.
It can be an expensive mistake to register a valuable domain name, then discover another business has already registered the business name and trade mark.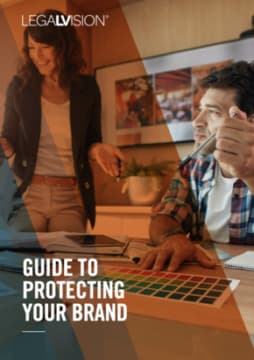 Guide to Protecting Your Brand
Your business' brand represents your values, identity and reputation. Learn how to create a successful brand and protect it.
Download Now
LegalVision
Lastly, LegalVision has an array of free legal resources and comprehensive articles offering guidance and explanations of IP rights. We examine various issues and intricacies concerning IP in different industries, including fashion, software development and also in niche areas of concern, such as tattoo artists. We recommend that you read through our articles, and if you have any questions, our IP lawyers will be happy to assist.
Key Takeaways
Having a grasp on your intellectual property and the rights they afford you is essential for any business owner. IP can appreciate in value significantly during your business's lifetime. If managed effectively, it can set you up for success when it comes time to attract investors or even sell your business. There are several free resources you can utilise to gain information on your IP, and we recommend speaking to one of our IP lawyers to learn how you can take steps to protect your rights.
If you need help with understanding your IP, our experienced IP lawyers can assist as part of our LegalVision membership. For a low monthly fee, you will have unlimited access to lawyers to answer your questions and draft and review your documents. Call us today on 1300 544 755 or visit our membership page.
Frequently Asked Questions
What is my business's IP?
Intellectual property rights exist in 'property of the mind' and are intangible assets. Some IP requires registration to protect and enforce your full rights, while on the other hand, some rights are automatic.
Where can I go to register my copyright?
Copyright is an automatic right in Australia, and you do not need to register it. Therefore, copyright exists in your artistic work as soon as you express it in material form. 
Was this article helpful?
Thanks!
We appreciate your feedback – your submission has been successfully received.
About LegalVision: LegalVision is a commercial law firm that provides businesses with affordable and ongoing legal assistance through our industry-first membership.
By becoming a member, you'll have an experienced legal team ready to answer your questions, draft and review your contracts, and resolve your disputes. All the legal assistance your business needs, for a low monthly fee.
Need Legal Help? Submit an Enquiry
If you would like to get in touch with our team and learn more about how our membership can help your business, fill out the form below.
Read other articles by Sophie
<!-/- Related Articles - Item -/->