Table of Contents
The Department of Home Affairs recently announced a significant change in student and graduate visa programs in its goal to "address skills shortages in key industries and rebuild the international education sector." With Australia being a popular destination for students from all over the world, the Department's new policies will shape the future of Australia's international education sector and its ability to compete in the global marketplace. The recent changes are expected to have far-reaching implications for international students, Australian employers, and the broader economy. This article will explore the fundamental changes to Australia's student and graduate visa programs and their potential impact on international students and the Australian workforce.
Student Visa (Subclass 500) Work Rights
The Government has announced that from 1 July 2023, international students holding a student visa with Condition 8104 can work up to 48 hours per fortnight. This is a significant increase from the previous limit of 40 hours per fortnight. Consequently, it allows students to earn money while studying, assist struggling Australian businesses and contribute to the economy. The additional work hours will also help international students cover their living expenses, which can be quite high in Australia. The increase in work hours will be available for all international students, regardless of their field or course level.
Impact on Students
This is welcome news for current international students, as many have faced financial difficulties due to the pandemic. With increased work hours, students have more opportunities to work in a typical part-time work arrangement, easing their financial burden. International students were previously limited to flexible and casual job options as they could only work 2.5 days a week. However, the increase in working hours may indicate a shift in this. With the new limit, 48 hours per fortnight roughly translates to 24 hours per week. Accordingly, an international student can work up to three full days a week, typical for many part-time positions in Australia.
Impact on Businesses
The increase in work hours is also welcome news for Australian businesses. This is because many struggle to fill unprecedented numbers of vacant positions across all industries. Australia is in the midst of a national labour shortage crisis, which is the Australian Government's key objective in addressing stakeholder and community concerns.
Nevertheless, international students should remain mindful as other visa conditions, such as meeting course requirements, stay the same. For example, despite being allowed to work more hours, the visa holder must remain enrolled in a registered course and maintain satisfactory attendance as required by the education provider. Even so, the change in work hours will surely attract more international students to study in Australia.
Graduate Visas (Subclass 485) Work Rights
The Government has also announced an extension of post-study work rights for international students who have graduated from an Australian higher education provider. Starting from 1 July 2023, the new measure will allow eligible graduates to work in Australia for up to the following years relative to their course level:
Bachelor's degree: four years;
Master's degree: five years; and
Doctorate degree: six years.
Furthermore, current graduate visa holders who have completed Bachelor's or Master's degrees in areas with a shortage of skilled workers can now apply for a two-year extension of their post-study work rights in Australia. This extension will be added to their current 485 visas, providing them with two more years to work in the country. The Department of Education has provided a list of eligible occupations and qualifications. This includes occupations in areas such as:
health care;
information technology;
engineering;
agriculture; and
teaching.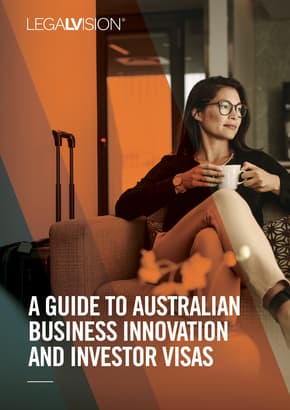 LegalVision Guide to Australian Business Visas
This guide sets out the key business innovation and investor visas available to individuals and businesses looking to start or manage a business or make a significant financial investment in Australia.
The publication also includes a list of frequently asked questions about business migration pathways in Australia.
Download Now
Continue reading this article below the form
Need legal advice?
Call 1300 544 755 for urgent assistance.
Otherwise, complete this form and we will contact you within one business day.
Temporary Activity Visa (Subclass 408)
Significantly, the Department has also implemented transitional arrangements to support 485 visa holders further.
To qualify for the 2-year 408 COVID-19 visa, you must satisfy the following criteria:
be working in Australia or have an offer of employment;
apply 90 days before your 485 visa expires or 28 days after your 485 visa expires; and
have a 485 visa expiring between 1 September 2022 and 1 July 2023, or be ineligible for the 485 visa (Replacement stream).
Take note that if granted a 408 COVID-19 visa, you cannot apply separately for the two-year extension of your 485 visa. We recommend speaking to an immigration lawyer to assess your most beneficial pathway.
Key Takeaways
These changes directly respond to the concerns raised in the Jobs Summit 2022. Allowing existing and future student visa holders and graduates to work more and stay longer in Australia will address the immediate skills shortage needs. Concurrently, the Australian Government is implementing more permanent visa options to address the labour shortage in the long term. During the pandemic, the education industry suffered greatly. Consequently, the Australian Government is committed to rebuilding this vital avenue for attracting skilled migrants.
Also, these changes come when international education faces significant challenges due to the aftereffects of the COVID-19 pandemic. The border closures and travel restrictions have considerably impacted the international student market in Australia, with many students deferring or cancelling their studies. The changes to student visa work rights and 485 visas could provide much-needed support to the international education sector and the broader Australian economy. These changes will provide more opportunities for international students to work and gain valuable work experience in Australia, which could help ease their financial burden and potentially lead to more permanent visa options.
If you need immigration advice, our experienced immigration lawyers can assist as part of our LegalVision membership. For a low monthly fee, you will have unlimited access to lawyers to answer your questions and draft and review your documents. Call us today on 1300 544 755 or visit our membership page.
Frequently Asked Questions
How many hours can I work on a student visa?
Starting on 1 July 2023, holders of student visas with Condition 8104 can work up to 48 hours per fortnight. Student visa holders enrolled in a Master's by research degree and Doctorate degree can work unlimited hours.
Am I eligible for the 485 visa two-year extension?
If you are a graduate of a Bachelor's or Master's degree, and your qualification is listed on the Department of Education's Eligible Qualification List (EQL), you could be eligible for the two-year extension. All graduates with a Doctorate qualify for the two-year extension.
Was this article helpful?
Thanks!
We appreciate your feedback – your submission has been successfully received.