Table of Contents
If you come across an article which praises you or your business, you may want to share the article on your website. However, the fact the article concerns you does not give you the right to share it. By sharing another person's article, you may be infringing the author's or publisher's copyright. If republishing the material is important to you, you must ensure you have the right to do so. This article sets out the copyright law regarding when and how you can share articles from other sources on your website.
What is Copyright?
Copyright protects the expression of ideas. It grants an owner exclusive rights to exploit their original work and use it in any way they wish. Copyright exists in many different works, including articles and even some tweets. When you share an article online or in other forums, you are infringing the author's exclusive right to share the work they created with the public, which includes posting online. Essentially, you share their article on your website so others can see it. This is not allowed without the author's permission, even where an article is about your business.
To share the article, a person other than the owner must obtain a licence, or permission, before putting the article online.
What is Your Purpose for Sharing the Article?
In some cases, you may share the article to inform others of recent events concerning your business or your online community, which are matters of public interest. For example, in certain circumstances, you may fall under 'reporting the news'. In this case, the Copyright Act 1968 (Cth) protects your use of the article under a fair dealing exception.
The central question you must consider is what the main purpose of sharing the article is. Suppose your primary objective is to report recent events or new information on past events to the public. In that case, you might successfully argue you are 'reporting the news', as long as you sufficiently acknowledge the author. To rely on this defence, you need to:
identify the author;

identify the title of the article; and

ensure your use is fair.




Fair use is determined on a case-by-case basis.
However, if your purpose is for another reason, such as self-promotion, you will not be able to rely on this defence.
Continue reading this article below the form
Need legal advice?
Call 1300 544 755 for urgent assistance.
Otherwise, complete this form and we will contact you within one business day.
Ask Permission or Get a Licence
The easiest way to avoid infringing copyright is to contact the copyright holder. This is likely the author or publisher. Accordingly, this will allow you to ask their permission to share the article on your website. Sometimes, they may be happy to let you share their work, especially if you broaden their readership.
The author may also permit you to share the article if you pay to use their work.
Therefore, if you value using the article, you should approach the author and get a licence to use the work. Many authors of magazine or newspaper articles and their publishers offer licences to use their work. If the article is of value to you, then it is likely worth paying for a licence. Overall, these strategies let you use the article without suffering potential fees in a claim for copyright infringement.
Have You Already Shared the Article?
If you are reading this and have already shared the article on your website, take it down. You should get the copyright owner's permission or obtain a licence and then repost the article.
If you have received an infringement claim and at the time you were unaware that you were committing an offence, you may be able to rely on innocent copyright infringement. This line of argument reduces the damages recoverable by the copyright owner. However, the copyright owner is still entitled to an account of profits. This refers to any profits you make from using their article. Such an argument is only available if you had no reasonable grounds for suspecting you were infringing copyright. You should note that merely asserting the infringement was not deliberate will not satisfy the requirements. Accordingly, you would have to show that you had no reasonable grounds for suspecting the use of the article would amount to copyright infringement. As such, you need to describe which investigative steps you took to discover the ownership in the article.
Another option you can rely on is the news reporting defence, as mentioned earlier in this article. In that case, you will not have to remove the article and will not be liable for an infringement claim.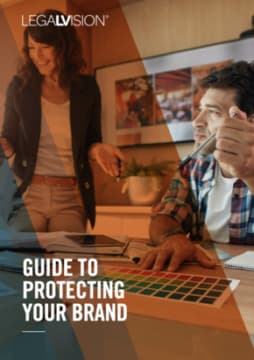 Guide to Protecting Your Brand
Your business' brand represents your values, identity and reputation. Learn how to create a successful brand and protect it.
Download Now
Key Takeaways
You cannot share someone's work on your website just because it is about you. This may amount to copyright infringement. If the article is important to you or your business, the first step is to contact the copyright owner. Once in contact, you can request permission to use the article. The author might allow you to do so freely or after paying a licensing fee. If your main purpose is to share current events or newsworthy items, you might have a fair dealing defence. You may also, in limited circumstances, be able to rely on a defence of innocent copyright infringement.
If you need further advice regarding sharing other people's articles, our experienced IP lawyers can help you determine the best pathway for you as part of our LegalVision membership. For a low monthly fee, you will have unlimited access to lawyers to answer your questions and draft and review your documents. Call us today on 1300 544 755 or visit our membership page.
Frequently Asked Questions
What does copyright do?
Copyright protects the expression of ideas. It grants an owner exclusive rights to exploit their original work and use it in any way they wish.
What is a licence?
A copyright licence is an agreement where the author remains the copyright owner, but they grant the person who obtains the licence the right to legally exercise some of the author's rights, like republishing the work.
Was this article helpful?
Thanks!
We appreciate your feedback – your submission has been successfully received.