Table of Contents
Selling your business can be a daunting process. If you have spent years growing your business, it will be important to sell it to the right buyer and for the right price. To help you navigate this potentially long and emotionally taxing process, this article will take you through five useful tips for selling your business.
1. Know Why You Are Selling
Whether you have already decided to sell your business or are simply considering it, you should evaluate why you are selling. One of the first things a potential buyer will ask is why you are selling your business. Knowing your intentions and articulating these clearly to a potential buyer will help you sell your business.
If you are selling your business due to financial issues, you may find it difficult to sell. This is because potential owners will be looking for a strong track history of profits and potential for an increase in profits. Some other reasons you might be selling your business include retirement, illness, relocation, disputes with other business owners or because you are looking to start a new business in a different industry.
2. Decide How To Sell
A key thing to consider when selling your business is to decide how you are going to sell. It might be a worthy investment to engage a broker, accountant or lawyer to assist you with the sale of your business. Obtaining professional advice will ensure you have everything in order and can find suitable buyers.
If you wish to sell your business by yourself, you will need to find suitable methods to source buyers. This might include using digital media sources such as social media or relying on your network for word of mouth referrals. It is important to consider that selling your business publicly might concern your clients and generally, keeping the sale of your business relatively private may be of importance.
Continue reading this article below the form
Need legal advice?
Call 1300 544 755 for urgent assistance.
Otherwise, complete this form and we will contact you within one business day.
3. Know What You Are Selling
It is important to know exactly what assets of your business you are selling. While most businesses will sell all tangible and intangible assets, you may decide there are certain elements you do not wish to include. This will impact the valuation of your business.
Ultimately, each of these methods will consider all assets that are being sold (both tangible and intangible), any existing liabilities, estimated future profits and the reputation your business has acquired. Knowing the assets you intend to sell will help simplify selling your business.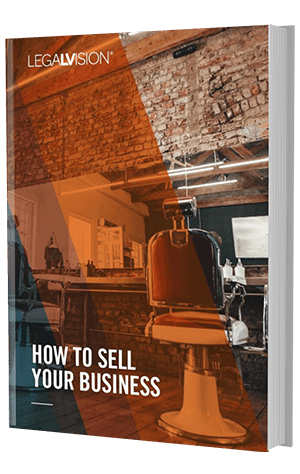 The Ultimate Guide to Selling a Business
When you are ready to sell your business and begin the next chapter, it is important to understand the moving parts that will impact a successful sale.
This How to Sell Your Business Guide covers all the essential topics you need to know about selling your business.
Download Now
4. Prepare Your Documents Early
There is a lot of paperwork involved with selling your business and getting on top of it early can help ensure a smooth transition of ownership. Some documents you might need to prepare include:
contract of sale;

transfer of lease or property title;

change of business name documents; or

transfer of licence or registration documents.
The documents you need will depend on your unique business needs. This means seeking advice from a professional can be helpful to ensure you do it correctly. Furthermore, a potential buyer may want to view documents. This may include:
at least three years of financial records;

balance sheets;

insurance documents;

tax returns;

contracts;

BAS statements; and

a list of assets.
Ensuring these documents are in order will prevent wasting any time.
5. Negotiate the Sale Properly
Finally, it is essential that you negotiate the sale of your business properly. Knowing what you want to get out of the sale of the business and what areas you are willing to concede on will help you come to an agreement with potential buyers. Some things to consider before drawing up a contract include:
how much you wish to sell the business for (based on your business valuation);

handover training you are willing to provide;

transfer of employees;

settlement periods;

reposit; and

restraint clauses.
Key Takeaways
Selling your business may be a long and emotional task. After committing all your time and efforts to your business, it will be important that you successfully negotiate its sale. Some useful tips for selling your business include:
knowing why you are selling;

knowing how you are going to sell your business;

considering what assets will be included in the sale;

preparing the relevant documents early; and

being prepared to negotiate the sale.
If you need assistance selling your business, LegalVision's experienced business lawyers can help on 1300 544 755 or by filling out the form on this page.
Frequently Asked Questions
How do I sell a business?
Before selling your business, you should first consider why you are selling and if this will impact your ability to sell. You should then consider how you are going to sell your business and exactly what assets you wish to include in the sale. Finally, you will need to prepare all relevant documents before negotiating the sale.
Why would someone sell their business?
There are a number of reasons why someone might sell their business. They might be experiencing financial difficulties, wish to retire or relocate, be ill, have disputes with other owners. Alternatively, they might be wishing to start a new venture.
Was this article helpful?
Thanks!
We appreciate your feedback – your submission has been successfully received.