Table of Contents
For years, working long hours on overtime have been associated with the legal profession. However, it raises the question of what are reasonable additional hours for those working within the legal industry. As an employer, it is important to know the legal boundaries and rules for lawyers working additional hours.
Reasonable Additional Hours for All Professions
The National Employment Standards states that full-time employees should work a maximum of 38 ordinary hours per week, plus reasonable additional hours.
Likewise, the Fair Work Commission considers several factors when deciding whether the request to work is reasonable. So, before you request your staff to work additional hours, consider the following:
What are the usual patterns of work in the industry?

What are the nature of the employee's role and responsibility?

Are the additional hours according to the Award or agreement?

What are the needs of the workplace?

What are the employee's personal circumstances and family responsibilities?

Does working additional hours risk the employee's

health or safety

?

Is the employee entitled to overtime or penalty rates for working additional hours?

Did you give notice to work the additional hours, and t

he employee give notice of their refusal to work?
Rules for the Legal Profession
Recently, rules have been changing regarding what is considered reasonable additional hours.
In the case of Gorval & Ors v Employsure [2016] FCCA 231, Gorval argued his employer for back payments. He believed he worked through lunch breaks leading to 45 hour weeks. However, Employsure believed that Gorval only worked 40 hours per week. Ultimately, the Judge agreed with Employsure, deciding that an additional two hours per week was reasonable. This is because the additional work aligned with the legal nature of work and the culture of the legal industry of working longer hours.
Additionally, some employees in law firms will be covered by the Legal Services Award 2010. This modern award sets baseline entitlements for employees, including overtime and penalty rates. Accordingly, it may be acceptable to require employees to work more than 38 hours per week. However, you need to ensure that the rate of pay your employee receives sufficiently compensates them for all their modern award entitlements.
So, to ensure you can adequately respond to a claim for underpayment, you need to maintain accurate records of the hours worked by your staff.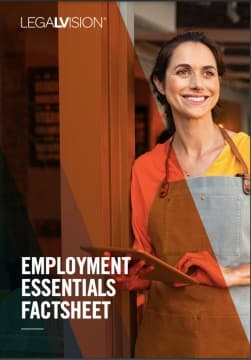 Employment Essentials Factsheet
As an employer, understand your essential employment obligations with this free LegalVision factsheet.
Download Now
Continue reading this article below the form
Need legal advice?
Call 1300 544 755 for urgent assistance.
Otherwise, complete this form and we will contact you within one business day.
Key Takeaways
The legal industry is notorious for long hours of work. However, it is essential that you pay your employees accordingly. Notably, courts have acknowledged that working longer hours may be acceptable:
If you need assistance understanding your legal obligations to paying staff, our experienced employment lawyers can assist as part of our LegalVision membership. For a low monthly fee, you will have unlimited access to lawyers to answer your questions and draft and review your documents. Call us today on 1300 544 755 or visit our membership page.
Frequently Asked Questions
What are reasonable additional hours?
Reasonable additional hours are those an employee works beyond their ordinary hours. For full-time employees, it is hours beyond 38 in a given week. Notably, employees can refuse to work the additional hours if the request is unreasonable.
Are reasonable additional hours different in different industries?
Yes. Courts will assess whether additional hours are reasonable on a case by case basis. In particular, they will have regard to the particular industry the employer operates in. For example, working beyond 38 hours a week could be acceptable in the legal industry.
Was this article helpful?
Thanks!
We appreciate your feedback – your submission has been successfully received.