Table of Contents
In our modern world, social media is becoming increasingly important to market businesses and sell products and services. One of the most popular social media platforms is the photo-sharing app Instagram. By uploading creative and popular content on Instagram, your business has the potential to reach millions of people worldwide. Many businesses generate almost all of their revenue from marketing on Instagram. However, using Instagram to market your brand may involve issues surrounding;
privacy;

data collection; and

ownership of the content.
This article will explore the key legal issues surrounding Instagram's policies and explains how they could affect your business' future.
Instagram Can (Technically) Exploit Your Content
While Instagram doesn't own the content that you post, they have a very broad licence over your work. Specifically, this licence gives them the right to:
house;

use;

distribute;

modify;

run;

copy;

publicly display;

translate; and

create derivative works of your content.
Additionally, Instagram has a legal licence to:
transfer their licence over your work to anyone else; and

grant a sublicense of your work to anyone else.
They can do this anywhere in the world and do not have to pay you for your work.
In practical terms, this means that Instagram can take any content that you post about your business and potentially develop and market those products themselves. Instagram can also use your brand for advertising and marketing purposes, all without paying you anything. Furthermore, Instagram does not have to credit any of your content if it uses it.
In reality, it isn't very likely that Instagram is going to steal your company's logo or sweatshirt design. However, it is important to know that it does technically have the right to do so. Instagram's terms state that you can end the licence by deleting your content or account. However, the licence will continue to apply on any content that you may have shared with others.
In addition to the above, Instagram:
can change your username;

does not guarantee that your content is going to be secure; and

isn't responsible for any financial loss that you might suffer as a result of their actions.
Running Giveaways Legally
You should be mindful about potential legal issues when running competitions or giveaways on Instagram. While they are very popular, you may need to do a bit more homework before you launch a promotion. This is because you are legally responsible for enforcing the competition rules that may apply in your business' industry.
If you are unsure about what rules will apply to your business' giveaway or competition, make sure to check Instagram's terms of use and do some research online.
Continue reading this article below the form
Need legal advice?
Call 1300 544 755 for urgent assistance.
Otherwise, complete this form and we will contact you within one business day.
Restrictions of Your Business' Branding
There are certain restrictions on how you can promote your Instagram profile and business. Some of these restrictions include:
1. 'Instagram' Labelling
You cannot combine or use the words 'Insta' or 'gram' with your brand.
For example, if you exclusively run your business on Instagram, you might want your potential customers to associate your company with being on Instagram. If so, you cannot use 'insta' or 'gram' within your:
company name;

branding; and

promotional materials.
Instead, you can only advertise that your brand is 'on Instagram'.
2. Mentioning Other Social Media Platforms
You can't mention other social media platforms or networks (other than those also affiliated with Facebook) in the same spot as where you advertise your Instagram. This is other than in a general "follow us on…" section within your branding material.
This means that it is okay to include Instagram if you have a website banner which outlines your different social media links. However, you cannot mention other social network platforms together with Instagram in, for example, a blog post.
3. Hashtags
You cannot hashtag 'insta' or 'gram' on any other social networks, even if you intend it to be a general hashtag that isn't related to Instagram.
4. Approval for Using Screenshots
You will need to obtain approval if you wish to use a screenshot of Instagram while, for example, advertising your Instagram profile. This advertisement might be in a:
commercial;

television show;

web series;

weekly show; or

film.
5. Buying Likes and Followers
The number of followers or likes in your business' social media can greatly influence the growth of your brand. The more followers you have, the more revenue you are potentially going to earn. As a result, many apps have opened that claim to collect likes or followers for your Instagram profile.
However, you should be wary before deciding to use one of these apps. Instagram does not permit artificially collecting likes and followers or using bots to post repetitive comments and content. As Instagram is managing your usage of the app, if the rates that you are liking, commenting or following other users is not consistent with normal human usage patterns (even if it is a human doing this), then Instagram may temporarily block your account. If they suspect that a bot is behind your account, they might even delete it.
How Instagram Collects Your Data
Instagram collects your data when you:
sign up;

post content;

share content; and

privately message someone.
This includes collecting the metadata that attaches to your content, like the:
location that you took a photo; and

date that you posted something.
Instagram also collects your transaction information such as your credit card numbers and shipping details. They also collect information from the particular device that you use to access Instagram.
Instagram's data policy goes into great detail about how they use your data. We have summarised some key points below:
phone information:

Instagram collects data about your phone's hardware, software, storage space, app names, signal strength and even its battery life. In other words, Instagram can access pretty much any files that you may have and all of your settings;

operations:

Instagram can also monitor how you are using your phone. For example, they can see when you open an app, when you send it to the background or when you select or click on anything;

identifiers: Instagram also uses cookies to collect your data from other applications, like the games you play or any other apps associated with Facebook. This is how you might

see an ad for something

on Facebook that you had only searched for on Instagram;

data from device settings:

Instagram also monitors your GPS location on your phone and where you take certain photos that you have uploaded. This is how it can suggest certain location tags for you when you post a picture;

network and connections:

Instagram also collects information about your mobile operator, timezone, mobile number and even your internet connection speed.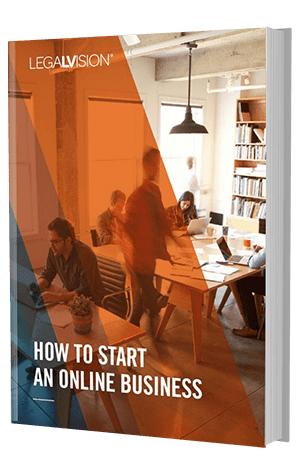 The Ultimate Guide to Starting an Online Business
It's now easier than ever to start a business online. But growing and sustaining an online business requires a great deal of attention and planning.
This How to Start an Online Business Manual covers all the essential topics you need to know about starting your online business.
The publication also includes eight case studies featuring leading Australian businesses and online influencers.
Download Now
Key Takeaways
Understanding Instagram's legal policies are crucial if you plan on running an Instagram account for your business. Instagram can use your content without your permission and without paying you. Additionally, they restrict how you're able to use their app or make references to their brand. Once you download Instagram, they begin to collect your data and use it for advertising purposes. If you have any questions about your business' online profile, contact LegalVision's e-commerce lawyers or fill out the form on this page.
Was this article helpful?
Thanks!
We appreciate your feedback – your submission has been successfully received.