Is It Legal to Add Pay Secrecy Clauses in My Employment Contracts?

Updated on November 1, 2021
Reading time: 5 minutes
As an employer, you might wonder whether you can prevent your employees from sharing their salaries. The answer is yes. Indeed, it is legal to add pay secrecy clauses in employment contracts. However, the key question is whether it is wise for your business to add such clauses. This article will explain what a pay secrecy clause is and when it is wise to use these clauses in your employment contracts.
Pay Secrecy Clauses
A pay secrecy clause is as simple as it sounds. It is a clause in an employment contract that prohibits employees from sharing their salaries. Employers will typically add pay secrecy clauses in industries where bonuses or discretionary incentives are offered.
However, such clauses have caused much controversy for the problematic ways employers can use them to allow for substantial pay discrepancies between their staff. This controversy has led to the question regarding whether the government should abolish provisions that promote pay secrecy.
The following section explores the advantages and disadvantages of using pay secrecy clauses.
Advantages of Pay Secrecy Clauses
More Bargaining Power
Pay secrecy clauses often allow for greater bargaining power when hiring new employees. Additionally, the flexibility allows new hires to negotiate their salary depending on the skills and values they bring to the company. Likewise, they can do so without fear or awkwardness of how other staff members will react. Indeed, when employees and employers have an active role in setting salaries, their working relationship can strengthen.
However, there is an argument that not knowing what others are earning can limit an employees bargaining range. This is precisely because your employees would have no way of identifying whether you are paying them fairly and at the same or similar rate as their colleagues. Nonetheless, negotiating salaries without fear of other employees being unhappy or demanding the same can be beneficial in hiring the right person for your business.
Protects Privacy
Ultimately, pay transparency can make employees feel uncomfortable sharing how much they earn if they prefer to keep this figure private. Indeed, pay secrecy clauses can protect both the employee and company's privacy. In addition, such clauses assist employees in avoiding awkward conversations about salary. Conversely, if your employees had to share their salary, it could lead to hostility within the workplace.
There is potential for a toxic work environment to form where coworkers can become increasingly competitive and jealous due to the pay differences.
Ultimately, this could interfere with work relationships and work culture itself.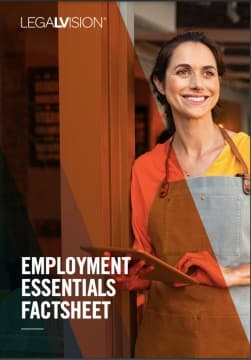 Employment Essentials Factsheet
As an employer, understand your essential employment obligations with this free LegalVision factsheet.
Download Now
Disadvantages of Pay Secrecy Clauses
Creates an Opportunity for Unequal Pay
Employers might have good intentions when offering differing salaries between employees. For example, these differences could relate to an employee's performance or skill level. However, there is always a concern that these pay rates are based on stereotyping or bias. Notably, employers can use these clauses as a facade for unfair discrimination. Typically, pay secrecy policies in companies heightens the gender pay gap. It allows for discrimination and unconscious bias to impact these pay rates. In addition, the lack of pay transparency allows employers to avoid justifying any pay differences, which exacerbates the potential for discrimination.
Negatively Impacts Workplace Culture
Note that a lack of transparency in the workplace can lead to your employees feeling undervalued and distrusting. This can create perceived inequality within the workplace wherein, due to these pay secrecy clauses existing, employees assume that there is pay inequality. When employees assume that they are not being rewarded for their efforts and assume your business is paying other staff more than them, it impacts their workplace productivity, hindering your business' success.
Likewise, your employees might assume that these clauses are necessary due to unfairness and discrimination. Consequently, sentiments of distrust and disloyalty may increase within your business. Moreover, if there are bonus structures within your company that pays employees more for their performance, pay transparency would benefit employees. Indeed, knowledge of their colleague's pay may inspire motivation and productivity.
Key Takeaways
It is legal to include pay secrecy clauses in your employment contracts. However, be sure to assess whether these clauses would benefit or harm your workplace. Notably, transparency can allow for better workplace culture and assurance that there is no unfair discrimination. On the other hand, secrecy can allow for more bargaining powers, privacy and could lessen hostility.
If you have further questions on how to draft your employment contracts and whether these clauses are right for your business, contact LegalVision's employment lawyers on 1300 544 755 or fill out the form on this page.
Frequently Asked Questions
What are pay secrecy clauses?
Pay secrecy clauses are a legal provision that employers can add to their employment agreements. This clause essentially prohibits employees from sharing their salaries. However, note that such clauses can be controversial for the problematic ways employers can use them to allow for substantial pay discrepancies between their staff. 
How are workplace discrimination and pay secrecy clauses related?
Discrimination refers to actions that treat one person less favourably than others based on certain factors that are unfairly biased, like age or sexual orientation. Workplace discrimination and pay secrecy clauses are related because some employees may believe that such clauses are in place to hide pay inequalities. Therefore, carefully weigh up the advantages and disadvantages of these clauses before adding them to your employment contracts.
Was this article helpful?
Thanks!
We appreciate your feedback – your submission has been successfully received.
About LegalVision: LegalVision is a commercial law firm that provides businesses with affordable and ongoing legal assistance through our industry-first membership.
By becoming a member, you'll have an experienced legal team ready to answer your questions, draft and review your contracts, and resolve your disputes. All the legal assistance your business needs, for a low monthly fee.
Need Legal Help? Submit an Enquiry
If you would like to get in touch with our team and learn more about how our membership can help your business, fill out the form below.
Read other articles by Prashana
<!-/- Related Articles - Item -/->