Table of Contents
Many employees in Australia work outside of the usual nine-to-five period. This is known as 'shift work,' which includes assigning individuals to work certain time blocks. This is common in many industries in Australia, particularly in health care. Shift employees might work full-time, part-time, or on a casual basis. Additionally, shift work requires you to pay penalty rates and schedule employees to work suitable hours. To help you understand your obligations as an employee, this article explains the minimum working hours per shift for workers in Australia.
What Are the Typical Working Hours For Different Employment Types?
Minimum working hours differ depending on the employment type.
| | |
| --- | --- |
| Employment Type | Minimum Working Hours |
| Full-Time | A full-time employee typically works at least 38 hours a week on an ongoing and permanent basis. Similarly, full-time shift workers should total 38 hours per week. This is subject to overtime rates if they exceed 38 hours. |
| Part-Time | A part-time employee works fewer than 38 hours a week regularly. Part-time employees are entitled to pro-rata paid leave and must be given reasonable notice of termination. |
| Casual | Causal employees are hired on an as-needed basis. Additionally, casual employees receive a greater hourly rate (casual loading) than full or part-time employees, although casuals do not have the same benefits, such as paid annual leave and termination notice. |
What is Shift Work?
Some shift workers are not entitled to the same annual leave as regular employees. According to the Fair Work Act, an employee is a shift worker if they:
work for an employer where shifts are rostered 24 hours a day, 7 days a week;
are consistently rostered to work those shifts;
consistently work weekends and public holidays; and
are characterised as a 'shift worker' in the applicable modern award or enterprise agreement.
As a result, if either of these industrial instruments covers your employees, they may also be entitled to five weeks of annual leave. An award, enterprise agreement, or other registered agreement may also include a detailed definition of a shift worker and what types of shifts they can work.
Continue reading this article below the form
Need legal advice?
Call 1300 544 755 for urgent assistance.
Otherwise, complete this form and we will contact you within one business day.
Where Can I Find My Employees' Minimum Hours?
The minimal number of hours that an employee can work varies according to the applicable modern award. There are over 120 modern awards. However, the minimum hours for shift work in most industries is 3 to 4 hours. This means that even if you schedule an employee for a two-hour shift, you must pay them for at least three hours of labour. Some examples are provided below.
Aged Care Industry
You must pay full-time employees in the aged care industry a minimum payment of four hours for each engagement regarding ordinary work hours. On the other hand, permanent part-time and casual employees will receive a minimum payment of two hours for each engagement.
Nurses Award
A casual employee working under the Nurses Award will be paid at least two hours for each engagement.
Social, Community, Home Care and Disability Services
You must pay a casual employee in the social, community, home care and disability services industry at least two hours for each engagement except for disability services work. Additionally, you must pay:
home care employees a minimum of one hour for each engagement; and
all other employees a minimum of two hours.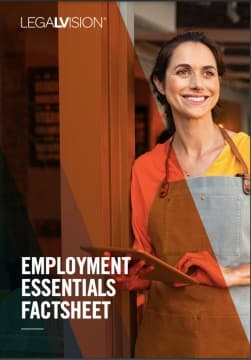 Employment Essentials Factsheet
As an employer, understand your essential employment obligations with this free LegalVision factsheet.
Download Now
Key Takeaways
As an employer, it is essential to understand what minimum working hours per shift apply to your employees. When hiring shift workers, paying them at least the minimum wage and for the minimum engagement period is critical to avoid employment disputes.
If you need help understanding your employees' minimum working hours, our experienced employment lawyers can assist as part of our LegalVision membership. For a low monthly fee, you will have unlimited access to lawyers to answer your questions and draft and review your documents. Call us today on 1300 544 755 or visit our membership page.
Frequently Asked Questions
How do I determine the minimum working hours per shift for my employees?
To determine your employees' minimum working hours per shift, you should review the relevant industry or occupational award that applies. Most modern awards will set out the minimum engagement period, which you must comply with for shift work. For example, if you employ a full-time employee in the aged care industry, the minimum engagement is four hours, according to the Aged Care Award.
What if I only need my shift worker to work less than the minimum engagement period?
While you may only require your employee to work less than the minimum engagement period that the award prescribes, you must pay the employee for the minimum engagement period.
Was this article helpful?
Thanks!
We appreciate your feedback – your submission has been successfully received.