Table of Contents
A business lease, whether commercial or retail, will have review mechanisms for increasing the rent during the term of the lease. This article explains the most contentious form of rent review — the market rent review.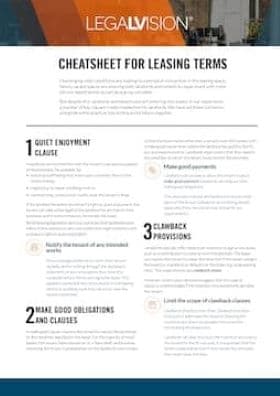 Landlord's Cheat Sheet for Leasing Terms
This cheat sheet explains the key clauses you need to be aware of as a landlord in a lease agreement.
Download Now
Methods for Increasing Rent
Landlords use three common methods to increase rent:
By a fixed percentage

(such as 3% or 4%)

By the consumer price index (

CPI

) with reference to the inflation rate

According to a market rent review
The rent will increase on specific rent review dates. A lease will commonly include a clause that sets an annual review date. If the lease includes a renewal option, it will usually also trigger a rent review on renewal.
Market Rent Reviews
Market rent reviews are often used if a tenant wishes to exercise their option to renew the lease, or at certain increments during a long-term lease. They allow the landlord to re-assess the applicable rent for the premises so that it keeps pace with the market.
If market rent review will apply, it is important that the lease sets out the process by which it is calculated. Most often, the landlord will consider how much rent the tenant would pay for a comparable premises. However, other methods may also be used. For example, assessment by an independent valuer, or by agreement between the landlord and tenant.
Continue reading this article below the form
Need legal advice?
Call 1300 544 755 for urgent assistance.
Otherwise, complete this form and we will contact you within one business day.
Important Clauses
A prospective tenant should look out for certain clauses when reviewing how a lease handles market rent.
| | |
| --- | --- |
| Clause | Commercial Considerations |
| Review frequency | If market rent reviews occur more often than once a year, the administrative costs and the uncertain nature of the review could be financially prohibitive. |
| Method to determine the market review | Consider how the landlord will determine the market review. For example, will an expert market valuer determine the rent, or will the landlord compare other rents in the area? |
| Setting rent by agreement | Is it possible for a tenant to suggest a market rent or agree with the landlord as to what the rent should be? |
| Dispute resolution | How can the tenant dispute the rent? Is there a mechanism to break any deadlock, such as the appointment of an independent expert? |
| Ratchet provision | A ratchet clause prevents the rent from going down, even if the market valuation lowers. However, retail leasing legislation may prohibit a ratchet clause. |
Market Review of Retail Leases
If the lease is for retail premises, then state or territory-specific retail lease legislation may require additional protections for tenants. For example, in NSW, the NSW Small Business Commissioner can appoint an independent valuer in the case of a retail lease dispute over market rent. As noted in the table above, the NSW Retail Leases Act also prohibits ratchet clauses.
The definition of 'retail premises' can be technical, but generally includes most small shops in shopping centres. However, some exceptions apply, so you will need to consider the retail lease legislation of your state or territory.
Key Takeaways
Market rent review is a common method for increasing the rent of a commercial or retail lease. It allows the landlord to adjust the rent to keep up with market adjustments. Tenants should review the market rent clauses of their lease to ensure both that they understand them and that the clauses do not breach retail leasing legislation.
If you need help with assessing how market rent will be calculated in your lease, our experienced leasing lawyers can assist as part of our LegalVision membership. You will have unlimited access to lawyers to answer your questions and draft and review your documents for a low monthly fee. Call us today on 1300 544 755 or visit our membership page.
Was this article helpful?
Thanks!
We appreciate your feedback – your submission has been successfully received.