Is a Consultant a Contractor or Employee?

Updated on May 11, 2022
Reading time: 5 minutes
If you wish to hire someone to help set up your business, educate your employees, or improve business practices, you may consider hiring a consultant. Indeed, consultants have tailored skill-sets that can help fulfil your business needs. In addition, a consultant can offer your business flexibility and a range of resources otherwise unavailable to you. This article will explore the nature of employment relationships with consultants and whether they should be considered employees or contractors.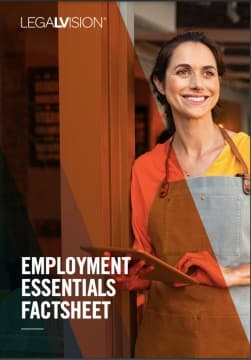 Employment Essentials Factsheet
As an employer, understand your essential employment obligations with this free LegalVision factsheet.
Download Now
What is a Consultant?
'Consultant' is a broad term encompassing any professional who provides expert advice within a particular industry or field. That is, consultants provide their services internally or externally, in an advisory capacity. Likewise, you can engage them for a one-time job or an extended period of work.
Businesses may run into the mistake of assuming their consultant is a contractor simply because:
they have a registered Australian Business Name (ABN);
the business invoices them for the work done; or
it is an industry standard to classify workers as contractors.
However, the nature of this relationship will differ depending on your individual circumstances.
Contractor or Employee?
In summary, a contractor is an individual or business that your business hires to complete specific functions. On the other hand, an employee works for you and is employed by you, in your business.
The difference between contractors and employees can be subtle, but this can be a critical distinction. There are important tax, superannuation, and insurance obligations that depend on the correct classification of a consultant, and incorrectly treating an employee as a contractor can lead to significant penalties. That is, such misrepresentations can put you at risk of a claim against you for 'sham contracting,' which can carry fines of up to $12,600 for individuals, or $63,000 for businesses.
Key Factors to Determine the Difference
When determining whether a consultant is an employee or contractor, businesses must consider six key factors, outlined in the table below:
| | | |
| --- | --- | --- |
| Factor to Consider | Employee | Contractor |
| Payment method | Employees are paid either by commission or for time worked, in fixed period sums. | Contractors are paid for the work they have quoted, typically through invoices and in exchange for a specific outcome. |
| Tools and equipment | Businesses must provide all tools and equipment, or reimburse costs for tools and equipment for employees. | Contractors provide their own tools and equipment for the job |
| Control over work | Businesses regularly give employees direction on what they need to do – which suggests an employee/employer relationship exists | Contractors have more freedom in their methods and completing their work. . If your business wants more control, you need to outline this in the contract. |
| Ability to delegate work | Employees cannot delegate or subcontract their work to other employees or contractors. | Contractors can delegate or subcontract their work if this is not in breach of their contract. |
| Running an independent business | An employee conducts work exclusively for the business, and they are part of your business processes and systems. | Contractors operate their own independent businesses. They can work for multiple clients, and can refuse or accept work based on their contract, |
| Legal responsibility | Employees are not responsible for mistakes or defects; your business is liable. | Contractors take on the commercial risk of their work and are legally responsible for rectifying or paying for any mistakes and defects. |
Key Takeaways
Consultants can provide a valuable perspective in setting up your business or improving business practices. However, it is essential to correctly label consultants as employees or contractors. No single factor will provide you with a conclusive answer, rather you must consider various factors together. Before concluding whether you are taking on a new employee or a contractor, you must look at all of the above factors and other conditions in the contract.
 If you are unsure whether to hire a consultant as an employee or contractor or need assistance drafting a contractor or employee agreement, our experienced employment lawyers can assist as part of our LegalVision membership. For a low monthly fee, you will have unlimited access to lawyers to answer your questions and draft and review your documents. Call us today on 1300 544 755 or visit our membership page.
Frequently Asked Questions
What is the difference between a contractor and an employee?
You can hire contractors to complete certain tasks, paying them for work like you would an independent business. However, employees work for you. You pay them for their time and cover their entitlements.
What are the significant penalties for mislabelling a consultant?
Sham contracting is where you misrepresent an employee as a contractor to avoid tax and super obligations. This will result in hefty fines from the Court, and you want to avoid this as a business. Mislabelling a consultant as a contractor when they are in fact an employee can result in fines for your business of up to $12,600 for individuals and $63, 000 for a corporation.
Was this article helpful?
Thanks!
We appreciate your feedback – your submission has been successfully received.
About LegalVision: LegalVision is a commercial law firm that provides businesses with affordable and ongoing legal assistance through our industry-first membership.
By becoming a member, you'll have an experienced legal team ready to answer your questions, draft and review your contracts, and resolve your disputes. All the legal assistance your business needs, for a low monthly fee.
Need Legal Help? Submit an Enquiry
If you would like to get in touch with our team and learn more about how our membership can help your business, fill out the form below.
Read other articles by Lachlan
<!-/- Related Articles - Item -/->