Should My Business Have an Enterprise Agreement?

Updated on November 8, 2021
Reading time: 5 minutes
As an employer, you should be aware of the different awards that set out the minimum requirements for employees in your industry. Likewise, you need to be across specific penalty rates or loadings and other entitlements. Indeed, calculating these amounts for each employee, week in week out, can be frustrating. As such, you may wish to implement an enterprise agreement. This article will discuss what enterprise agreements are and how to implement one within your business correctly.
Enterprise Agreement v Modern Award
If you employ staff in Australia, you will probably have come across a modern award. Except for high-level executives and senior managers, most jobs in Australia are covered by a modern award. Generally speaking, a modern award sets out the minimum entitlements and conditions that businesses must provide to their employees in that role or industry. These entitlements might include:
penalty rates;

overtime rates;

annual leave;

sick leave; and 

methods of dispute resolution.
Each modern award will handle these entitlements differently. You must know which award applies to your employees.
Enterprise agreements vary the terms of modern awards so that both you and your employee benefit. These agreements replace modern awards. However, the base pay rate cannot be lower than the modern award.
For example, an employer and employee might agree to eliminate penalty rates that the employee is entitled to under the award in exchange for a higher ordinary hourly rate.
Enterprise agreements should not allow employers to get around minimum employment standards and wages. Instead, they often result in higher pay for employees and reduced time spent on administrative work for employers. 
Why Would an Employee Accept an Enterprise Agreement?
On its face, anything which seeks to reduce an employee's entitlements could cause alarm. But, you can only implement an enterprise agreement if your employees will be better off overall than if they were under the relevant modern award. Moreover, employees have bargaining powers within these agreements and are assured certainties regarding their conditions. This means they are probably more inclined to favour enterprise agreements. 
For example, suppose an employee is entitled to a base rate of $21 per hour on weekdays. On Saturday, they receive a 25% penalty rate. Therefore, their Saturday wage is $26.25 per hour. If this employee works 7.5 hours each day from Tuesday to Saturday, their total pay is $826.90 per week.
Under an enterprise agreement, an employer might propose a base wage of $24 per hour with no penalty rates. Although the employee now earns less on a Saturday, they make more during the week. Their total pay will now be $900, and they are better off overall. 
Importantly, just because the employee receives a higher base wage does not mean that they will always be better off overall.
Why Would an Employer Enter Into an Enterprise Agreement?
Many employers seek to implement an enterprise agreement as it is often simpler and more efficient in the long term. Modern awards can be complex. Notably, analysing their application to each employee can be time-consuming. Costs associated with accounting and payroll can increase when employers need to calculate:
meal allowances; 

penalty rates; and 

the overtime applicable to individual employees.
With an enterprise agreement, employers can take their attention away from calculating wages and spend more time focussing on the running of the business. Indeed, they allow for greater flexibility allowing for a mutually beneficial agreement with the potential for greater employment benefits and progression opportunities. 
Furthermore, employees will not take industrial action and strike if they work under an enterprise agreement. Therefore, an enterprise agreement may be beneficial for employees concerned that the requirements under the modern award may cause employees to take industrial action.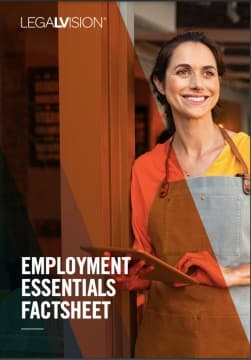 Employment Essentials Factsheet
As an employer, understand your essential employment obligations with this free LegalVision factsheet.
Download Now
Implementing an Agreement
The Fair Work Commission (FWC) must review all enterprise agreements before you can implement them. The FWC will not approve enterprise agreements which:
Additionally, enterprise agreements cannot include several terms, including those that;
discriminate; 

go against the

general protections provisions

of the

Fair Work Act

;

take away an employee's right to unfair dismissal claims;

adjust who is entitled to employee rights under the

Fair Work Act

.
Key Takeaways
An enterprise agreement is a useful tool that allows employers and employees to reach an agreement that will benefit both parties. Notably, employers will save time and hassle worrying about applying different awards to different employees, and employees benefit by receiving a better wage overall. 
If you think that an enterprise agreement could be a good solution for your business, contact LegalVision's employment lawyers on 1300 544 755 or fill out the form on this page. 
Frequently Asked Questions
Is an enterprise agreement better than following the modern award?
The question here is whether it is better for your business. Enterprise agreements allow for negotiations, consistency across all employees and could save you the mental labour of calculating these pay rates. It also simplifies the multiple modern awards that can cover multiple employees. It also allows you to tailor the pay rate and employee benefits to your business. However, enterprise agreements can be a disadvantage due to their minimal flexibility. Likewise, they take time to plan and negotiate, which could be costly. 
Can enterprise agreements benefit employees?
Yes. These agreements allow them a say in negotiations, bargaining and being certain of their employment terms and conditions. The goal for these agreements is to benefit the employee more overall than the modern award would.
Was this article helpful?
Thanks!
We appreciate your feedback – your submission has been successfully received.
About LegalVision: LegalVision is a commercial law firm that provides businesses with affordable and ongoing legal assistance through our industry-first membership.
By becoming a member, you'll have an experienced legal team ready to answer your questions, draft and review your contracts, and resolve your disputes. All the legal assistance your business needs, for a low monthly fee.
Need Legal Help? Submit an Enquiry
If you would like to get in touch with our team and learn more about how our membership can help your business, fill out the form below.
Read other articles by Prashana
<!-/- Related Articles - Item -/->