What Are the Different Types of Implied Terms?

Updated on October 14, 2021
Reading time: 6 minutes
An implied term signifies a promise or assumption that is not expressly part of a contract. Nevertheless, these terms are still enforceable. For example, you may be able to imply that a particular promise, which you have not expressly stated in the contract, forms a part of the agreement anyway. Therefore, it will be an implied term that is in turn enforceable. This article sets out the different types of implied terms, and how they may affect the contracts you enter into.
What is An Implied Term?
Simply put, implied terms are promises that parties have not expressly included in a written contract. However, they still form part of the agreement between parties. There are different types of implied terms, which you may incorporate into your contracts, which include terms implied:
in fact;

by law;

by custom; and

as a result of past dealings.
Terms Implied in Fact
A court may include these types of terms in a contract to ensure the document reflects the parties' actual intentions and promotes business efficacy. Often, they are terms that you do not think of expressly including in the contract because they 'go without saying'. For example, it goes without saying that if you park your car in a car park, the premises will be in reasonable condition. Therefore, this term is necessary to allow the car park to function effectively, and fulfils both parties presumed intention.
Terms implied in fact must:
be reasonable and equitable. They cannot benefit one party and burden the other;

be necessary to give business efficiency to the contract. For example, the contract will not work effectively without the term;

be so obvious that it 'goes without saying'. An impartial bystander in the position of the parties should be able to assume that the term is part of the contract;

be capable of clear expression; or

not contradict any other express terms of the contract.
In situations involving formal and detailed contracts, courts are hesitant to imply terms unless they are necessary. Therefore, the threshold for the above requirements is high in a commercial contract situation.
Terms Implied by Law
Parties can automatically assume that terms implied by law form part of specific categories of contracts because of legislation or previous court decisions. If your contract falls into a given category, it might have particular default terms.
These categories of contracts include:
service contracts

: It is implied the service will be executed with due care and skill;

employment contracts

: It is implied an employer will provide a safe system of work; and

lease contracts

: It is implied a landlord will give the tenant quiet enjoyment of the premises.
This list is not exhaustive, so other established categories may apply. You should consider what category of contract your agreement falls under and whether the implied term is necessary for all contracts of that category.
Additionally, in certain contracts for the sale of goods, the Australian Consumer Law (ACL) will apply. The ACL guarantees that goods sold to consumers must be of acceptable quality and fit for purpose.
Terms Implied by Custom
Parties can imply a term into a contract if other contracts in the same market, trade or context can be reasonably presumed to have that term. Therefore, terms that may be implied by custom are taken to be standard practice or tradition.
For example, when contracting a plumber, there might be an implied term that they will bring their own tools, as this is standard practice in the industry.
To imply a term into a contract by way of custom, you must be able to show the custom or usage exists. You then need to prove that the term is so notorious that everyone in the trade reasonably assumes that it will be part of an agreement. It also cannot contradict any express terms between the parties. If a term is implied into a contract because it is custom, it becomes a contractual obligation even if neither party was aware of the custom.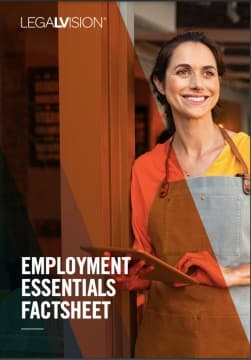 Employment Essentials Factsheet
As an employer, understand your essential employment obligations with this free LegalVision factsheet.
Download Now
Terms Implied as a Result of Previous Dealings
Where parties have a recurring contractual relationship, courts may imply terms into a contract based on the parties' previous dealings. This is especially relevant where a contract is an informal agreement that only outlines the key terms.
For example, suppose two parties consistently enter into a contract that explains that one party is not liable for a certain kind of loss. It can be said that the term will be implied due to their previous dealings, even if the party forgets to include it in a later contract.
When implying terms as a result of past dealings, a court needs to consider whether the:
contact between the parties was regular;

past dealings were consistent and uniform; and

implied terms contradict express terms.  
You should keep in mind that the threshold for these requirements is high. For example, three contracts over the course of five years is unlikely to prove consistent and uniform dealings.
Key Takeaways
Usually, parties draft simple and informal contracts outlining the key terms of an arrangement. However, a court may imply terms into a contract even after you have entered into it. Therefore, if you think a promise, which you have not included in the formal contract, should form part of the agreement, you should consider whether it is an implied term. There are different types of implied terms, so you should be aware of all of them. If you have any questions, contact LegalVision's contract lawyers on 1300 544 755 or fill out the form on this page.
Frequently Asked Questions
Why are terms implied in contracts?
Often, parties will not consider every single element that could possibly arise in a contractual situation. Therefore, terms are sometimes implied to guarantee the function of the contract, and fulfil what both parties intended when entering into the contract.
What are terms implied in fact?
Terms implied in fact are terms in a contract that are so obvious they 'go without saying'. For example, an impartial bystander must be able to determine that the term is so obvious that it is implied in the contract.
Was this article helpful?
Thanks!
We appreciate your feedback – your submission has been successfully received.
About LegalVision: LegalVision is a commercial law firm that provides businesses with affordable and ongoing legal assistance through our industry-first membership.
By becoming a member, you'll have an experienced legal team ready to answer your questions, draft and review your contracts, and resolve your disputes. All the legal assistance your business needs, for a low monthly fee.
Need Legal Help? Submit an Enquiry
If you would like to get in touch with our team and learn more about how our membership can help your business, fill out the form below.
Read other articles by Eugenia
<!-/- Related Articles - Item -/->