Table of Contents
The Web Design and Web Development industry in the past five years has benefited from the increasing reliance on the internet for information and the boom in smartphone usage. If you are looking to set up a new business in the web or development space, you should consider what business structure will work best for you in the long run. It takes a significant deal of time and money to get a working business structure up and running. Also, registering a business or adopting a certain structure is by no means a simple process and will require legal advice and government registration. Therefore, you may wish to gain a basic understanding of all the options available to your web development business, including whether a company or sole trader business structure could work for you.
Business Structures for Web Companies
The Australian business and government sectors are aiming to solidify their online presence, which is further boosting demand for web design services. With this increasing demand, establishing your IT company as a proprietary company could well be the best option for your web developer business as it will allow for rapid expansion at minimal risk. However, this is one of the more complex business structures available to you so that it will depend upon your ultimate business goal.
The main benefit of a company business structure is that it provides limited financial liability for all of its agents, such as web designers and developers. This means that any financial decisions that you make for your web developer business will only be payable by your web developer business. Also, any employees of the company, acting for the company, will also be protected from financial risk. As a result, companies tend to be much more dynamic than other business structures when it comes to building a business and rapport with a customer base.
However, this does come at a considerable financial cost, as a company is one of the most expensive business structures to both create and run. Also, you will have to structure your company according to rigorous statute, while reporting your taxes fully and on-time, while receiving legal advice on some issues. Therefore, a company structure is only advisable if you are looking to expand your web developer business and make and impact on the market shortly.
Sole Trader/Proprietors for Web Design and Development
An alternative option available to your web developer business is a more simpler sole trader business structure. This structure is ideal for smaller, well-run businesses. In fact, many web designers are freelancing sole traders.
The main benefit of a sole trader business is that it is very low-cost to setup. Because a sole trader business structure is inseparable from the owner, it means that should you become a sole trader; you will have complete control and ownership of your business forever.
You should note that with running a sole trader business, there is an unlimited financial liability. Therefore, you will be personally responsible for any agreements you enter into during your business duties. As a result, sole traders tend to be more cautious than other owners as they bear full responsibility for any wrong decision they make.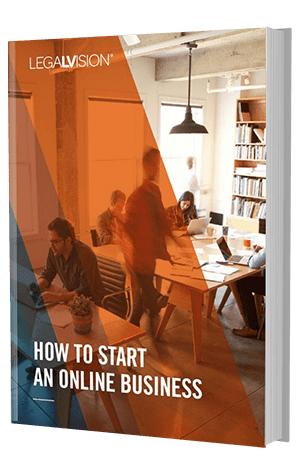 The Ultimate Guide to Starting an Online Business
It's now easier than ever to start a business online. But growing and sustaining an online business requires a great deal of attention and planning.
This How to Start an Online Business Manual covers all the essential topics you need to know about starting your online business.
The publication also includes eight case studies featuring leading Australian businesses and online influencers.
Download Now
Continue reading this article below the form
Need legal advice?
Call 1300 544 755 for urgent assistance.
Otherwise, complete this form and we will contact you within one business day.
Key Takeaways
The business structure for your web development business is contingent on the business' relative size, the value of services rendered and the level of fees charged. If you need assistance with business structuring or setting up your IT business, our business lawyers can assist.
Was this article helpful?
Thanks!
We appreciate your feedback – your submission has been successfully received.