10 Things to Know Before You Bring Your Startup to Australia: 5 – Building a Team
Updated on March 6, 2020
Reading time: 3 minutes
This chapter is an extract from LegalVision's 10 Things To Know Before You Bring Your Startup to Australia Guide. Download the full guide here.
Australia has an educated, multicultural workforce. 2.1 million Australians speak an Asian language and 1.3 million speak a European language.
Most Spoken Languages in Australia Other Than English
Mandarin
Arabic
Cantonese
Vietnamese
Italian
Greek
The most common skillset of founding startup teams, including founders and first employees, is software development and general business operation skills. Australian universities have entrepreneurship and innovation programs to equip graduates with the knowledge and skills to work at, or launch, a startup from day one.
Australia has a robust employment law framework, so it's important that you are across Australian workplace relations law and your obligations as an employer of Australian employees and contractors. The most important thing is to first ensure that you are paying your worker the correct wage and entitlements under Australian law.
Am I Paying My Workers the Correct Wage?
Step 1: Correctly classify your worker as an employee or contractor.
Step 2: Know the minimum wage for your employees. You can check your employees' minimum wage by contacting Fair Work Australia.
Step 3: Comply with the relevant obligations according to the worker's classifications as set out in the Fair Work Act 2009 (Cth) and the National Employment Standards, along with any relevant Modern Awards.
In Australia, full-time employees are entitled to four weeks' annual leave per year, minimum wage and employer superannuation contributions. If your worker is a contractor, you have different obligations. As the obligations in Step 3 do not apply, you may still be required to pay superannuation. Importantly, if you classify a worker as a contractor and treat them as an employee, they will be considered an employee by law.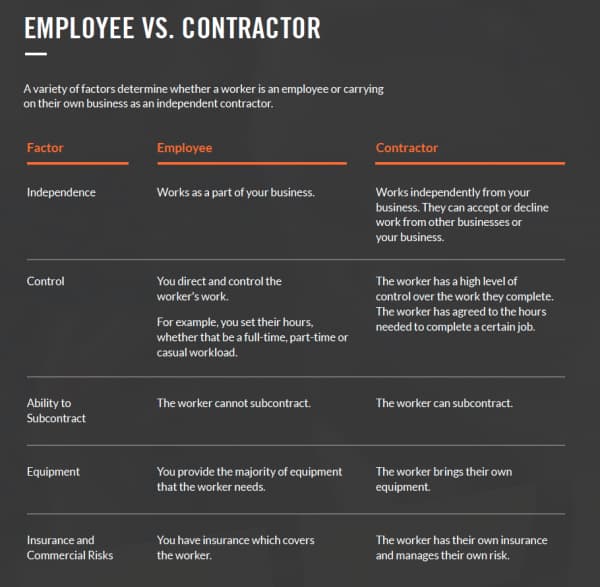 Employee Share Schemes
As a startup (unless you've raised plenty of capital), it's unlikely that can pay a premium for team members. Enter an Employee Share Scheme (ESS). Under an ESS, you can offer team members shares or options to buy shares in the company. Nearly every high-growth startup will have an ESS.
Offering team members shares or options in the startup can help bridge the gap between their startup salary and an equivalent corporate salary. An ESS is also a great way to ensure your employees feel like they have a real ownership stake in the business and that their interests align with your startup. The startup's success will be their success.
If you have questions about this Manual or about your online business before you start reading, you can contact LegalVision's startup lawyers by calling 1300 544 755 or filling out the form on this page.
This chapter is an extract from LegalVision's 10 Things To Know Before You Bring Your Startup to Australia Guide. Download the free 31-page manual which includes information on government incentives, economic trends, geographical considerations, building a team, visas, how to protect your brand and how to set up in Australia.
Day in Court: What Happens When Your Business Goes to Court
Thursday 2 June | 11:00 - 11:45am
Online
If your business is going to court, then you need to understand the process. Our free webinar will explain.
Register Now
How to Manage a Construction Dispute
Thursday 9 June | 11:00 - 11:45am
Online
Protect your construction firm from disputes. To understand how, join our free webinar.
Register Now
Startup Financing: Venture Debt 101
Thursday 23 June | 11:00 - 11:45am
Online
Learn how venture debt can help take your startup to the next level. Register for our free webinar today.
Register Now
Was this article helpful?
Thanks!
We appreciate your feedback – your submission has been successfully received.
About LegalVision: LegalVision is a commercial law firm that provides businesses with affordable and ongoing legal assistance through our industry-first membership.
By becoming a member, you'll have an experienced legal team ready to answer your questions, draft and review your contracts, and resolve your disputes. All the legal assistance your business needs, for a low monthly fee.
Need Legal Help? Submit an Enquiry
If you would like to get in touch with our team and learn more about how our membership can help your business, fill out the form below.
Read other articles by Jill
<!-/- Related Articles - Item -/->