Table of Contents
When you drafted your employment contracts, you likely included a restraint clause for good reason. Say your employee resigns from your company and decides to work for your primary competitor. The last thing you would want is your ex-employee to take half your client base with them. However, before you start sending off your cease and desist notices or rush off to Court to seek an injunction, there are some questions you should first ask yourself.
1. Do I Have a Valid and In-Force Contract Containing the Restraint?
Just because your 'standard' employment contract contains a restraint clause does not mean you have one for this particular employee. So, you should check your records and ensure you have a duly executed contract that remains in force, particularly the operative term. Additionally, you should check that the employee has signed it!
2. Is The Restraint Reasonable?
Courts are reluctant to enforce restraint clauses, as restricting an individual's ability to work is against public policy. As such, restraint clauses are void at face value and will only be upheld to the extent reasonably necessary to protect your legitimate business interests.
When the Court determines what is 'reasonable', they consider several factors, including the:
nature of the industry;
relevant role or position of the person you are seeking to restrain;
level of seniority, remuneration or consideration is given for the restraint; and
the wording of the restraint clause.
Further, restraint clauses are subject to the usual rules of contractual construction. Hence, any ambiguity or improper drafting could render the entire clause void.
Continue reading this article below the form
Need legal advice?
Call 1300 544 755 for urgent assistance.
Otherwise, complete this form and we will contact you within one business day.
3. Have I Suffered Damage?
After confirming that your employee is subject to a restraint clause, it is sensible to adopt a commercial perspective when determining whether to expend all the time and effect to enforce it. In particular, can you link anything, such as the loss of particular customers or a downturn in business, to the other parties' actions?
4. If Not, Is There a Threat of Damage?
Even if you have not suffered damage, you might still consider enforcing the restraint if there is a threat of damage. For example, say you have checked the outgoing employee's emails and see they have provided their contact details to clients or e-mailed themselves client or supplier lists. In this instance, there may be a real threat of your business suffering damage.
5. Have I Properly Considered the Legal Ramifications of Enforcement?
Enforcing a restraint clause can be a timely and costly process. Therefore, consider how much time and money you will spend on enforcement and whether these efforts outweigh any potential benefit you may receive from enforcing the restraint clause.
You should also consider whether there are any steps you can take to stop your former employee, contractor or franchisee from breaching the restraint clause before commencing legal proceedings. For example, you could send a letter to remind them of their obligations.
It is one thing to rush off to Court to seek an urgent injunction but quite another to run the proceedings to a conclusion. Consider the time and cost involved in litigation, and ask yourself, 'what is the worst case scenario, and can I, and the business, risk that?'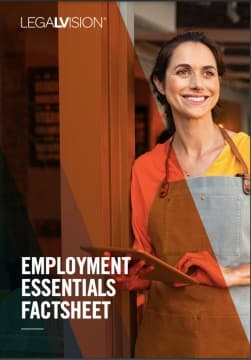 Employment Essentials Factsheet
As an employer, understand your essential employment obligations with this free LegalVision factsheet.
Download Now
Key Takeaways
Restraint clauses are essential tools that can help protect your legitimate business interests. However, enforcing a restraint of clause is a complex process. Therefore, you should carefully consider whether:
your agreement includes a restraint clause you can rely upon;
the court will consider the restraint clause reasonably necessary to protect your legitimate business interests; and
the cost of any enforcement action outweighs any threat of or actual damage to your business.
If you need assistance enforcing a restraint clause, our experienced employment lawyers can assist as part of our LegalVision membership. For a low monthly fee, you will have unlimited access to lawyers to answer your questions and draft and review your documents. Call us today on 1300 544 755 or visit our membership page.
Frequently Asked Questions
Are restraint clauses enforceable?
Restraint clauses can be difficult to enforce as Courts are reluctant to restrict an individual's ability to work. Therefore, a restraint clause will only be enforceable as it is reasonably necessary to protect your legitimate business interests. Whether a restraint clause will be considered reasonably necessary to protect your legitimate business interests will be determined by the Court on a case-by-case basis.
Can I take a current or former employee, contractor or franchisee to Court for breaching a restraint clause?
It can be highly distressing and damaging to your business if someone breaches a restraint clause. However, it is essential to carefully consider whether it is worth pursuing the matter in Court. In particular, you should consider the enforceability of the restraint clause and the possible cost and time enforcement action may take.
Was this article helpful?
Thanks!
We appreciate your feedback – your submission has been successfully received.