Table of Contents
If you are starting a new business, you may have a wealth of intellectual property (IP) that you have not yet considered. IP is an umbrella term for the creations or property of your mind. For the long-life success of your business, it is vital to protect your IP to prevent others from using your valuable assets. This article will discuss five of the most important IP assets to protect for your new business.
1. Trade Mark
One of the first decisions that you will make for your new business is choosing a business name. While registering a business name with the Australian Securities and Investments Commission (ASIC) gives you a right to use that name, it does not give you the exclusive use of the name. It also does not provide the right to stop another business from using the same or a similar name. Instead, exclusive protection comes from registering the name as a trade mark. This table provides an overview of the key features of a trade mark:
Definition
Includes
Benefits
Examples

Protects marks that are used to distinguish one business from another.

Letters, numbers, words, business names, phrases, sounds, smells, logos and pictures.

– Provides an exclusive right to use, license, and sell trade mark.- Deters competitors from misusing your brand.

– The 'Apple' name and logo.

– The McDonald's 'I'm Lovin' It' slogan.
A trade mark is crucial in protecting your brand and business identity. Furthermore, it will increase in value as your business grows and succeeds.
In Australia, the trade mark entire registration process takes around seven and a half months and involves multiple stages. Once registered, your trade mark will be protected throughout Australia for an initial period of ten years.
2. Patent
While a trade mark protects your brand identity, it does not protect the product or service that you provide. Therefore, if you have created a product or service that is new and inventive, you may wish to protect your invention with a patent.
A patent provides you with the exclusive right to capitalise on your invention for a set period of time. This means that, without your consent, others cannot use your invention by:
making it;

selling it;

using it;

importing it; or

otherwise commercialising it.
The table below provides an overview of the key features of a patent:
Definition
Includes
Benefits
Examples

Protects new and inventive devices, substances, methods, and processes.

Appliances, machines, computer-related inventions and biological inventions.

– Exclusive right to exploit the invention for a set period (eight years for an innovation patent and 20 years for a standard patent).

– Allows inventors to generate revenue by licensing or selling the invention to manufacturers or investors.

– Amazon's '1-Click' method for allowing customers to make purchases with a single click using pre-filled information;

– Pfizer's medication for treating high cholesterol (brand name Lipitor).
If your new business revolves around a new and inventive product or process that you want to commercialise, registering a patent may be the best way to prevent others from exploiting your invention. In Australia, you can apply for a patent by filing the desired application with IP Australia. The application should include:
drawings;

descriptions;

specifications; and

claims regarding the novelty and uniqueness of your invention.
Depending on the complexity of your invention and which patent you apply for, the entire registration process can take anywhere from a few months to a few years.
Continue reading this article below the form
Need legal advice?
Call 1300 544 755 for urgent assistance.
Otherwise, complete this form and we will contact you within one business day.
3. Design
If you are selling a product that has a distinctive and unique visual appearance, you may consider protecting it with a registered design. The table below provides an overview of the key features of a registered design:
Definition
Includes
Benefits
Examples

Protects the visual appearance of a product.

Shape, configuration, pattern and ornamentation.

– Exclusive right to use, license, and sell the design.

– Deters imitators from copying your design.

– The shape of the LEGO brick.

– The shape and appearance of Dr. Martens boots.
If the visual appearance of your product substantially contributes to its uniqueness, then you should protect this with a registered design. Subsequently, this will help in preventing others from copying your design and producing 'knock-offs' without your permission.
After ensuring that you meet the eligibility requirements, you can register your design online through IP Australia. The application must include drawings and images that demonstrate the visual features of your design. You will also need to describe the unique aspects of your design. Once registered, your design will be protected in Australia for five years, with an option to renew for a further five years.
4. Trade Secret
Any confidential business information that gives your business a competitive advantage should be treated as a trade secret. This may include products and processes that do not have patent protection. The table below provides an overview of the key features of a trade secret:
Definition
Includes
Benefits
Examples

Information, processes or methods that are kept confidential.

Secret formulas, processes and methods used in production.

– Protects ideas and information, rather than expressions.

– No time limitation on protection, just as long as it is kept a secret.

– The recipe for Krispy Kreme doughnuts.

– The method for choosing The New York Times Best Sellers List.
Unlike the IP options previously discussed, a trade secret is not something that is 'registered'. They are usually protected through a contract, such as a non-disclosure agreement (NDA) or employment agreement.
For example, before engaging an app developer to create your app, you may have them sign an NDA that prevents them from disclosing or misusing any confidential information that you provide. Without the appropriate contract in place, your trade secret could be misused without any legal consequences. This could severely damage your new business before even launching.
5. Copyright
If you create an original work as part of your new business, these will automatically be protected by copyright in Australia. The table below provides an overview of the key features of copyright protection:
Definition
Includes
Benefits
Examples

Protects original works or subject-matters in a material form.

Drawings, literature, music, film, and computer programs.

– Free and automatic right to use and exploit the creative work.

– Protection is granted for the life of the creator plus 70 years.

– The characters and material relating to Star Wars.

– The music and lyrics of 'Happy' by Pharrell Williams.
While copyright protection is free and automatic, it is your responsibility as the creator to monitor potential infringers and enforce your rights. One way to enforce your copyright protection is to have a copyright notice on your work (e.g. © Julie Smith 2019).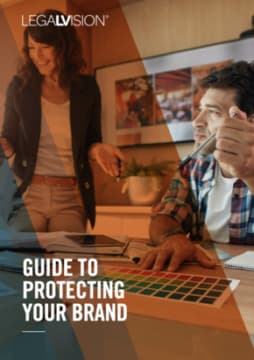 Guide to Protecting Your Brand
Your business' brand represents your values, identity and reputation. Learn how to create a successful brand and protect it.
Download Now
Key Takeaways
Your IP will be some of the most important assets your business will own. There are several different types of important IP assets, and it is critical to protect them to protect your overall brand. Some important forms of IP protection include:
trade marks;

patents;

designs;

trade secrets; and

copyright.
While these different types of IP will not apply to every business, you should prioritise them according to which protections will add the most value and longevity to your business. If you have any questions about your business' IP, our experienced intellectual property lawyers can assist as part of our LegalVision membership. For a low monthly fee, you will have unlimited access to lawyers to answer your questions and draft and review your documents. Call us today on 1300 544 755 or visit our membership page.
Was this article helpful?
Thanks!
We appreciate your feedback – your submission has been successfully received.