Why Should I Register a Trade Mark?

Updated on March 7, 2022
Reading time: 6 minutes
Suppose you are launching your new business with ambitious plans for eventual expansion. In that case, you will likely have done extensive market research to ensure you have a brilliant and scalable business concept. Also, you will have networked, researched and invested many hours of your time and energy into getting your business ready for the market. With so many hours of work put into your business, you want to protect it.
You already appreciate that despite how brilliant your business idea may be, it is important to attract customers through eye-catching marketing to make money from it. Crafting the perfect business name or logo is crucial to presenting your business how you want. Once you have developed your overall brand, the next step is to register a trade mark for each part of your brand identity. In the following article, we will break down how you can protect your business and its brand.
Types of Trade Marks
There are several types of trade marks that you can apply for. The main three types of marks that you should consider protecting first are:
business names;

logos or simplified icons; and

slogans.
A Symbol of Reputation and Goodwill
Having a memorable trade mark will help establish your business. More importantly, it will help potential customers identify you in the ever-expanding marketplace. Reputation and goodwill are important factors to growing your business. Therefore, a registered trade mark can show and protect your reputation in the marketplace.
Trade marks serve as a badge of origin. For example, if somebody sees a handbag with your logo on it, they will be able to link it to your business. Through this, you can build a reputation for your products.
Exclusivity and Uniqueness
Regardless of the type of trade mark, you should ensure that it is unique and distinct from other marks in the same industry as your business. Two identical trade marks can coexist on the register and in the marketplace. However, they must be for different goods or services.
For example, Dove chocolate can coexist with Dove toiletries, because they sell highly distinct products. The difference is such that a reasonable consumer would not confuse the two businesses.
Both registered and unregistered trade mark rights exist in Australia. However, registration will make your trade mark easier to protect and enforce. It will also ensure your trade mark is distinct in the marketplace. Once registered, you will have the exclusive right to use it for marketing your business. This allows you to take action against anyone that infringes on those rights.
Registering a business name or a domain name is not the same as registering a trade mark. Business names and domain names operate under their own separate registration systems and should not be confused with trade mark registration.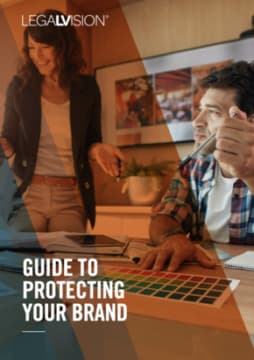 Guide to Protecting Your Brand
Your business' brand represents your values, identity and reputation. Learn how to create a successful brand and protect it.
Download Now
Avoiding Infringement Claims
Registering a trade mark can help you avoid infringement claims. This is because where you hold the registered rights to a trade mark, you own the trade mark and all rights associated with ownership.
Conducting a trade mark search before registration will show if your trade mark is available and whether or not it would infringe another trade mark. You should try to search IP Australia's database for any registered or pending trade marks. You can also search on Google to see if any unregistered trade marks pre-date your business. If you have done this and successfully registered your own trade mark, you are unlikely to receive an infringement claim.
Planning for Expansion
If you plan on expanding your business, there are two things to consider regarding your trade mark rights.
International Trade Mark Protection
Trade marks operate on a country-by-country basis. This means that if you have only registered your trade mark in Australia, you will not have registered trade mark rights in other countries. To gain these rights, you may decide to file your application internationally.
Unfortunately, there is no single 'global' trade mark registration. However, there are simple ways of obtaining overseas trade mark protection. We generally recommend filing a Madrid Protocol application, which can help you gain protection in many countries worldwide.
Licensing Your Trade Mark
As the owner of a registered trade mark, you have the exclusive right to authorise others to use it. You can let others use your trade mark in exchange for a fee with a licence agreement.
Can a Trade Mark Registration Protect my Business Idea?
The short answer is no. Your trade mark protects an element of your business brand, such as a slogan, logo or business name. It cannot protect a business idea itself.
However, if your idea is an invention, it may be protected through a patent. Patents usually protect new product innovations. If you think your idea may qualify as an invention, it is best to seek specialist advice from a patent attorney before disclosing it or going to market.
Key Takeaways
Most successful businesses take advantage of good marketing and branding. If you want to protect your business, you should apply for a registered trade mark. Registering a trade mark is crucial to your business success, and it is something you should think about sooner rather than later. A registered trade mark will ensure your brand is exclusive, protect you from copy cats and help you expand your business.
If you need help with trade mark registration, our experienced trade mark lawyers can assist as part of our LegalVision membership. For a low monthly fee, you will have unlimited access to lawyers to answer your questions and draft and review your documents. Call us today on 1300 544 755 or visit our membership page.
Frequently Asked Questions
Do I need to register my trade mark?
No, you do not need to register your trade mark. You may have unregistered trade mark rights, for example. However, registration comes with numerous benefits, including a much easier process for enforcing your rights.
Is a trade mark worth it?
A registered trade mark comes with many benefits for your brand. It can help you establish a reputation in the marketplace and protect your brand from competitors. These benefits and more come with trade mark registration.
Was this article helpful?
Thanks!
We appreciate your feedback – your submission has been successfully received.
About LegalVision: LegalVision is a commercial law firm that provides businesses with affordable and ongoing legal assistance through our industry-first membership.
By becoming a member, you'll have an experienced legal team ready to answer your questions, draft and review your contracts, and resolve your disputes. All the legal assistance your business needs, for a low monthly fee.
Need Legal Help? Submit an Enquiry
If you would like to get in touch with our team and learn more about how our membership can help your business, fill out the form below.
Read other articles by Christopher
<!-/- Related Articles - Item -/->