Kylie Minogue v Kylie Jenner: Can You Trade Mark Your Own Name?

Updated on December 14, 2021
Reading time: 5 minutes
When you have an eponymous name like Madonna, there is a large degree of notoriety in your name, and members of the public are likely to recognise you. But what happens when two global celebrities have the same name? Furthermore, what happens when both parties want to trade mark their own names simultaneously? By exploring the trade mark dispute between Kylie Minogue and Kylie Jenner, this article will help explain whether people can trade mark their own names.
Kylie v Kylie
In 2016, Australian born princess of pop Kylie Minogue's legal team lodged an opposition against the billionaire queen of lip kits and Instagram, Kylie Jenner. This was concerning Jenner's attempt to trade mark the name 'Kylie' in the United States. Minogue's legal team lodged an opposition because Jenner's application could be detrimental to Minogue's brand. They also claimed the potential to confuse the two Kylies in advertising and endorsement services. This initial opposition was soon followed by two more.
Minogue's team objected to Jenner's applications for 'Kylie' in connection with entertainment services and later with 'Kylie Cosmetics'. Since August 1996, Minogue has owned the domain name www.kylie.com and has registered 'Kylie Minogue' and 'Kylie Minogue Darling' as trade marks. She uses these to distinguish her goods and services, such as perfume and sound recordings.
Both Kylies settled the matter, and Minogue withdrew all her opposition in 2017. Then, in 2019, Minogue launched her own beauty endeavour, branded with her name 'Kylie' and made available for purchase on her website. While the full details of the settlement remain confidential, this indicates that the two parties likely settled on the basis that neither would pursue the other for infringement in connection with any beauty products sold under the name 'Kylie'.
Timing is Everything
Although both Kylies had a legitimate reason to protect their name as a trade mark, this does not necessarily grant either party an exclusive right. The date on which you file your application matters, and it is important to file as soon as possible to establish a 'priority date'.
In this case, Minogue's priority date for using 'Kylie' was established well before Jenner was born. She was well known before Jenner, and had established a brand and a reputation.
IP Australia, Australia's trade mark registration body, may reject applications that conflict with a registered trade mark if they are deceptively similar or substantially identical.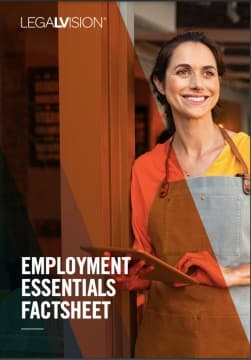 Employment Essentials Factsheet
As an employer, understand your essential employment obligations with this free LegalVision factsheet.
Download Now
Can You Register a Trade Mark for a Name?
Trade marks are an intellectual property protection used to distinguish your business' goods and services from other traders. Therefore, if your name can distinguish your business or products, you may want to register a trade mark for it. For Australian trade mark applications, it is important to consider whether your name is common, or if it is distinctive enough.
For example, a very common name like John Smith or Jane Doe is likely not eligible for registration. Consider whether your name is one that others are likely to have.
Importantly, consider the intent behind registering your name as a trade mark – are you distinguishing goods or services? As we can see in Minogue's case, a trade mark is eligible for registration when it is used to distinguish and identify goods and services such as Kylie's brand, cosmetics or music.
Well-known celebrities are able to secure trade marks for their individual names, based on their reputations. However, if your name is Kylie, it is unlikely you will receive registration for a trade mark for 'Kylie'. There may be numerous individuals with the same first and last name as you, and they will need to use their name too in relation to their business.
Trade Mark Infringement
If you have a trade mark registered for your name, you gain exclusive rights to:
use your name as a trade mark; and

authority to allow others to use the name.
If somebody else has registered a name as a trade mark, you cannot use it concerning the same goods and services that they have registered under. However, there is an exception for using the name in good faith.
Key Takeaways
Trade marks are an intellectual property protection that distinguish your business' goods and services from other traders. Therefore, if your name is an asset to your brand and distinctive enough, you should think about registering it.
If you need help understanding trade marks, our experienced intellectual property lawyers can assist as part of our LegalVision membership. For a low monthly fee, you will have unlimited access to lawyers to answer your questions and draft and review your documents. Call us today on 1300 544 755 or visit our membership page.
Frequently Asked Questions
Can I register a trade mark for my own name?
There is nothing particular about a name that prevents it from registration. As long as your name is distinctive enough and meets all of the necessary requirements for trade mark registration, you can register it.
Does my name need to be distinctive to register it as a trade mark?
If your name is common, it is unlikely that you will be able to register it. This is because other people will need to use that name in relation to their businesses. 
Was this article helpful?
Thanks!
We appreciate your feedback – your submission has been successfully received.
About LegalVision: LegalVision is a commercial law firm that provides businesses with affordable and ongoing legal assistance through our industry-first membership.
By becoming a member, you'll have an experienced legal team ready to answer your questions, draft and review your contracts, and resolve your disputes. All the legal assistance your business needs, for a low monthly fee.
Need Legal Help? Submit an Enquiry
If you would like to get in touch with our team and learn more about how our membership can help your business, fill out the form below.
Read other articles by Akshaya
<!-/- Related Articles - Item -/->