Table of Contents
As an employer, you should be aware that employees have a number of entitlements upon returning to work from paternal leave. This includes the right to go back to the position they held before taking leave, the ability to make flexible work requests and to receive support while breastfeeding. As their employer, you are consequently required to make the necessary adjustments to the workplace to ensure you can meet these entitlements. This article will explain these obligations in more detail below, as well as strategies for employers to ensure compliance.
Returning Employees to Pre-Parental Leave Positions
An employee is entitled to return to their pre-parental leave position when returning to work. If this position no longer exists, you must provide another position for which the employee is qualified and where they will enjoy their former status and pay. You should also consider the employee's requests during this time of transition as the employee may, for example, want to work part-time or in a different role.
Where the business makes any decisions that will significantly impact the employee's pay, status or location while the employee is on unpaid parental leave, the business should:
take all reasonable steps to communicate this to the employee; and
allow them to discuss ways to reduce the impact on their role.
Flexible Work Requests
An employee who has worked for a continuous period of 12 months is entitled to make a request for flexible working arrangements once they become a parent or person responsible for the care of a child. This entitlement also extends to casual employees if they have a reasonable expectation of continuing employment with the employer on a regular, systematic basis.
Flexible working arrangements usually include:
changing start and finishing times;
reducing their workload;
sharing their job;
working more hours over fewer days;
working more hours to make up for time off;
taking rostered days off on half days;
taking time off work instead of overtime payments;
working closer to home or from home; or
reducing travel away from home.
The employee must set out their request for one or more of the above arrangements in writing and give it to you as the employer. It should also outline the changes sought as well as the reasons for the request. You must then respond within 21 days after receiving the request. Your response could be an approval or refusal. However, if you refuse the request, you should consider the consequences for the employee and rely on one or more of the following "reasonable business grounds", including:
cost;
low capacity;
impracticability;
loss in efficiency or productivity; or
negative impact on customer service.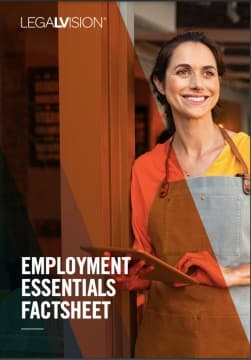 Employment Essentials Factsheet
As an employer, understand your essential employment obligations with this free LegalVision factsheet.
Download Now
An employee has the right to appeal to the Fair Work Commission if their request is refused or unanswered after the 21-day period and if they are not satisfied with the reasons you have provided. The Commission can hold a conference between you and your employee to find a solution and to make recommendations. Notably, under new amendments to the Fair Work Act, the matter may escalate to arbitration. Where the Commission is satisfied that the parties will be unable to reach an agreement, they may order the employer to grant the request in part or in full.
Continue reading this article below the form
Need legal advice?
Call 1300 544 755 for urgent assistance.
Otherwise, complete this form and we will contact you within one business day.
Breastfeeding Support
An employee is also entitled to be supported while breastfeeding in the workplace. As an employer, you may want to consider taking the following steps to ensure you are not discriminating against your employee:
provide a private space to breastfeed, express and store milk;
allow appropriate breaks throughout the work day;
develop a breastfeeding policy as part of your Employee Handbook to set out your support for your employees during this time; and
create a supportive culture of pregnancy and breastfeeding in the workplace.
Strategies for Employers Regarding Parental Leave
While there are a number of entitlements that you must be aware of as an employer, you may want to consider taking these a step further by:
establishing a formal return to work process;
discussing flexible work arrangements that work for the employee;
creating a positive culture surrounding employees returning to work;
providing a family or parenting room for breastfeeding parents; and
meeting with employees regularly to keep track of how they are going while on parental leave.
The benefits of implementing these strategies may include the following:
helping employees achieve a work-life balance by better managing the demands that come with being a parent;
increasing staff retention;
decreasing absenteeism;
increasing productivity; and
increasing job satisfaction.
Key Takeaways
If your employee is returning from parental leave, you should be aware of their right to return to the position they held before taking leave. If this position no longer exists, you must provide another position for which the employee is qualified and where they will enjoy their former status and pay. Additionally, you should:
genuinely consider any request for a flexible work arrangement; and
ensure breastfeeding support in the workplace.
If you need help meeting your employer obligations regarding an employee's return from parental leave, our experienced employment lawyers can assist as part of our LegalVision membership. For a low monthly fee, you will have unlimited access to lawyers to answer your questions and draft and review your documents. Call us today on 1300 544 755 or visit our membership page.
Was this article helpful?
Thanks!
We appreciate your feedback – your submission has been successfully received.