Table of Contents
One of the fundamental tenets of the legal profession is solicitor-client privilege. When you seek legal advice, solicitor-client privilege will protect any information you disclose to a lawyer for the dominant purpose of obtaining their advice. This means that lawyers are generally unable to disclose your confidential information to anyone who is not an employee of their legal practice. Additionally, the opposing party in legal proceedings cannot use evidence that would disclose any information protected by solicitor-client privilege. To help you further understand why solicitor-client privilege is important, this article outlines some of the policy reasons in support of solicitor-client privilege.
What Information Does Client Legal Privilege Protect?
Client legal privilege will not protect every piece of information you communicate to a lawyer. Of course, when you enter into a contract for legal services, any information you give to a lawyer will remain confidential. However, when providing this information for the dominant purpose of obtaining legal advice or for use in litigation, the court will consider it privileged information.
Generally, there are two categories of client legal privilege.
| | |
| --- | --- |
| Advice privilege | This refers to confidential information you provide to a lawyer for the dominant purpose of obtaining legal advice. |
| Litigation privilege | This refers to confidential information you provide for use in current or upcoming litigation. |
Ultimately, a lawyer cannot disclose privileged information unless you have waived privilege or specific legislation has ousted privilege.
Building a Relationship of Trust
Solicitor-client privilege, also known as legal professional privilege or client legal privilege, helps build trust between you and your lawyer. When you seek legal advice, you must be able to communicate freely and frankly with your lawyer. Sometimes clients feel the need to hold back information in fear of being in greater trouble with the law. However, if you fail to provide your lawyer with a clear picture of your issue, they will likely give you inadequate legal advice.
For this reason, client legal privilege allows you to freely communicate with a lawyer without fear that they will disclose the information you provide them. This is essential to ensuring your solicitor gives you clear and relevant legal advice.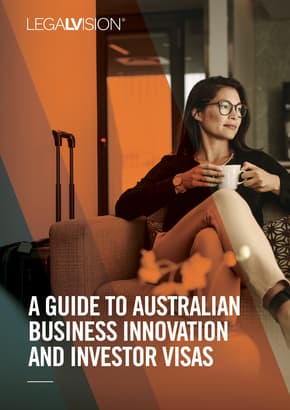 LegalVision Guide to Australian Business Visas
This guide sets out the key business innovation and investor visas available to individuals and businesses looking to start or manage a business or make a significant financial investment in Australia.
The publication also includes a list of frequently asked questions about business migration pathways in Australia.
Download Now
Continue reading this article below the form
Need legal advice?
Call 1300 544 755 for urgent assistance.
Otherwise, complete this form and we will contact you within one business day.
Promoting Compliance With the Law
In a way, client legal privilege helps promote compliance with the law. Whilst a lawyer has a duty to provide you with competent legal advice; they also have a paramount duty to the court. This means that lawyers are required to encourage you to obey the law based on the information you provide them with.
When you fully disclose your legal issue to a lawyer, this helps them to:
provide you with clear advice on your relevant obligations;

detect potential breaches in your obligations; and

identify actual breaches you have committed.
In this sense, your ability to freely communicate your issue to a lawyer can also prevent you from committing any further breaches.
Waiving and Claiming Client Legal Privilege
As a client, only you can waive privilege. After all, it is called client legal privilege. When you waive privilege, you renounce the protections you enjoy under it. This means that your lawyer can use privileged information during legal proceedings.
There are different ways you can waive client legal privilege. Typically, you waive privilege if you say or do something inconsistent with keeping the information confidential. This can include you:
knowingly and voluntarily disclosing privileged information to another person; or

providing your lawyer with express or implied consent to disclose the privileged information.
Additionally, you and your lawyer can claim client-legal privilege during legal proceedings. This allows you to prevent privileged information from being leaked in a specific legal matter.
Key Takeaways
Solicitor-client privilege allows you to make full and frank disclosures to a lawyer. A lawyer cannot disclose privileged information unless you waive privilege or legislation requires you to disclose. You should note that whilst everything you tell a lawyer will remain confidential, client privilege will not protect everything. It will only protect the information you communicated with the dominant purpose of seeking legal advice or for use in litigation.
If you need help with legal privilege, our experienced disputes and litigation lawyers can assist as part of our LegalVision membership. For a low monthly fee, you will have unlimited access to lawyers to answer your questions and draft and review your documents. Call us today on 1300 544 755 or visit our membership page.
Frequently Asked Questions
Are finalised contracts protected by solicitor-client privilege?
Typically, you do not make final transaction documents like finalised contracts to provide advice or use in litigation. Therefore, they are unlikely to be covered by privilege.
What happens if a lawyer discloses privileged information without my consent?
Suppose a lawyer has wrongfully disclosed your privileged information. In that case, you may be able to pursue contractual remedies for the lawyer's breach of the retainer or equitable relief in the form of an injunction to prevent any further disclosures.
Was this article helpful?
Thanks!
We appreciate your feedback – your submission has been successfully received.