Table of Contents
Many businesses now rely on cloud-based software in their day-to-day operations. However, increasing rates of hacking and data leaks shed light on the vulnerability of software systems. Software developers must ensure they have well-drafted agreements in place. These will not only protect your legal responsibility but also cover matters such as the distribution and subscription licensing of the software. This article will explain what a software as a service (SaaS) agreement is and what clauses it should contain.
What is a Software as a Service (SaaS) Agreement?
A SaaS agreement is a document that sets out the provision and delivery of software services to customers through the Internet. As the software is licensed on a subscription basis and centrally hosted, it is often distributed on-demand in the cloud.
The agreement is a serious undertaking that requires careful consideration. However, once properly in place, it eliminates the future hassle associated with more conventional software licensing models. This is on account of the fact that you can easily renew the agreement when the subscription period expires.
Broadly, a SaaS agreement includes clauses regarding the following areas:
Services and Functionalities
Before drafting this clause, you should question what functionality the software offers or the type of service that it renders to the business under the agreement. Defining the scope of service in detail is essential to prevent a dispute arising about what the parties agreed to.
If you require customised services that may be outside the scope of the agreement, you should also draw up a separate customisation agreement. This additional agreement sets out the following:
tailored services;

delivery timeframe; and

any associated costs.
Continue reading this article below the form
Need legal advice?
Call 1300 544 755 for urgent assistance.
Otherwise, complete this form and we will contact you within one business day.
Access to the Software
Your agreement should specify how parties can access the software. In addition, it should clearly identify the parties authorised to use the software. For instance, consider whether:
the users need to create an account to use the software;

the users need a subscription to use the software, or make a one-off purchase;

which platform parties can access the software from; and

users need to apply to use the software.
If you intend to implement geo-blocking, you should also list out the banned locations where parties cannot use the software.
User Obligations and Prohibited Use
This section should contain the obligations that the end user has to abide by and the expectations around the use of the software. These responsibilities include:
safe storage of personal information;

notifying the provider of security breaches; and

updating the product where necessary.
Ensure you also include a statement to the effect that all information provided by the user is true and accurate.
Furthermore, ensure your terms specify any prohibited uses for the product. For example, these may include clauses on:
tampering with the software;

damaging the software;

reselling the software; and

misusing the software.
A SaaS agreement should also include provisions for any licences and restrictions on use.
Payment Clause
This part of a SaaS agreement should outline the methods of payment you accept for the subscription and that payment must be made in full for continued use of the software. If the payment fails for whatever reason, the agreement should specify the notification methods in place to rectify the issue.
Ensure you include clauses in the case of multiple user accounts to ensure that re-subscription is not necessary for all those users licensed to access the software.
This section should also include a provision for any refunds. For example, this may arise when a user opts to cancel the subscription to the software, or there is a defect in the software.
Data Collection and Personal Information
Data collection may fall under a Privacy Policy. However, you must also address sensitive and confidential information in the body of a SaaS agreement. You may choose to incorporate the information used in the Privacy Policy. Specifically, you must address the following:
secure storage of personal information; and

whether you will pass information on to third parties for marketing purposes.
Intellectual Property Rights
Licensing is the central component of intellectual property rights in a SaaS agreement. This is because the end user must be issued with a license that specifies how content is to be used during their software subscription period. This license should be revocable in the event a customer decides to cancel their subscription or upon its expiry.
Lastly, ensure you include a clause allowing you to collect and back up data to ensure you can adequately provide the service. Furthermore, ensure users are aware of their responsibility to protect the intellectual property rights and data associated with any content created through the software.
Termination of a SaaS Agreement
This clause should extensively cover the criteria under which parties can terminate the SaaS agreement. It should include provisions for termination in a number of situations, including:
breach of the SaaS agreement or associated documents, such as your website's privacy policy or terms of use;

reasonable grounds to believe the user is tampering or has tampered with the software;

deterioration of the provider-customer relationship;

if the user files for bankruptcy; or

unforeseen or uncontrollable circumstances where the required software cannot be provided to the user.
Updates to Software
Inevitably, you will need to update the software. When this happens, you must issue a notice to the user. Ensure you specify:
the type of notice you intend to give; and

the timeframe in which you will issue it.
Furthermore, ensure that users are aware that they are:
subject to the same SaaS agreement with each software update download; and

agreeing to use the latest version, given this allows for full functionality.
Support
Another critical inclusion in SaaS agreements is the support options and feedback mechanisms available to customers. To this end, you should record the support contact details and troubleshooting methods you offer in this section.
Dispute Resolution
Occasionally, you may deal with a dispute arising from the SaaS agreement. Accordingly, you should outline the procedural mechanisms parties must use to attempt to bring about its resolution.
Firstly, it should recommend negotiation between the parties as the first course of action. If this is unsuccessful, the agreement will then provide for other methods of alternative dispute resolution, such as mediation, whereby an impartial third party recommends a non-binding outcome,
As a last resort, the agreement will allow for litigation. This is less desirable owing to its cost-intensive and resource-heavy nature.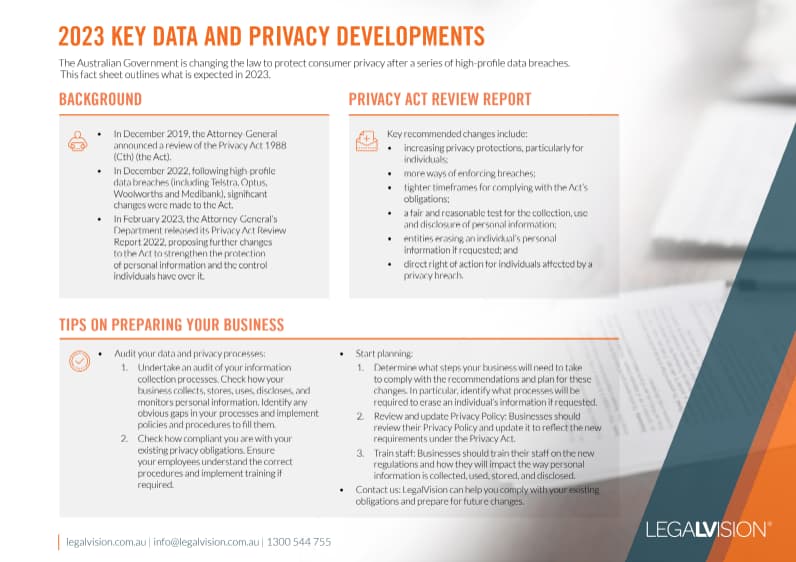 2023 Key Data and Privacy Developments
This fact sheet outlines the changes to data and privacy protection in 2023.
Download Now
Limitation of Liability and Disclaimers
The fact that the product will perform as advertised does not guarantee it will fully satisfy all customer requirements. Therefore, this section should seek to disclaim commercial risks such as those associated with operating system incompatibility and third-party hosting.
To further reduce the potential liability, you should set out the responsibilities you are subject to under the consumer law. Furthermore, you should outline any guarantees customers are entitled to claim in order to help prevent disputes.
In addition, you should state the customers' liabilities and indemnities against you as the software provider. For example, this may be from a failure to provide accurate information, breaching the terms and conditions of the agreement and other instances of customer misuse of the software. Another prudent clause to incorporate is a customer's obligation to pay costs incurred from disputes and that the SaaS terms continue beyond the termination of the agreement.
You should also reference any type of insurance your business has in the SaaS agreement.
Privacy and Data Breach
This section ensures your customers comply with applicable privacy laws. In particular, specifying that they have the necessary consents and authorisations required to disclose or input their employee's or client's information into your software. Depending on the nature of your software and the personal information customers process, you may also wish to include clauses setting out obligations for each party following a data breach.
Key Takeaways
A SaaS agreement is designed to be a comprehensive document. As such, software providers should pay careful attention to the multiple aspects of the agreement that set out liability and obligations. Failing to include or adequately define a crucial clause can have serious legal implications on a business risk, reputation and commercial relationships.

If you need help with your SaaS agreement, our experienced IT lawyers can assist as part of our LegalVision membership. For a low monthly fee, you will have unlimited access to lawyers to answer your questions and draft and review your documents. Call us today on 1300 544 755 or visit our membership page.
Was this article helpful?
Thanks!
We appreciate your feedback – your submission has been successfully received.