What is the National Minimum Wage I Need to Pay My Employees?

Updated on June 20, 2022
Reading time: 7 minutes
As an employer, you must understand your obligations to your employees and their legal rights to earn a minimum wage. Failure to pay your employees correctly can result in employees commencing proceedings against your business or the Fair Work Ombudsman (FWO) investigating any underpayment issues. This may result in compliance notices for payment, prosecution or additional penalties. The Fair Work Act 2009 (Cth) (the 'Act') sets out your obligations as an employer to meet this minimum payment to your employees. You should determine your employee's minimum entitlements under an applicable award, an enterprise agreement or the national minimum wage. This article will discuss the differences and how they may apply to your employees.
National Minimum Wage
Generally, your business will pay employees the national minimum wage unless an award or enterprise agreement is in place.
As of 1 July 2022, the national minimum wage increased by 5.2% to $21.38 per hour or $812.60 per 38-hour workweek. In addition, casual employees must also receive a 25% casual loading, bringing the casual minimum wage up to $26.73 per hour. This loading is to compensate casuals for not receiving permanent entitlements such as annual leave and personal leave.
Further, failure to comply with paying the correct minimum wage leaves your business open to legal proceedings from affected employees or an investigation by the FWO. Additionally, you will be liable to pay any outstanding wages to your affected employees.
Each year, an expert panel at the Fair Work Commission (FWC) reviews the national minimum wage. Any changes to the national minimum wage come into effect on 1 July of each year. Accordingly, it is vital for businesses to keep track of any annual changes to the national minimum wage. Staying on top of changes ensures your business remains compliant with your legal obligations.
Modern Awards
Does an Award Cover My Employees?
Alternatively, your employees may be covered by a modern award. This is an industrial instrument that sets out the minimum terms and conditions that you must meet as an employer, including the payment of wages.
Employees under an award may be entitled to a different (higher) minimum wage and entitlements than those employees covered by the national minimum wage. Therefore, it is vital to understand which award(s) cover your employees to ensure you pay them correctly.
Awards are industry and occupation-based. Likewise, you should determine the relevant award by each employee's industry and employment duties.
When deciding on which award may apply to your workers, it is important to focus on the following clauses:
1. The Coverage Clause
The coverage clause sets out which industry the award applies to. For example, the Restaurant Award covers employers in the restaurant industry.
Some of the types of employers covered by the Restaurant Award include:
businesses whose primary focus is selling food and beverages to eat on the premises;

restaurants;

tea rooms;

night clubs; and

reception centres.
2. The Job Classification
Within the industry award, there is also a job classification clause that covers the specific duties of your employees. Your employee's job classification will depend on their duties, skill set and level of experience and includes the training requirements for each role.
For example, some of the classifications within the Restaurant Award include:
waiters and waitresses;

baristas (in mainly eat-in cafés);

kitchen hands, cooks and chefs, including apprentice chefs;

clerical and office employees; and

security and storeroom employees.
Furthermore, your employees may work in different roles. Therefore, more than one award might be relevant to your business. If you are unsure of which award(s) are relevant, you can use the find my award tool on the FWO website.
What Do the Awards Cover?
Awards are generally specific to the industry or roles in which they operate. Each award will cover a variety of minimum conditions and entitlements that businesses must meet for employees under that award. These include:
pay

: specific rates for the payment of wages will apply to different employees, depending on their experience and duties. This will include casual loading for casual employees;

overtime and penalty rates

: additional payments your employees are entitled to may differ if they are required to work overtime, on the weekends or on public holidays;

leave and public holidays

: when an employee is entitled to be paid while not at work;

loading

: employees may be entitled to additional payments when leave is taken; and

allowances

: you may n

eed

to pay employees for allowances

, like

uniforms and travel.
It is possible to change or modify these terms and conditions within an award using an individual flexibility agreement (IFA). You can use an IFA to change the effect of specific clauses in your employee's award or any other registered agreement.
Changes to Award Payments
The July 2022 national minimum wage increase also provided a 4.6% increase to all minimum award pay rates rolling out in two stages:
1 July 2022 – most awards minimum pay rate increased from the first full pay period on or after 1 July 2022.

1 October 2022 – the minimum pay rate increased for employees covered by modern awards in the aviation, tourism and hospitality sector from the first full pay period on or after 1 October 2022.
To find out which group your award(s) fall into, you should refer to the full list of awards on the FWO website.
Enterprise Agreements
An enterprise agreement is a specific agreement that a business can enter into with its employees. They allow differentiation from the terms and conditions of any applicable award, and generally include entitlements, pay rates and allowances. Enterprise agreements are a method that businesses can use to circumvent the often complex and confusing award system.
Importantly, the FWC must approve the operation of any enterprise agreement. This is because enterprise agreements must make employees better off overall when compared to their entitlements and wages under any relevant modern award.
This is called the better off overall test (commonly referred to as the 'BOOT'). These agreements cannot contravene the national employment standards or include any unlawful provisions.
It is important to be aware that to be lawful, the enterprise agreement must:
be approved by the FWC;

pass the BOOT;

cover a majority of the employees who y

ou must include

in the negotiation process; and

gain approval by

a majority of employees it covers.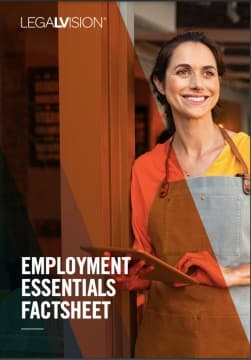 Employment Essentials Factsheet
As an employer, understand your essential employment obligations with this free LegalVision factsheet.
Download Now
Key Takeaways
Employees are entitled to receive the relevant minimum wage. Employees are generally covered by either:
an applicable award;

an enterprise agreement; or

the national minimum wage.
It is crucial for employers to meet minimum wage obligations. Failure to comply may result in legal proceedings from employees, FWO investigations and a requirement to rectify underpayment with the possibility of additional penalties.
If you need help understanding and deciding on the application of any relevant awards or enterprise agreements, our experienced employment lawyers can assist as part of our LegalVision membership. For a low monthly fee, you will have unlimited access to lawyers to answer your questions and draft and review your documents. Call us today on 1300 544 755 or visit our membership page.
Frequently Asked Questions
What is the national minimum wage?
The national minimum wage will cover your employees if there is no award or enterprise agreement in place. As of 1 July 2022, the national minimum wage was increased by 5.2% to $21.38 per hour or $812.60 per 38-hour workweek. Casual employees must also receive a 25% casual loading, bringing the casual minimum wage up to $26.73 per hour. 
What is a modern award?
A modern award identifies the minimum terms and conditions you must meet within a contract, including pay. Further, your employees covered by an award may be entitled to a different minimum wage and entitlements than the national minimum wage.
What is an enterprise agreement?
It is an agreement between you and your employees that allows you to differentiate from the terms outlined in their applicable award. The enterprise agreement will cover your employees' pay, allowances and entitlements.
Was this article helpful?
Thanks!
We appreciate your feedback – your submission has been successfully received.
About LegalVision: LegalVision is a commercial law firm that provides businesses with affordable and ongoing legal assistance through our industry-first membership.
By becoming a member, you'll have an experienced legal team ready to answer your questions, draft and review your contracts, and resolve your disputes. All the legal assistance your business needs, for a low monthly fee.
Need Legal Help? Submit an Enquiry
If you would like to get in touch with our team and learn more about how our membership can help your business, fill out the form below.
Read other articles by Atticus
<!-/- Related Articles - Item -/->