I Am a Mechanic. What Legal Documents Do I Need for My Business?

Updated on October 7, 2021
Reading time: 5 minutes
Starting a mechanic workshop has the ability to be a very profitable business. However, decades of consistent lobbying by enthusiastic motor vehicle groups led the government to impose licensing laws for auto repair businesses, which means you will need this licence before starting. In addition, the Australian Consumer Law (ACL) will apply to your business. The ACL is Australia's national consumer law, replacing previous consumer protection laws across the country. For example, the protections that it provides for mechanic workshops have many advantages, including:
stopping unqualified car repairs;
improving workshop conditions; and
improving service standards.
This article explains which legal documents you will need to set up a mechanic workshop. It will also explain your rights and obligations to customers, and legal issues you may face.
Which Legal Documents Do I Need?
A motor vehicle repair business licence is required to operate your own vehicle repair business. Note that a sole trader, a partnership or proprietary company can make an application for this licence.
Any person working without supervision in such businesses also needs to be certified. Further licences and certification are required for certain classes of work. For example, some of the occupations under these classes of work include:
approved examiners of secondhand vehicles;
safety certification examiners;
modifying or altering vehicles;
operating a crane; or
gas installation.
For example, businesses offering courtesy transportation should have certification to operate public passenger service in the state.
It is also important to ensure that you enter into a client agreement with every customer. This is a binding contract which protects both your business and your customers. Because it is a binding contract, you need to ensure it is drafted diligently to ensure you do not run into legal issues in the future.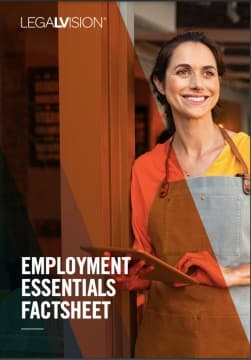 Employment Essentials Factsheet
As an employer, understand your essential employment obligations with this free LegalVision factsheet.
Download Now
How Long Will My Business Licence Last?
Note that business licences are issued for three years and applications for renewal must be submitted 28 days before expiry. Additionally, as a mechanic, you should always be sure that you are applying for the relevant legal documents at the appropriate office (noting that mechanics in Victoria do not require a licence).
For instance, listed below are the relevant offices for each state and territory:
| | |
| --- | --- |
| State | Office |
| Australia Capital Territory | Office of Regulatory Services |
| Western Australia | Consumer Protection Licensing Branch, Department of Commerce |
| New South Wales | Office of Fair Trading |
| Tasmania | Consumer Affairs and Fair Trading |
| Queensland | Office of Fair Trading |
| South Australia | Consumer and Business Services |
| Northern Territory | Consumer Affairs |
Qualifications
In addition to the required legal documents, you will also need to ensure that you are operating with the correct qualifications to run a mechanic business. Therefore, you will need a motor vehicle repairer's licence to operate as a qualified mechanic, and there are certain qualifications you must meet as an applicant. For example, you must have a suitable premise, and the required tools and equipment. You also must also employ trained and certified staff for each class of work that the business undertakes.
Note that having a registered licence will also instil confidence in your customers and legitimise your business.
Note that licensing fees are not a tax imposed on the motor repair industry. Rather, licensing fees simply cover the cost of processing the application. For example, licensing of repair businesses provides protection from unlicenced mechanics that compete for your customers. In addition, penalties for unlicenced repair work can reach $50,000. Furthermore, licensing allows access to general legal advice services regarding technical matters, such as consumer disputes. For example, this could be advantageous if there is disagreement with a customer or employee.
There are additional licences that you should be aware of when operating your business. For example, the Integrated Development Assessment System (IDAS) application has to be filed for new and existing premises. Furthermore, playing videos or music in your premise requires a music licence. Auto repair businesses must also comply with the state's tobacco laws.
The Australian Consumer Law (ACL)
In addition, when operating, you must comply with the ACL. For instance, the ACL requires that you must provide service at your car repair shop with:
due care and skill;
which are fit for the purpose the customer specifies; and
within a reasonable time (if time is unspecified by the consumer).
Therefore, you must perform your mechanic work and repair cars at an acceptable level of skill. Note that you may face significant legal issues if you cannot perform proper repairs in line with the ACL.
Key Takeaways
Starting a motor vehicle repair business can become a profitable venture, but there are important legal considerations that you should understand before becoming an auto mechanic and beginning car repairs. For example, you should consider:
which legal documents you will need;
the term and expiry of these documents; and
what qualifications will be required of your staff
If you have any additional questions about starting a mechanic business, contact LegalVision's business lawyers on 1300 544 755 or fill out the form on this page.
Frequently Asked Questions
What licence do I need to operate as a mechanic?
You will need a motor vehicle repair licence to operate as a mechanic. In addition, you will need certain qualifications as an applicant for this visa. There are additional licences you may require, depending on the premises and the services you offer.
Where can I apply for a motor vehicle repair licence?
Note that each state and territory has a respective office that handles motor vehicle repair licences. Therefore, check to ensure you are applying to the correct one in your state or territory.
Day in Court: What Happens When Your Business Goes to Court
Thursday 2 June | 11:00 - 11:45am
Online
If your business is going to court, then you need to understand the process. Our free webinar will explain.
Register Now
How to Manage a Construction Dispute
Thursday 9 June | 11:00 - 11:45am
Online
Protect your construction firm from disputes. To understand how, join our free webinar.
Register Now
Startup Financing: Venture Debt 101
Thursday 23 June | 11:00 - 11:45am
Online
Learn how venture debt can help take your startup to the next level. Register for our free webinar today.
Register Now
Was this article helpful?
Thanks!
We appreciate your feedback – your submission has been successfully received.
About LegalVision: LegalVision is a commercial law firm that provides businesses with affordable and ongoing legal assistance through our industry-first membership.
By becoming a member, you'll have an experienced legal team ready to answer your questions, draft and review your contracts, and resolve your disputes. All the legal assistance your business needs, for a low monthly fee.
Need Legal Help? Submit an Enquiry
If you would like to get in touch with our team and learn more about how our membership can help your business, fill out the form below.
Read other articles by Lachlan
<!-/- Related Articles - Item -/->