What Makes a Good Trade Mark?

Updated on May 11, 2022
Reading time: 6 minutes
As a business owner, you may have difficulty choosing a brand that appropriately identifies what your business does, while still being something that can be protected by Australian Intellectual Property (IP) Law. It is often difficult to register a 'descriptive' trade mark with IP Australia. Even after it is registered, you may face issues when trying to enforce it. This is because descriptive trade marks generally fail to distinguish your goods or services from those of other traders.
So what sorts of brands are easier to protect? This article will outline the features of 'good' trade marks and what you should avoid when registering your trade mark.
Made-up, Or Invented Words
It is sometimes possible to trade mark made up or invented words. Indeed, this may even make your brand name stand out and stay within consumers' minds. Consider some famous brands like KODAK.
As an invented word, KODAK has no dictionary meaning. Making up your own word for your brand is a highly effective strategy. This is because it offers the broadest and most easily enforced form of protection. As KODAK shows, creative brand names can be memorable, sound good, and act as a strong foundation for building your business's reputation.
Unrelated Words
When selecting a brand name, another approach is to choose words that are completely unrelated to your business. Consider APPLE for computers or MONGOOSE for bicycles. Neither of these words conveys anything to do with the products with which they are associated. However, both are memorable, instantly recognisable, and most importantly, highly protectable brands.
Bear in mind, however, that registering a trade mark containing commonly used words does not give you exclusive control over the word. That is, you would not be able to stop others from using those words to describe other goods or services. Traders would therefore still be free to use APPLE to refer to fruits, and MONGOOSE to refer to the animal.
Unique Person Names
Do you have a unique name? In some cases, you can use your name, or a sufficiently unique name, as a trade mark for your business. The commonness of a surname can indicate whether a trademark is sufficiently capable of distinguishing the goods or services.
As a general rule, IP Australia often considers a name that is likely to occur thousands of times on the electoral roll in Australia sufficiently common to warrant a ground for rejection of a trademark application. However, if the goods or services are sufficiently specialised (for example, helicopter design services), IP Australia may apply a higher threshold of 'commonness.' An example of a unique name trade mark is the 'Johnnie Walker' whiskey brand.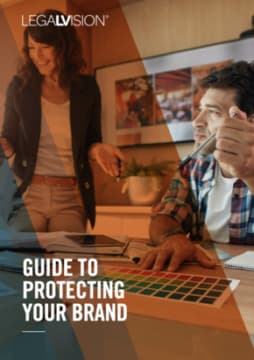 Guide to Protecting Your Brand
Your business' brand represents your values, identity and reputation. Learn how to create a successful brand and protect it.
Download Now
Things To Avoid When Registering a Trade Mark
Where possible, it is best to avoid using a name that describes the goods or services you sell. Some examples are below:
Suggestive Names
This category includes names that are suggestive of the goods or services being sold, while not being entirely descriptive. Although it is not always the case that these marks will be refused, you will need to consider whether other traders selling similar products are likely to want to use those words in that combination to sell their own products.
Merely Descriptive Marks
Descriptive words may be statements about the quality of the products (e.g. FRESH DONUTS), their location or geographic origin (e.g. SYDNEY LAWYERS), or just generic terms used for those products (e.g. CLOCK for timekeeping devices). In cases where your trade mark does nothing more than describe your products, it can be very difficult to register.
As with suggestive names, consider whether your competitors are likely to want to (innocently) use those words to describe their own goods or services. If they are, in most cases you would need to provide substantial evidence of use (or intended use), demonstrating that when people think of those words, they think of your business and your business alone. The more likely people are to want to use those words, the more evidence will be required. Even then, IP Australia may limit your protection to the region in which you have a reputation.
Similar Marks
It is also important to consider the brand names of competitors within your field of goods or services. You should ensure that the business name you choose is not similar to those in the marketplace. This can help you avoid potential trade mark opposition or other disputes down the track, as brand similarity can easily confuse consumers. This applies not only to the name of your business but any other 'sign' that you can protect, such as a logo or slogan.
Key Takeaways
Coming up with a brand that is both marketable and protectable is challenging. Even if you do come up with something that sounds good, is catchy, clear, and works well on the Internet, if you cannot protect it, you may run into problems in the future. The issues described above explain how to register a 'good' trade mark.
For more guidance on protecting your trade mark, our experienced intellectual property lawyers can assist as part of our LegalVision membership. For a low monthly fee, you will have unlimited access to lawyers to answer your questions and draft and review your documents. Call us today on 1300 544 755 or visit our membership page.
Frequently Asked Questions
When should I register a trade mark?
We recommend that you apply to register your trade mark in the early stages of growing your business. As your business expands, it will be particularly valuable to have trade mark protection to distinguish your goods or services from others in the marketplace.
Should I trade mark my business name or logo?
You should register both your business name and logo to maximise the protection of your brand against competitors. This will also act to establish a reputation with consumers. Although trade mark registration fees can be costly, the protections will allow you to enforce your trade mark registration against others with deceptively similar marks in your field of goods or services.
Was this article helpful?
Thanks!
We appreciate your feedback – your submission has been successfully received.
About LegalVision: LegalVision is a commercial law firm that provides businesses with affordable and ongoing legal assistance through our industry-first membership.
By becoming a member, you'll have an experienced legal team ready to answer your questions, draft and review your contracts, and resolve your disputes. All the legal assistance your business needs, for a low monthly fee.
Need Legal Help? Submit an Enquiry
If you would like to get in touch with our team and learn more about how our membership can help your business, fill out the form below.
Read other articles by Daniel
<!-/- Related Articles - Item -/->