Table of Contents
Running an online business can be a cheap and easy way to launch your entrepreneurial career. However, ensuring you get on top of several basic legal requirements from the outset is important. A lack of legal diligence when launching your business may lead to substantial costs. This article outlines some legal steps for setting up an online business.
Draft a Website Development Agreement
Most business owners lack the technical skills to build a functional business website. Unless you bring on board a technical co-founder or have a developer who works in your organisation, you will have to work with an external development agency or freelance developer. It is recommended that you enter a written contract with them, setting out the terms and conditions under which they will develop your website and associated code. This document is called a website development agreement.
Additionally, ensure the developer provides a warranty that they are not breaching a third party's intellectual property rights. They should confirm they have all necessary permissions to sublicense or incorporate any intellectual property into the website. Further to this point, you will want to include that the developer indemnifies you against any claims from a third-party regarding use of their intellectual property. This protects your business from third-party claims over which you have no control.
Register Your URL Immediately
Register the URL you choose for your website as soon as possible. URLs get snapped up quickly, and running an online business without a URL is impossible. When selecting your URL, you should check that you are not infringing on trademarks or copyrights. This means checking that the name is not being used by another entity.
If launching a business from scratch, check whether the URL is available before settling on the business name. The two searches you should make when deciding on our business name and URL are a business name search with ASIC and a trademark search with IP Australia.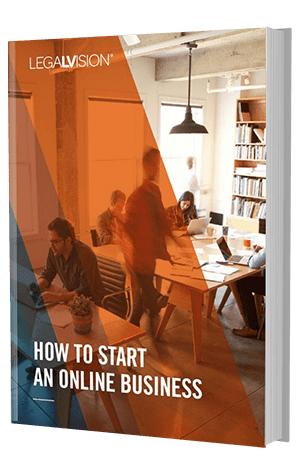 The Ultimate Guide to Starting an Online Business
It's now easier than ever to start a business online. But growing and sustaining an online business requires a great deal of attention and planning.
This How to Start an Online Business Manual covers all the essential topics you need to know about starting your online business.
The publication also includes eight case studies featuring leading Australian businesses and online influencers.
Download Now
Continue reading this article below the form
Need legal advice?
Call 1300 544 755 for urgent assistance.
Otherwise, complete this form and we will contact you within one business day.
Website Terms and Conditions
Every website should provide its customers or visitors with terms and conditions. The website's terms and conditions govern the terms under which visitors may use the website. It will cover things like:
your business details and your ownership of the site;
ownership of intellectual property and content on the website; and
limitations on liability.
Privacy Policy
Having an up-to-date website privacy policy is also crucial. This document allows you to disclose what information you may collect from your visitors and how you will use that information. The Privacy Act outlines the Australian Privacy Principles, which set out:
how you must manage personal information;
what visitors are entitled to concerning their information; and
the purposes for which you may use information.
These principles may or may not apply to your business, depending on its size and the kind of information you collect. Having a lawyer discuss your obligations and draft your privacy policy to ensure you comply with the law is best practice.
Key Takeaways
Starting an online business can be a great way to generate revenue and start your entrepreneurial career. First, however, you must protect your legal interests by drafting the necessary agreements accurately and avoid infringing on other parties intellectual property rights.
If you need help ensuring your online business is legally compliant, our experienced e-commerce lawyers can assist as part of our LegalVision membership. For a low monthly fee, you will have unlimited access to lawyers to answer your questions and draft and review your documents. Call us today on 1300 544 755 or visit our membership page.
Frequently Asked Questions
What should I do about online reviews of my business?
Reviews can be an excellent promotion for your business or something that drags you down. The Australian Consumer Law (ACL) has established some guidelines for managing online reviews. You need to be careful not to allow false or misleading reviews on your website, and the law clarifies that it is your responsibility.
What should I do about having a contract with an overseas developer?
Offshore developers are often a cheaper alternative to engaging a local developer. However, it will be essential to perform due diligence on the developer, who they are, whether they are reputable and what kind of work they do. In addition, you will need to make sure any agreement you enter with a developer outlines the governing law (ideally Australian) and what will happen in the event of a dispute.
Was this article helpful?
Thanks!
We appreciate your feedback – your submission has been successfully received.