Table of Contents
Setting up a café is a major step for anyone in the hospitality industry. Having a thorough understanding of the risks and legal considerations surrounding the set up of a café will assist you in planning your business. This article will provide a summary of a few of those legal considerations for setting up a café.
Location, Location, Location
Naturally, one of the first steps in setting up a café is finding the right location. A café may be located in:
a shopping centre;

the main street; or

anywhere where you would be permitted to operate a retail business.
The location is important as it plays a major factor in the number of potential customers you may have. When searching for a location for your café, you should:
determine whether a café can be operated from that location. You may need to contact the local council to determine if you will require any consents, approvals or certificates;

assess whether the location will be ideal for operating a café. You may do this by looking at the amount of foot traffic, access to public transport or assessing the number of businesses nearby that will require their daily coffee fix; and

review the lease for the location.
If the Lease Fits
You may have found the right location for your café, but you will need to make sure that the lease fits with your business plan.
Commercially, you should be looking at the:
rent and other costs that you will have to pay and whether this is within your budget. You should also determine whether there is a possibility that rent and other costs will increase over time and plan accordingly;

term of the lease and whether this is enough time for you to build up your business or whether you can terminate the lease in case the business is not doing well;

costs you will need to invest and whether the landlord will make any contributions towards fitting out the location. You should also consider who will own the fit-out of the café; and

security deposits, bank guarantees or personal guarantees that you may need to provide. Here, you need to understand the risk in providing these. For personal guarantees, this may impact your own personal finances,

so be sure to receive financial advice

if necessary.
The lease should also be reviewed as a whole. This way, you understand your obligations and rights under the lease. This is particularly important when it comes to:
repairs in the location (e.g. air conditioning);

maintaining the location; and

understanding what you can expect from the landlord.
Continue reading this article below the form
Need legal advice?
Call 1300 544 755 for urgent assistance.
Otherwise, complete this form and we will contact you within one business day.
Food and Safety
Food and safety is important to ensure the compliance of your business with relevant food safety laws. Your customers will be expecting nothing less of you too.
Be sure that you have done your research and understand the standards of operating a kitchen from a food and safety perspective. The Food Standards Code will apply, with state and territory government bodies having the authority to inspect and enforce the Food Standards Code. Being compliant with the Food Standards Code is not only important for the health of your customers, but also to ensure that your business maintains a good reputation.
Playing Background Music
You may want to have background music to add to the atmosphere. It is worth noting that playing music in public (not in private or domestically) is officially called a public performance. Like a house or jewellery, copyright is a form of property – the result of a person's original creative labour. The Copyright Act (1968) prevents other people from using those creations in certain ways – such as in public – without first obtaining permission. This permission may be granted by way of a licence from a certified provider such as OneMusic Australia.
Connecting with Contractors and Suppliers
Unless you operate a business that can be involved in absolutely everything in the operation of a café, it is very likely that you will be engaging contractors and suppliers, such as:
contractors who assist with designing and fitting out the café; and

suppliers who sell you kitchen equipment, furniture or ingredients.
You should ensure that you have contracts in place with contractors and suppliers that would cover the aspects of your arrangement, such as:
what goods or services will be provided;

the price you will be required to pay for the goods or services;

for goods, the delivery terms and details of when risk and title in those goods will transfer to you;

any warranties or guarantees that you will be able to rely on in relation to those goods or services; and

details of what you can do if the goods or services are not supplied in accordance with the contract. For example, whether you have the ability to return a product and obtain a refund.
These details are best clearly set out in a contract to avoid confusion as to what you have agreed to. You may receive some big-ticket kitchen equipment by way of lease or equipment hire. Here, the contract may have additional terms as to the payment and maintenance obligations for the equipment.
Working in a Team
Your team of employees will be the people representing the café, and it is likely that you will need more than one of them. For cafés, a modern award will likely apply for your engagement of an employee. You should ensure that you have a contract in place with your employee to set out their terms of engagement and ensure that it complies with the relevant award.
You may also wish to consider having policies in place to address:
safety;

discrimination;

harassment; and

bullying.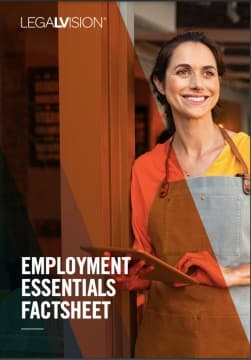 Employment Essentials Factsheet
As an employer, understand your essential employment obligations with this free LegalVision factsheet.
Download Now
Planning For the Future
If you are starting a café, but foresee a future where you may be starting more cafés or expanding your business in another way, now is the time to start the process for registering a trade mark for your name or logo.
By registering a trade mark, you will have the exclusive right to use that trade mark. This will be valuable if you wish to license the trade mark for others to use. You could also consider setting out your systems and processes in a formal manner, which can be adapted by other businesses if you ever wish to start a franchise of your café.
Key Takeaways
Starting a new business can be daunting, and the coffee scene in Australia is no different. A successful cafe is more than just good coffee – it requires a thorough understanding of the risks and legal considerations when running a food business. You must have an understanding of your legal obligations surrounding:
the location;

your lease;

food and safety;

your supplier contracts;

employment obligations; and

intellectual property.
If you require assistance with the legal requirements of setting up a new cafe, LegalVision's experienced business lawyers can assist as part of our membership. For a low monthly fee, you will have unlimited access to lawyers to answer your questions and draft and review your documents. Call us today on 1300 544 755 or visit our membership page.
Frequently Asked Questions
Can I lease a space for my cafe?
Unless you have the funds to purchase a property outright, you will likely enter into a commercial lease. When scouting a location, you should consider whether the premises has appropriate kitchen equipment. This is crucial as you will need a commercial kitchen to cook meals. Choosing a premises in the right location is also ideal. For instance, consider whether the area is oversaturated with cafes or if you are filling a gap in the local community. Once you find an ideal venue, you can begin to negotiate and enter into a commercial lease.
What employment considerations are necessary for a cafe?
A successful business depends on hiring the right people. If you have employees, be sure to enter into an employment agreement. This agreement should state the nature of their working relationship with your business. For example, are they a full-time, part-time or casual worker?
Was this article helpful?
Thanks!
We appreciate your feedback – your submission has been successfully received.