Five Legal Tips for Setting Up a Food Truck in NSW

By Claudette Yazbek
Communications Manager
Updated on November 15, 2021
Reading time: 8 minutes
It can be easy to overlook the legal requirements for starting your food truck business. The excitement of designing menus, perfecting your food truck's signature dishes and brainstorming punny truck names dominates the early planning stages. However, before you emblaze "Banh Me" on the side of your vehicle, it is important to decide whether you want to trade as a food truck or van. What you decide to trade as effects where you can trade, at what times and what fees you need to pay. This article provides five quick tips to get your food truck moving and explains the different approvals that you will need.
1. Create Your Food Truck Design and Menu
Firstly, you may need to design and submit your food truck concept. If you are planning on running your food truck business in Sydney, you must submit the concept design of their vehicle to the City of Sydney's Food Truck Design Panel. You must also provide a sample menu along with photographs of the food outlining the food truck's cuisine or theme, as well as an outline as to how the food will be prepared or cooked.
The City of Sydney has high design standards in place that are intended to improve the look and feel of public places. Your food truck design and menu items will be reviewed against for its:
innovation – the truck's uniqueness and visual appeal;
sustainability – the energy efficiency features of the vehicle that include plans for disposal and recycling of waste; and
ethics – if your truck uses any organic or fair trade products.
You must send your food truck design to the City at least eight weeks before your intended start date.
2. Food Safety
You will need to create a detailed operational plan of management for your business. This will outline how you will manage food safety and operational issues. The plan will describe the steps required to ensure that the food you sell is safe to eat. It will also include how you will identify and manage food safety and environmental impacts such as noise, litter, and odour. It is prudent that your plan assesses:
how you will process leftover food;
the sources of noise in your vehicle and the strategies to address complaints;
the controls in place to manage litter around your site;
the measures you will take to address any odour issues; and
the process of cleaning your food truck.
You will need to obtain a satisfactory health inspection report, and attach it to your application. The Local Council's Environmental Health Officers or the New South Wales Food Authority will inspect the commercial kitchen used as your primary food preparation or storage area. This inspection must be carried out before and within 12 months of, submitting your Mobile Food Vending Application form. Food truck operators must notify the NSW Food Authority of their food business prior to the commencement of trading.
Potentially Hazardous Foods
When storing and displaying potentially hazardous foods, it must be stored under temperature control. Temperature control means maintaining cold foods at a temperature of five degrees or below and hot food at 60 degrees or above. Examples of potentially hazardous foods include:
cooked meat;
dairy products;
seafood;
prepared salads;
raw vegetables;
cooked rice and pasta;
processed soya bean products; and
other processed foods containing eggs, beans, nuts or other foods that contain any of the above foods (e.g. quiche).
Staff Training
It is a legal requirement that all employees who handle food must be trained in food safety. It is then necessary to ensure that you and your staff are trained in responsible food safety and hygiene standards. The severity of the penalties issued for non-compliance reflects the importance of food safety and can include:
penalty infringement notices;
your product being seized;
improvement notices/warning notices;
prohibition orders; and
fines up to $110,000.
3. Food Truck Permits and Licenses
You will also need to apply for approvals such as permits and licenses, depending on which local government area you wish to operate in. Indeed, food trucks require a variety of permits and licenses to trade, and these must be renewed periodically. Specifically, the truck itself will need to be registered, and you will need to have a valid driver's license. You will need to submit your vehicle registration number along with your Mobile Food Vending Vehicles Approval Form. Food trucks are also subject to ongoing inspections by your local council's Health Department. As a tip, be sure to carry your most recent inspection report with you whenever you are trading from your food truck.
If you plan to operate in Sydney, before the City of Sydney can issue you with a food truck license, you will need to show you have obtained the appropriate and applicable registration or license from the NSW Food Authority. You will also need approvals from Sydney Water. In addition, you may need:
an accredited Food Safety Supervisor on site; and
a Trade Waste Permit from Sydney Water.
4. Permits and Zoning
If you are applying for a food truck license, you will also need to think about where you want to trade. High demand sites and low demand sites are classified depending on their location and popularity.
Low demand sites may not have any access restrictions and are not as sought after as high demand sites. They may be in places that are in need of creating a positive community atmosphere, which food trucks can contribute. On the other hand, high demand sites may have access restrictions and require compliance with rigorous plans of management. Food truck operators typically seek high demand sites due to the considerable foot traffic and location.
5. Trade Marks
Your food truck's name is one of your most valuable marketing tools. You may have spent countless hours shortlisting names that capture the essence of your food truck business. Do you choose "That's how we (spring) roll" or "Rock and (spring) Roll"? A trade mark is a way of identifying a unique product or service and distinguishing your goods and services from someone else.
Trade Mark Registration
Before filing an application to register your food truck's name and logo, it is sensible first to search the trade mark database. Completing this first step could save you trouble and money by alerting you to any existing identical or similar trade marks to the one you plan to use. You must also provide a classification of the goods and services that you intend to use your trade mark on. Your food truck name is likely to require Class 43, which is for services providing food and drink.
After submitting your application, it will be examined to ensure that there are no grounds for rejecting it. Generally, trademarks take three to four months to examine from the day your application is filed. If your trade mark is accepted, you must pay a fee to register.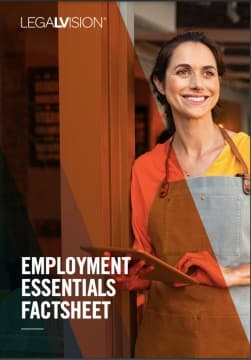 Employment Essentials Factsheet
As an employer, understand your essential employment obligations with this free LegalVision factsheet.
Download Now
Key Takeaways
The food truck industry is booming, and starting your food truck can be an exciting and challenging venture. You will need to perfect your menu, design a logo and recruit hardworking staff. However, there are also a number of legal requirements that you must comply with before you join the ranks of Australia's food truck owners. Specifically, you will need to apply for permits and licenses as per local council requirements. It is also a good idea to register a trade mark for your food truck business' intellectual property, such as the name of your food truck. If you have any questions about registering a food truck, contact LegalVision's business lawyers on 1300 544 755 or fill out the form on this page.
What licenses do I need to obtain for my food truck?
You will need a variety of permits and licenses as a food truck owner. Firstly, you will need to register your truck and have a valid driver's license. You will also obtain licenses from relevant regulatory bodies. In Sydney, these bodies will include the NSW Food Authority and Sydney Water.
How do I register a trade mark for my food truck's name?
A trade mark identifies your food truck brand from your competitors. You should conduct a search of existing trade marks before beginning your trade mark application to ensure you do not accidentally infringe someone else's trade mark. Then, you need to fill out an application form with Australia's intellectual property agency, IP Australia. You must provide a classification of the goods and services under which you intend to use your trade mark. The process generally takes three to four months in total, so it is a good idea to begin the registration process as early as possible.
Was this article helpful?
Thanks!
We appreciate your feedback – your submission has been successfully received.
About LegalVision: LegalVision is a commercial law firm that provides businesses with affordable and ongoing legal assistance through our industry-first membership.
By becoming a member, you'll have an experienced legal team ready to answer your questions, draft and review your contracts, and resolve your disputes. All the legal assistance your business needs, for a low monthly fee.
Need Legal Help? Submit an Enquiry
If you would like to get in touch with our team and learn more about how our membership can help your business, fill out the form below.
Read other articles by Claudette
<!-/- Related Articles - Item -/->